A year and a half after the artists at a hidden Downtown Newark cultural institution held a farewell party to remember their longtime workspaces, new details have been revealed about a plan to bring a new development to the property.
Documents and site plans that were recently released by Newark's municipal government illustrate the proposed mixed-use project that is expected to replace the building that previously contained the 31 Central art studios.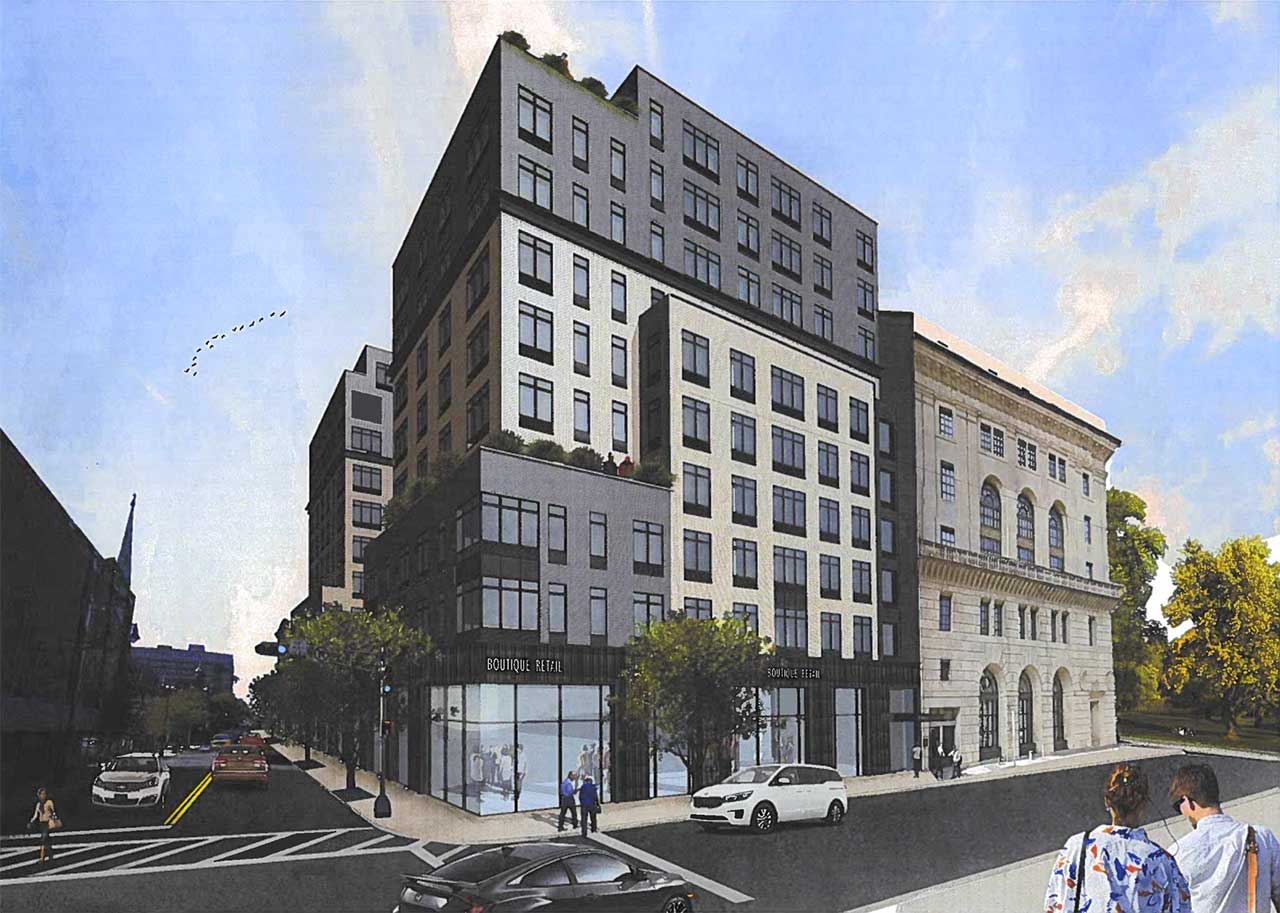 An application filed by HC Owners Urban Renewal, LLC refers to the 10-story development at the corner of Halsey Street and Central Avenue as Halsey Central. It states that "Halsey Central went from a 100% on-site market rate development with ground floor retail and second floor office to a mixed income execution where approximately 50% of the apartments are designated as affordable."
The application notes that this change caused several adjustments to the cost of construction and the design of the project.
A revised schematic design study dated May 7 from Inglese Architecture + Engineering showed plans for 102 residential units, around 13,750 square feet of ground floor retail space, amenity space, and a community terrace on the second floor. There would be a mixture of studios, one-bedroom units, two-bedroom units, and three-bedroom units.
The study also noted that "it is the intent of this application to preserve as many of the original terracotta medallions [from the existing building at the site] as possible to be repurposed as a feature element in the new residential lobby."
The application associates HC Owners Urban Renewal, LLC with the same address in the Westchester County, New York village of Larchmont as L+M Development Partners. L+M is also named in Inglese's study. The developer has been involved in multiple Newark projects in recent years, including Hahne & Co., Walker House, Georgia King Village, Zion Towers, and 155 Washington Street.
Additionally, although property owner Cottage Street Orbit Acquisition, LLC uses an address in Tempe, Arizona, the application includes a signature from company president Ommeed Sathe. Sathe is also an executive with Newark-based Prudential Financial's Impact Investments team. Filings with the U.S. Securities and Exchange Commission have associated Cottage Street Orbit Acquisition, LLC with Prudential.
Located next to the Veterans Administration Building, the longstanding two-story edifice on the premises was also used at one point by the Newark LGBTQ Community Center and YouthBuild Newark. Several addresses have been associated with the site, but the application references 33-39 and 41-43 Central Avenue in the James Street Commons Historic District.
This matter was scheduled to be heard by the Newark Landmarks and Historic Preservation Commission during a virtual meeting on July 1, but the meeting agenda shows that the application had just been received on June 26.
Jersey Digs broke the news nearly three years ago that a development involving L+M and Prudential could be coming to this property near Washington Park. At the time, representatives for both companies declined to release any details about the proposal.
Subsequently revealed plans for an eight-story mixed-use project with 95 residential units came as a surprise to some community members, such as artists at 31 Central. Plans for a 10-story building with 71 units, retail space, and commercial space ended up being approved by the commission, according to the application. Later, in 2018, a letter from Cushman & Wakefield mentioned that "plans have progressed for the redevelopment of the building" and that "demolition of the building is planned to start no later than December 31, 2018."
While the development plans have taken multiple forms over the last few years, there is still no mention of the project at all on L+M's website.
Related: