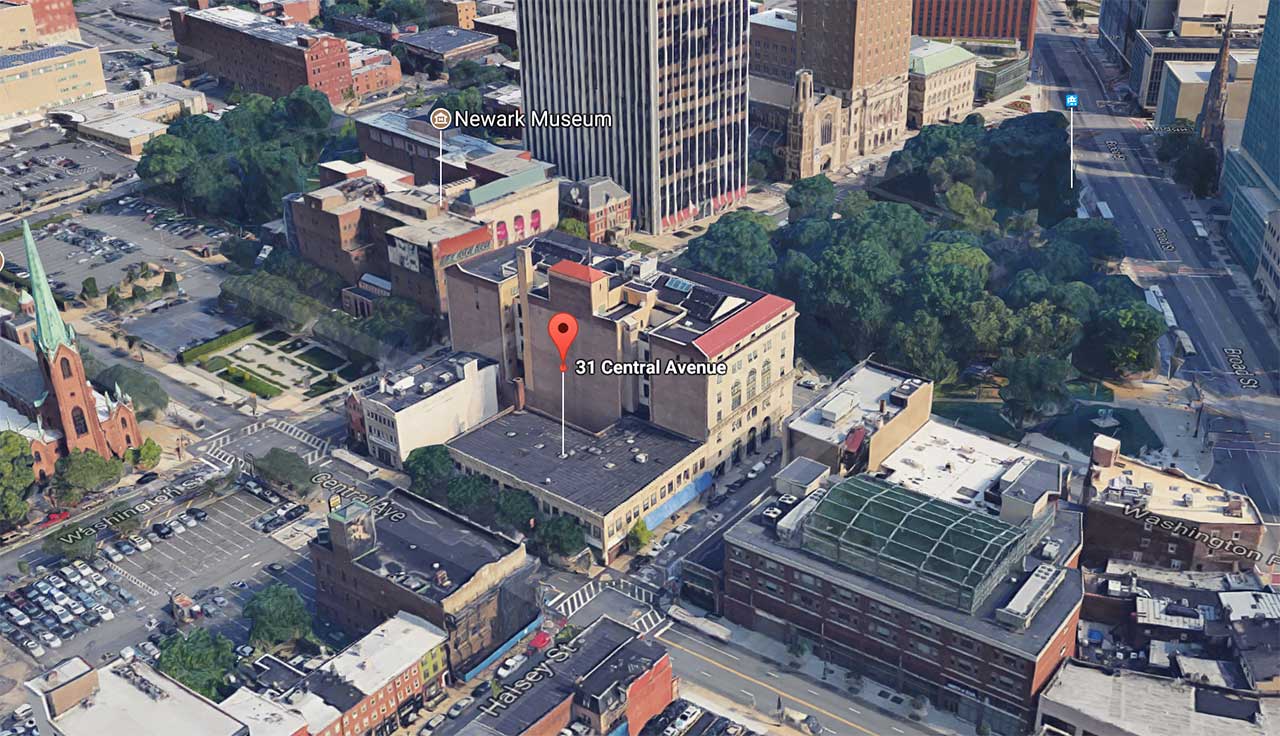 Jersey Digs has exclusively learned that a large new residential development appears to be planned for Downtown Newark, but developers have remained very tight-lipped regarding the proposal.
According to Carmelo Garcia, the Executive Vice President and Chief Real Estate Officer of the Newark Community Economic Development Corporation (CEDC), a new building with residential space is being planned by Westchester County, New York-based L+M Development Partners for 31-39 Central Avenue, at the corner of Halsey Street in the Central Ward.
"They want to go vertical," Garcia explained, stating that if the existing two-story building at the site is demolished to make way for the project, it will require approval from the Newark Landmarks and Historic Preservation Commission.
"We believe with a majestic design, the development will add so much value as a pillar of Newark's historic fabric," said Garcia.
The recent Downtown Newark development landscape map from the CEDC listed that a new Prudential residential tower with 140 units is planned for the neighborhood.
Caitrin O'Sullivan, a spokesperson for the Newark-based financial firm, initially told Jersey Digs in part that "we don't have any proposed Prudential residential towers in the works," but when subsequently asked about the map listing, she stated that the project "is very early on in development stages and was incorrectly listed on the CEDC map." When asked for additional information, O'Sullivan said that "I don't have any details on the project to share."
When asked about L+M's involvement in the project, company spokesperson Kelly Magee declined to comment, stating that "I believe Prudential gave you a response as well."
While it is unclear what L+M and Prudential's involvement is in this development, both companies have partnered for other recent Newark projects, including the rehabilitation and expansion of the previously vacant Hahne & Co. department store into apartments and stores and the upcoming conversion of the New Jersey Bell Headquarters Building into residential and retail space.
This property is situated very close to Washington Park, the Newark Museum, the Hahne & Co. building, Rutgers University-Newark, the New Jersey Performing Arts Center, and the Newark Light Rail's Washington Park Station. Most of the building's 13 storefronts have long been empty, with the exception of the Newark LGBTQ Community Center and YouthBuild Newark spaces on the Halsey Street side.
However, the second floor has been home to 31 Central, which, according to the Index Arts Center, "has been occupied by artists and creatives for more than three decades, helping to establish an emerging arts community in the Halsey Street area and Downtown Newark." Next City reported earlier this month that "Akintola Hanif, an artist who works there, says there has been no formal announcement about exactly what will happen and when, but the expectation is that artists will lose their spaces in about a year."
In 1925, the Brooklyn Daily Eagle reported that the property had been acquired by D. Strauss & Co, and that it was "part of the original Vanderpool homestead." At the time, a six-story commercial building was planned for the site. The current structure is owned by Cottage Street Orbit, according to NJ Parcels data, which is registered out of the Business Integration Group in Arizona. Two companies with similar names, Cottage Street Investments, LLC and Cottage Street Orbit Acquisition, LLC, are subsidiaries of Prudential, according to filings posted by the U.S. Securities and Exchange Commission.
Jersey Digs will keep you updated as additional details are revealed.