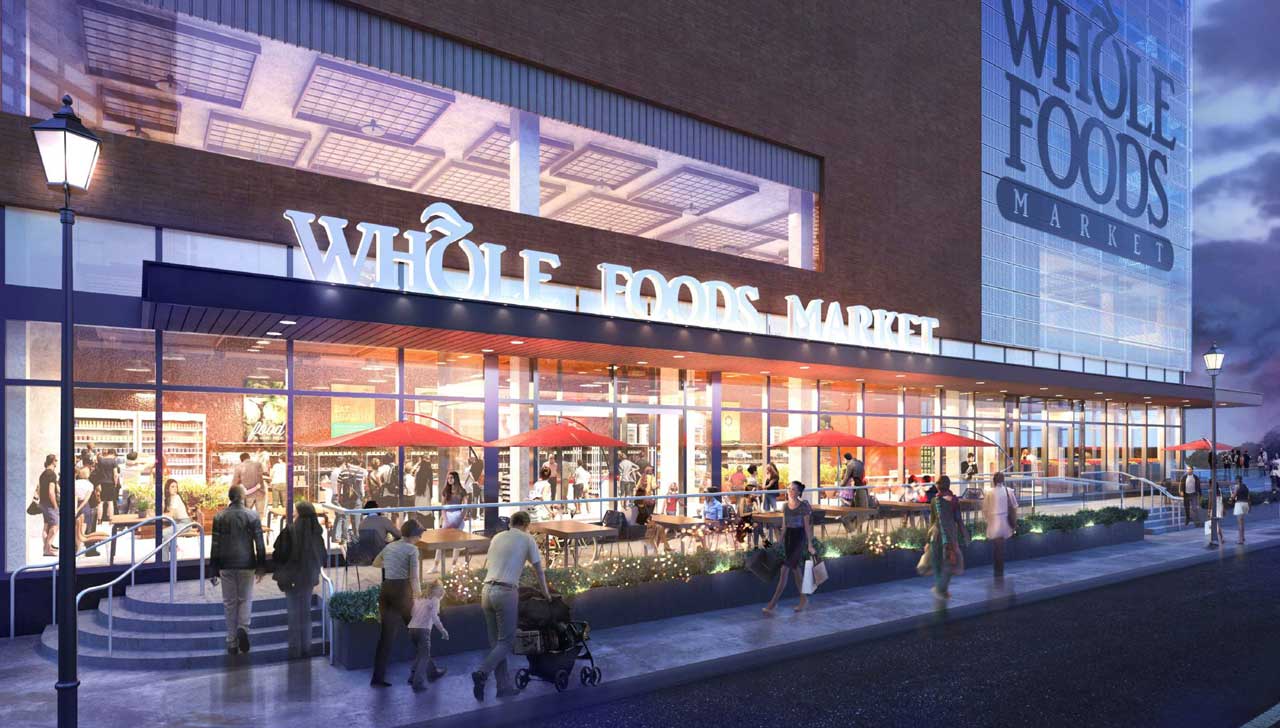 In anticipation of one of the biggest grocers in America opening their first store in Jersey City, a prominent office building will soon undergo a redesign to expand retail spaces, create modern signage, and revamp part of a roadway to facilitate the project.
After months of rumors, Whole Foods finally confirmed in May that they will be bringing a 47,000-square-foot market to a Downtown office building at 286 Washington Street. It will be the company's second Hudson County location on the heels of opening their Weehawken market over the summer.
The Jersey City property, owned by Mack-Cali and known as Harborside 4A, is an existing office building at the intersection of Columbus Drive and Washington Street. Local engineering firm Dresdner Robin assisted HLW International in drawing up plans submitted to the city back in October that will revamp the space to accommodate the market, which makes a few changes to the building and surrounding area.
Jersey City's future Whole Foods will combine 25,000 square feet of retail space that's been vacated by Five Guys, Muscle Maker Grill, and HopsScotch on the first two floors along the west side of the building. The remainder of the market's square footage will come from extending retail use into the first floor of the parking deck that currently takes up the east side of the property.
Some parking spaces will be sacrificed by the move, but the garage at the property will still have room for over 1,000 cars according to records obtained by Jersey Digs.
The revamp will also install four signs for Whole Foods on the building; two will go up on the west side of the property near the market's entrance, while the structure's north and south sides will each get one apiece. The application describes the signs as having a "modern and contemporary look" suited for the area.
As part of the overhaul, Pearl Street between Greene and Washington streets will be converted into a one-way roadway. That move is being made in part to accommodate a new loading dock for the market that will be created on the north side of the building.
"Jersey City has been anticipating the arrival of Whole Foods Market, and our ability to creatively retrofit Harborside 4A will make that a reality," says Deidre Crockett, Mack-Cali's senior vice president of communications. "Dresdner Robin's survey informs the overall reconfiguration of the building, and their work securing approvals has allowed development to proceed."
Construction hasn't yet started at the property, but Five Guys officially moved out of the building and opened at 101 Hudson Street earlier this fall. Nobody seems interested in discussing when Whole Foods will be making their Jersey City debut, but 2020 seems like a safe bet.
Related: