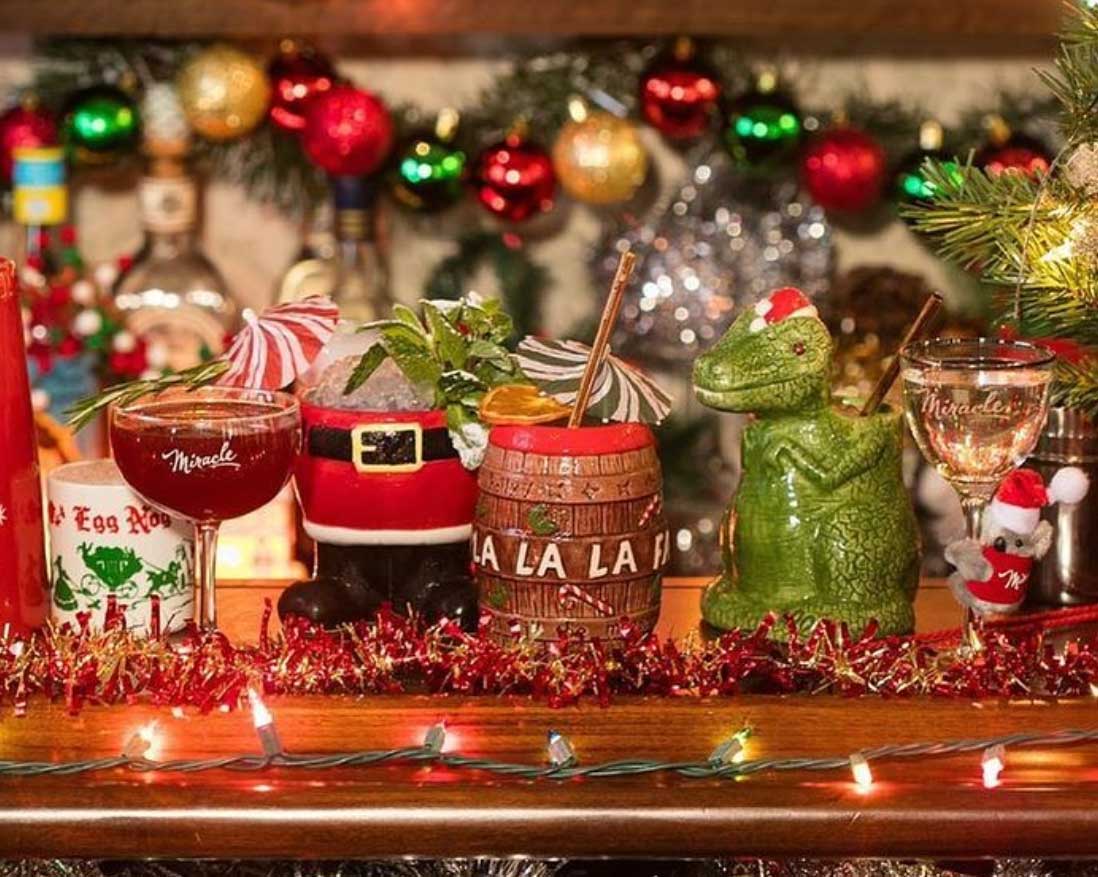 A new bar and restaurant set to open next year in the Van Vorst neighborhood has officially launched a holiday-themed sneak peek.
Earlier this year, we reported on Skopos Hospitality's upcoming Franklin Social that's set to open in 2020 at 292 Barrow Street. While the full restaurant isn't up and running yet, locals can get a glimpse of the space via an endeavor dubbed Miracle Pop-Up.
The festive cocktail concept was started in 2014 at the East Village bar Mace. While building out the business, owner Greg Boehm first transformed the unfinished space into a holiday-themed cocktail bar and Miracle on Ninth Street was born.
The pop-up has grown considerably since then, as the Miracle umbrella now has participants at bars throughout the U.S., Canada, Central America, Europe, and Asia. The vibe of a pop-up is described as "kitschy holiday décor, professionally-developed cocktails, and the nostalgic energy of the best office party you've ever been to."
Drinks at Jersey City's Miracle on Mercer include concoctions like the Christmapolitan or a Snowball Old Fashioned with spiced brown sugar. A drink called Dreidle, Dreidle, Dreidle even includes a chocolate gelt-infused mezcal and five of the bar's cocktails are completely vegan.
All drinks are $16 and if you purchase any glassware from the bar, 10% of all sales will be donated to Action Against Hunger, a humanitarian non-profit dedicated to helping malnourished children around the globe.
Miracle on Mercer, which has a Jersey City-specific Instagram account at the handle @miracleonmercer, will also be serving "alpine-inspired snacks" during the run. The Barrow Street bar will be open through December starting at 4 p.m. during the week and 11 a.m. on weekends.
New Jersey has a few other spots that are participating in the Miracle Pop-Up including Morristown's Iron Bar, New Brunswick's Catherine Lombardi, and Nutley's Cowan's Public.
Back in Jersey City, Franklin Social's full restaurant expects to open in January 2020 as a modern take on the American tavern and an homage to Ben Franklin. The seasonally driven menu will offer classic dishes that highlight local ingredients and be complemented by a cocktail program that's inspired by Colonial drinking culture.
Related: