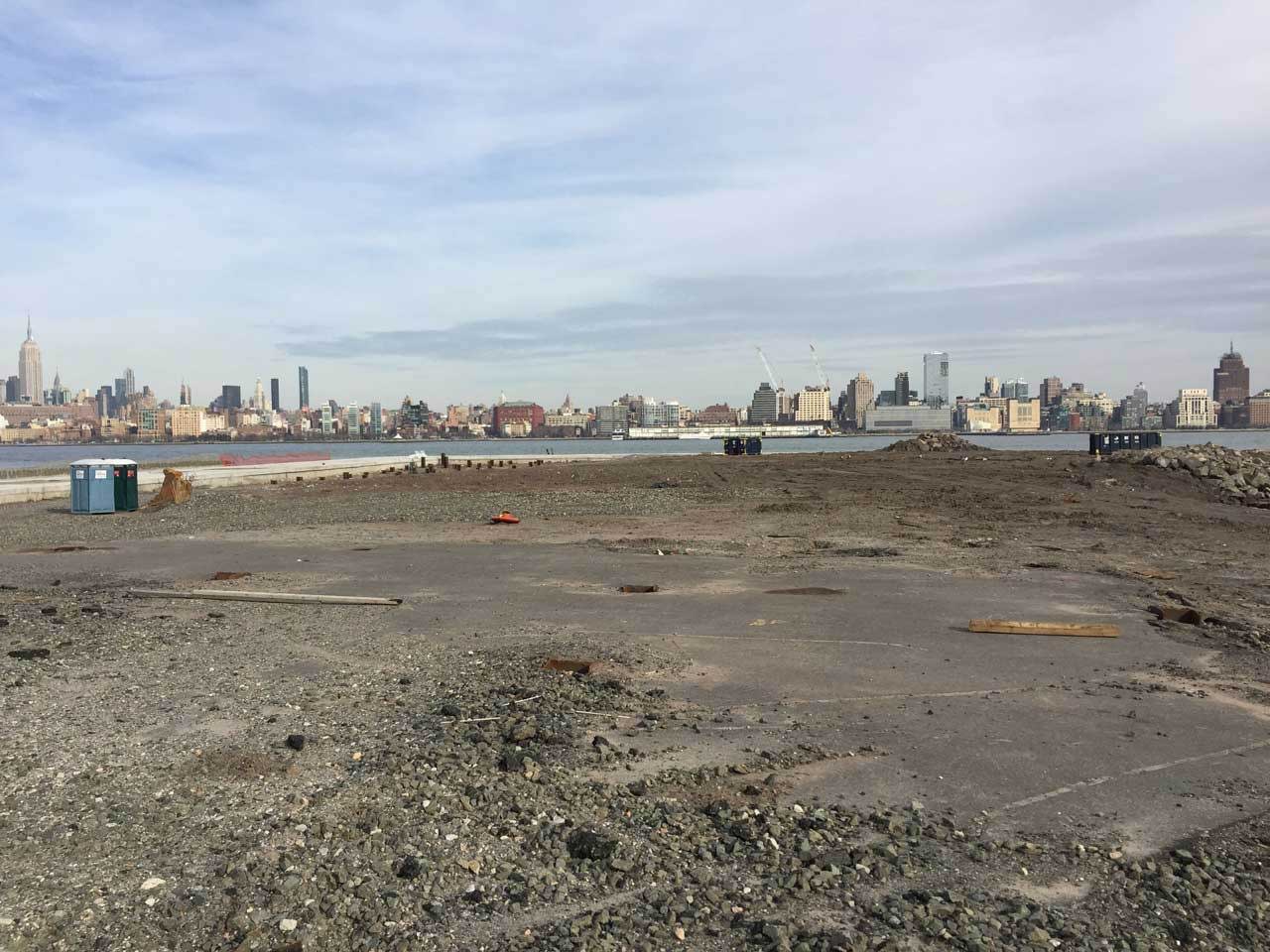 A scheme that would have added greenery to a vacant pier in Newport was derailed earlier this week after members of the public and local officials voiced concerns about a large portion of the park being set side for tenants at private properties.
Plans for Newport Pier Park, located at 15 Park Lane South just east of LeFrak's Ellipse development, have been quietly advancing behind the scenes for some time. We broke the news on the project back in March and were the first news outlet to reveal specifics about what was coming to the 3.47 acre parcel earlier this month.
Designed by New York-based Mathews Nielsen Landscape Architects with engineering work from Jersey City-based Dresdner Robin, the public portion of the park called for a 2,000 square foot dog run and an overlook featuring a wood deck, movable tables and chairs, and a "bar" complete with stools.
The plans would have added new sections to the Hudson River Waterfront Walkway along the perimeter of the pier complete with chaise lounges and a 14,000 square foot "art plaza" that would have been open to the public. But LeFrak had proposed that a large portion of the property's center be private for their tenants and accessed via a metal wall on the north side of the space.
That component proved to be the plan's downfall, as Jersey City's planning board voted unanimously to reject LeFrak's application for Newport Pier Park during their June 23 virtual meeting. Many residents who spoke during the proceedings objected to a large section of the park being off-limits to most Jersey City residents, and several board members echoed those concerns.
The planning board ended up voting 9-0 to reject the application, which is a rarity in it of itself. LeFrak's plan was the first denial issued by the board during this calendar year, a span that includes nine meetings where at least four different applications were heard.
It's unclear what the future holds for the pier but expanding access for the public might be key to getting any park plan approved. Under regulations established in 1988 by New Jersey's Coastal Zone Management, properties that are developed along the Hudson River spanning from the George Washington Bridge to the Bayonne Bridge are required to construct a 30-foot wide pathway at the water's edge.
The Hudson River Waterfront Conservancy enforces the state's regulations, which mandates the pathway include unobstructed public access 24 hours a day. The southern portion of the Newport Pier Park lacked a public walkway per the submitted plans.
LeFrak has not responded to our request for comment as to what the property's future holds and there's no word on whether a new plan could be submitted that addresses concerns about the private portion of the park.
Related: