Home
Tags
Mathews Nielsen Landscape Architects
Tag: Mathews Nielsen Landscape Architects
Following months of debate, the city's planning board has signed off on a modified application to bring a walkway, art plaza, seating areas, and more to a pier along the Hudson River.
The prominent Jersey City developer has eliminated a controversial section of their previous proposal that would have made a portion of the park accessible only to residents of their buildings.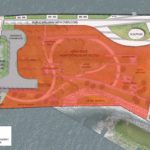 The planning board denied an application that would have built several public amenities on a Newport pier but also set aside a large section exclusively for tenants of their properties.
A parcel of almost 3.5 acres will soon be home to a public dog run, deck bar, chaise lounges, and more, but a significant portion of the upcoming green space will be private.