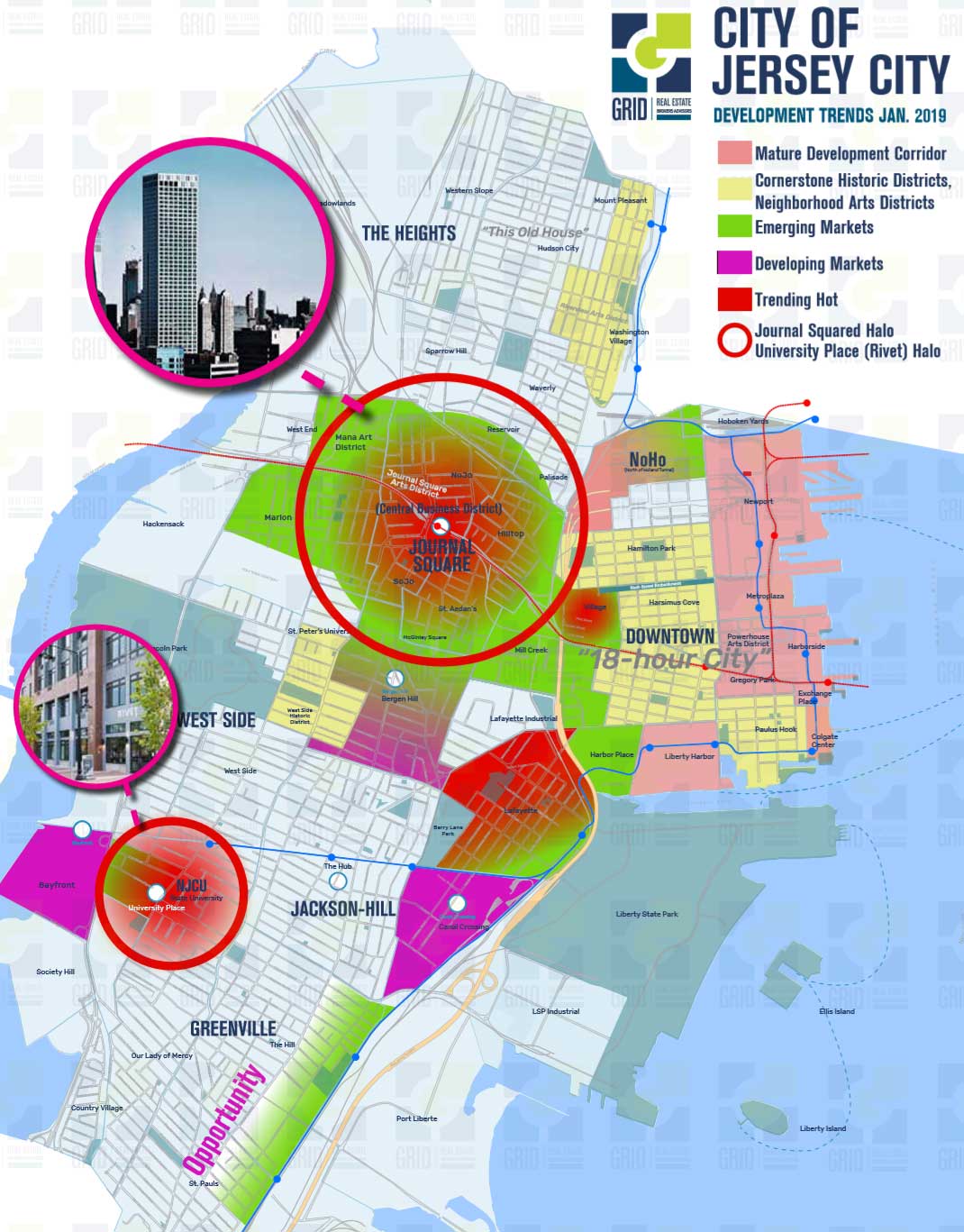 The state of growth in Jersey City has shifted further and further away from the waterfront in recent years and a new report from GRID Real Estate showcases emerging hotspots and shines a light on two "halo" neighborhoods that development seems to be focused around.
It should come as no surprise to local observers that the first "halo" of development in Jersey City includes the area around the Journal Square PATH hub. The report claims that the first tower of Journal Squared jump-started a ring of growth that the neighborhood hasn't seen in many decades and the tallest tower of that project, currently under construction, looks to add fuel to that fire.
Journal Square's "halo" also includes what GRID dubs several emerging markets like Hilltop, McGinley Square, Marion, and Bergen Hill. These neighborhoods are seeing both construction starts and enough activity through the planning and zoning boards to suggest that they are trending hot, and being adjacent to one of Jersey City's revitalization centers means interest could remain strong.
The second "halo" of revitalization noted in the report includes the area near New Jersey City University's campus, which itself is seeing some growth. Completed projects like the Rivet and the under-construction 100 Water Street have led the way in the neighborhood, which has even had a Starbucks proposed for a vacant parcel along Route 440.
Other neighborhoods trending hot include The Village and Lafayette, particularly the area near the Liberty State Park Light Rail station in the latter. The report notes two large developing markets that include Bayfront, a parcel that Jersey City owns and will look to build out into a mixed-use community over the next few years.
The other developing market in the report is the Canal Crossing site in Bergen-Lafayette, which hasn't advanced much in recent years. The formerly contaminated land has been environmentally remediated but part-owner PPG Industries filed a lawsuit over redevelopment amendments the city enacted earlier this year.
The report does, however, note some potentially good news regarding the 20-acre site; the Federal Department of the Treasury recently designated Canal Crossing as an Opportunity Zone, which allows developers access to certain tax benefits.
The report's Mature Development Corridors include many established neighborhoods Downtown, while their Cornerstone Historic and Neighborhood Arts Districts feature spots like Hamilton Park, Harsimus Cove, and Paulus Hook. Besides that, much of The Heights is designated as such, as is the West Bergen Historic District.
As far as what the "next" spot could be, the report highlights Greenville as an opportunity area. It concludes that the portion of that neighborhood most likely to emerge falls along the Hudson-Bergen Light Rail tracks, as both the Richard Street and Danforth Avenue stations service the community.
Read the full report here: City of Jersey City Development Trends 2019
Related: