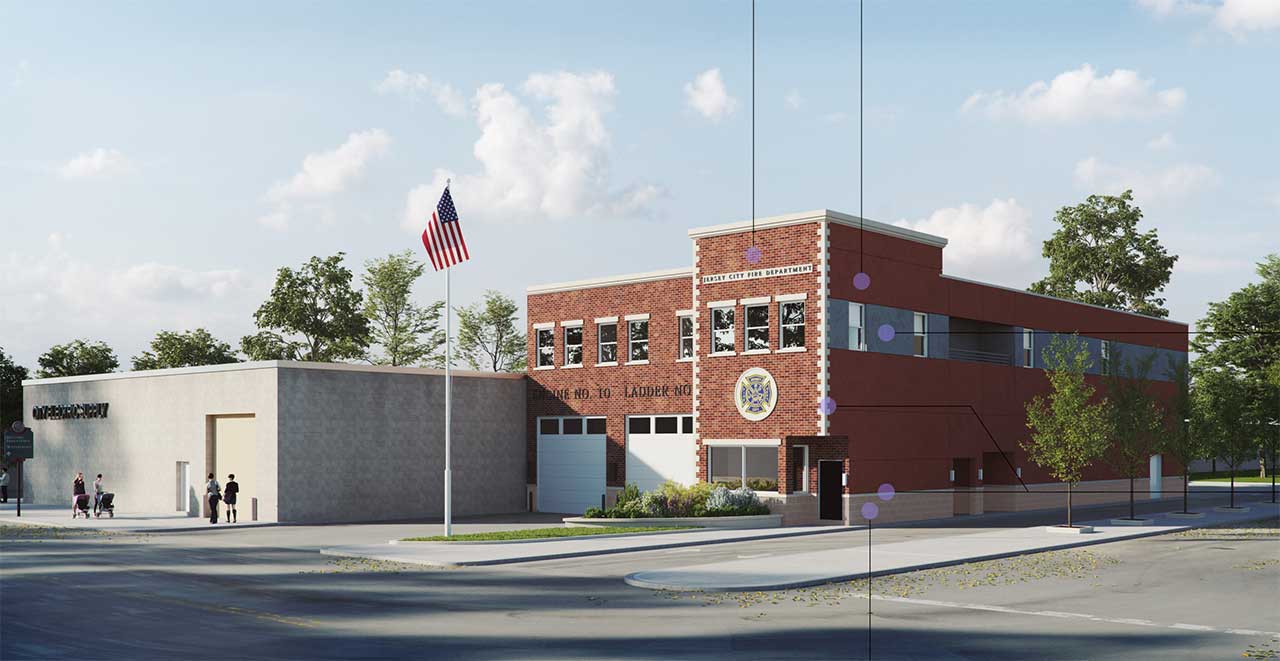 A neighborhood that has seen plenty of development over the last few years looks like they will be getting a new fire station that could soon take a big step forward.
On September 29, Jersey City's planning board is scheduled to hear an application for a 0.4-acre parcel at 627 Grand Street. The currently vacant land is envisioned as a new two-story fire station for Engine 10 & Ladder 12 that would essentially replace the former headquarters of Engine 10 at 283 Halladay Street, which has been closed for some time.
The city commissioned Mountainside-based Netta Architects to design the 11,751-square-foot station, which would utilize a brick façade on the front and fiber cement panels on the west and rear portions of the building. A ground face concrete masonry band is set to run along the base of the building, which would be capped with cast stone pieces.
The first floor of the property would be set aside for most of the Fire Department's operations and trucks, while the second story design includes a gym, kitchen, the Captain's office, officer's quarters, and a small rear balcony.
The future station for Engine 10 & Ladder 12 would be setback from the street a bit and feature a driveway complete with landscaping. The design utilizes an existing dead-end street that is directly next to the parcel. The proposal would not affect the City Electric Supply building next door, as that property is not included in the plans.
The neighborhood the fire station would serve has seen an influx of new residents and businesses, particularly in several new developments near the Liberty State Park Light Rail station. The area is home a diverse mix of development that includes the ambitious SciTech Scity project, which is looking to turn 14 acres of land near Liberty Science Center into a school and technology district.
The fire station proposal is the latest initiative looking to improve the facilities that serve Jersey City's residents. In addition to the recent groundbreaking for a new Pubic Safety Headquarters set to rise in Jackson Square, the city is also working on a North District police station along Central Avenue in The Heights.
A formal announcement regarding the fire station scheme could emerge pending the planning board's approval of the application, which was submitted by the city.
Related: