Central Avenue in The Heights is one of Jersey City's more historic streets, but that aesthetic can sometimes create issues in terms of public properties. The North District of the Jersey City Police Department at 282 Central Avenue is one of those examples, as the pre-WWI building has by all accounts outlived its originally intended use.
The current police station was built in 1901 and is, among other problems, expensive to maintain. The situation with the building is similar to what the city faced regarding the old Police Department Headquarters at 8 Erie Street, which was restored into the TelCo Lofts by a developer after the police department's headquarters was moved to One Journal Square Plaza back in 2012.
Politicians have taken notice of the current problem in The Heights and in 2017, Mayor Steve Fulop pledged to build a new station for the neighborhood during one of his State of the City addresses that year. Those plans were finally revealed last week at a community meeting held by Fulop, Ward D Councilman Michael Yun, and officials with the Jersey City Police Department.
Designed by Totowa-based Coppa Montalbano, the new station would be constructed down the street from the current one at several parcels along 269-273 Central Avenue. Currently home to a surface parking lot, the plan would construct a six-story structure that faces Central Avenue that would include about 31,000 square feet of space for the police department.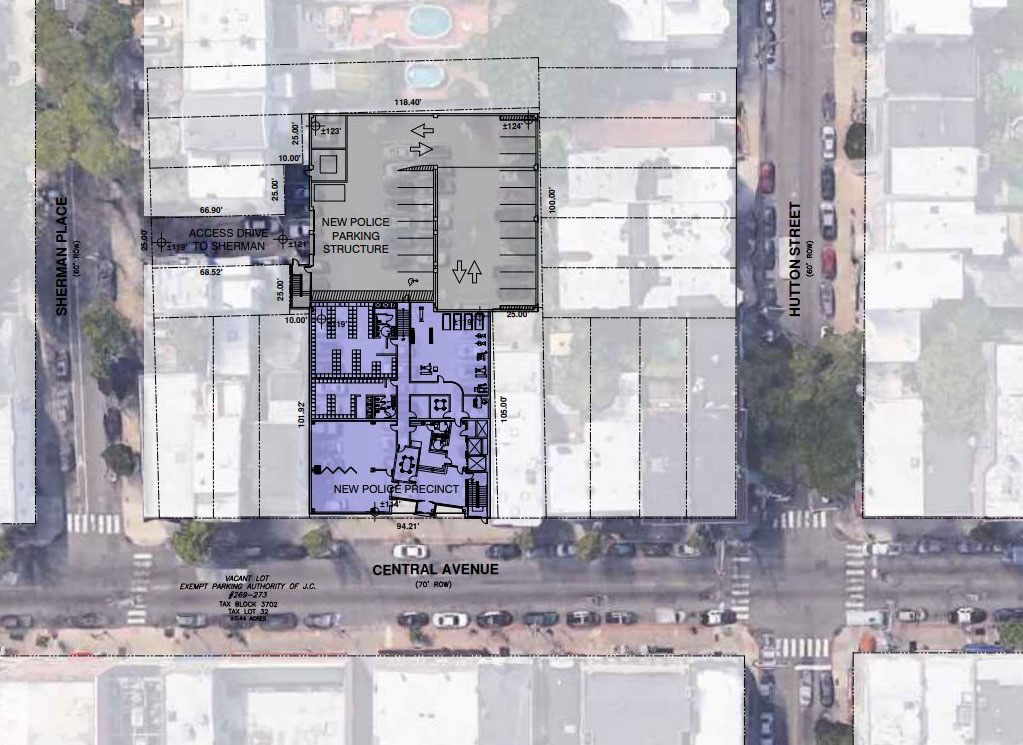 Behind that, a six-story parking garage would be built to include 190 spaces reserved for police vehicles. The garage entrance would be accessed via Sherman Avenue and would help house the department's police cars out of sight, as many of them are currently forced to park on the neighborhood's streets.
The design is only preliminary, as the city wants feedback from residents before moving forward. They've created a survey asking locals how they feel about the design that should be open through the summer months.
As Jersey City grows, an effort continues to be made to upgrade their police facilities. A new West District station was opened back in 2015 and the city has also stated their desire to open a new Downtown station inside 23,900 square feet of public space that's part of the Emerson Radio Factory redevelopment project.
Related: