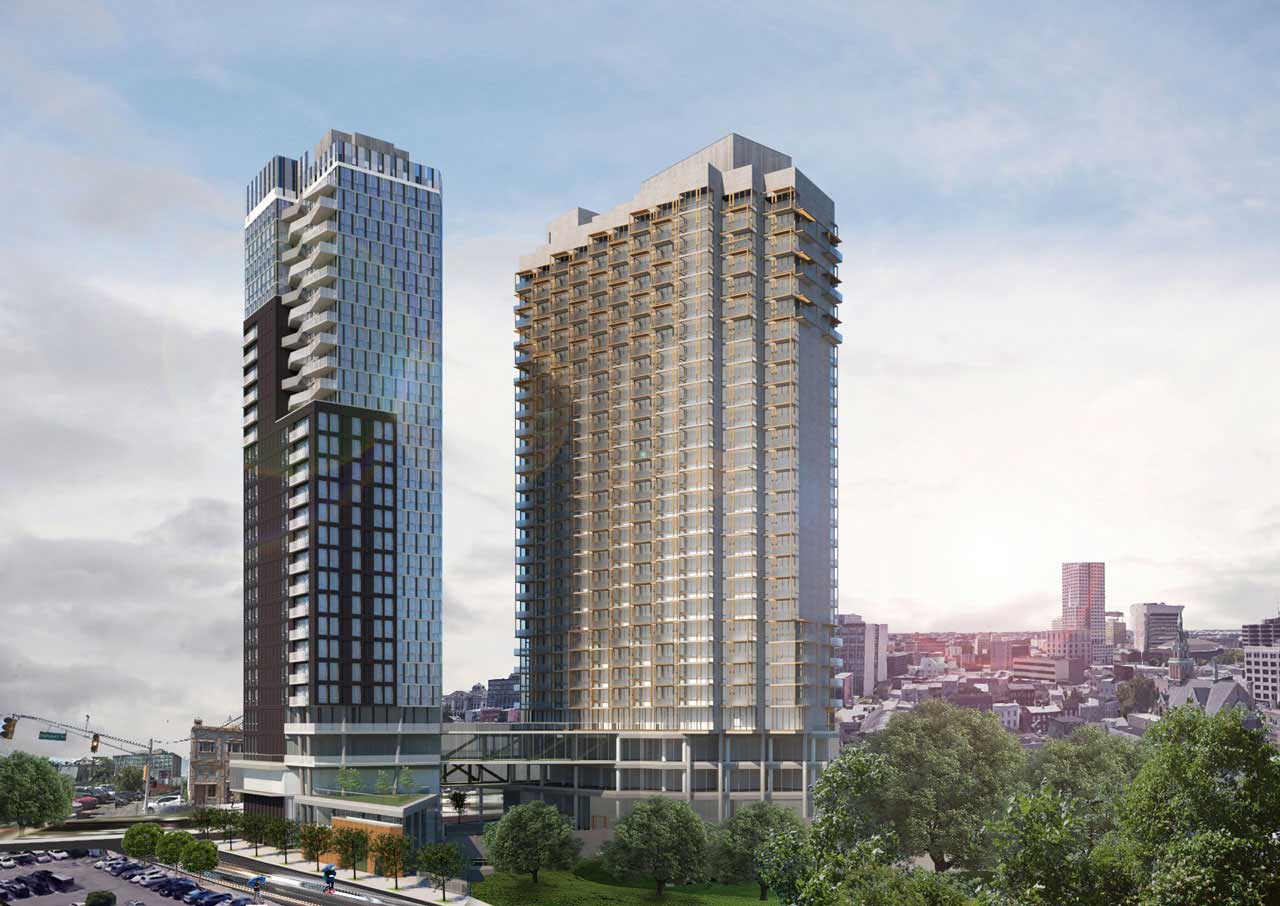 The city's planning board recently signed off on a major proposal that will transform several vacant properties near the border of Journal Square and The Heights into an ambitious mixed-use project complete with a new public space.
In September last year, we reported on a proposal to redevelop several lots at 414-432 Hoboken Avenue totaling over 43,000 square feet in size. The properties were acquired in July of 2015 by Hoboken-based developer Seth Martin and consist of an abandoned house plus two vacant structures formerly home to a vehicle repair facility and the Corte & Co. Sausage Manufacturers, who operated out of the property for almost 70 years.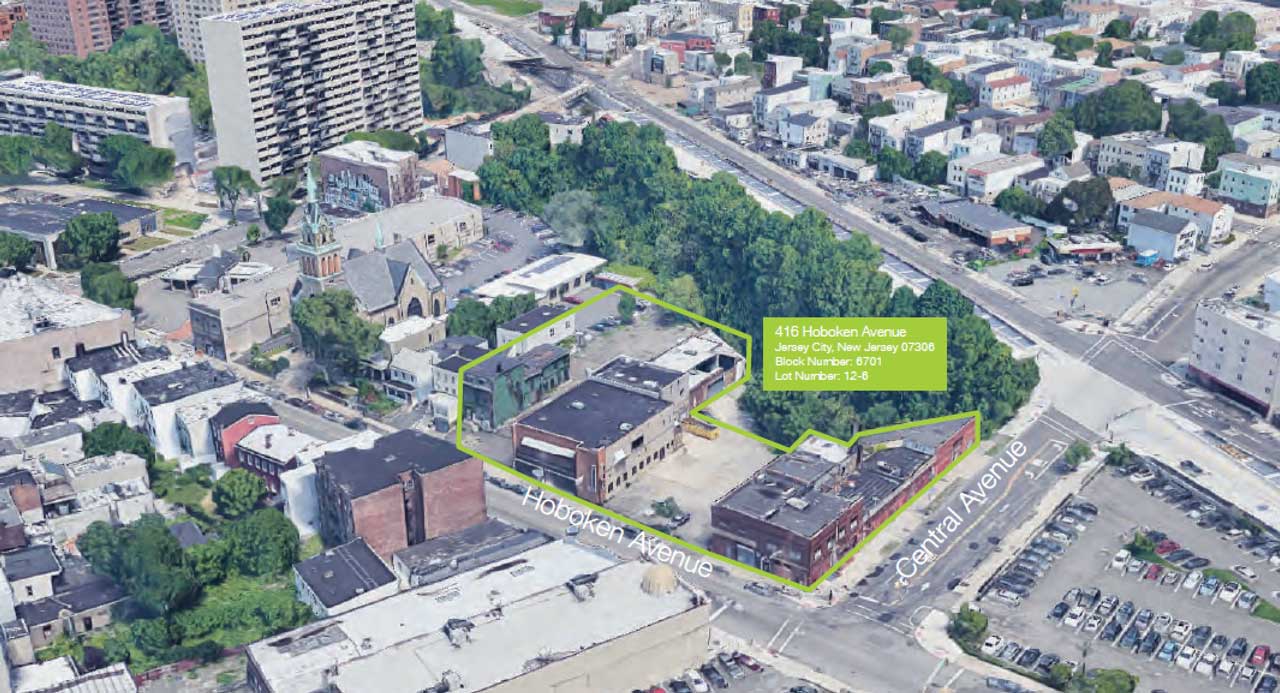 The development, approved by the planning board during their February 18 meeting, will start completely from scratch by demolishing everything and constructing two 28-story residential towers connected by a breezeway as part of a mixed-use development. Dubbed Bergen Arch Plaza, the project's residential component includes 524 apartments that are skewed toward studios — 293 units will be designated as such.
Designed by LWDMR Architects, the towers of Bergen Arch Plaza boast two distinct looks and will include 143 garage parking spaces for future residents. The development's west tower will have 367 total units and include the lion's share of the studios, while the east tower will total 157 units. No affordable housing is required under current regulations and none is included in the development.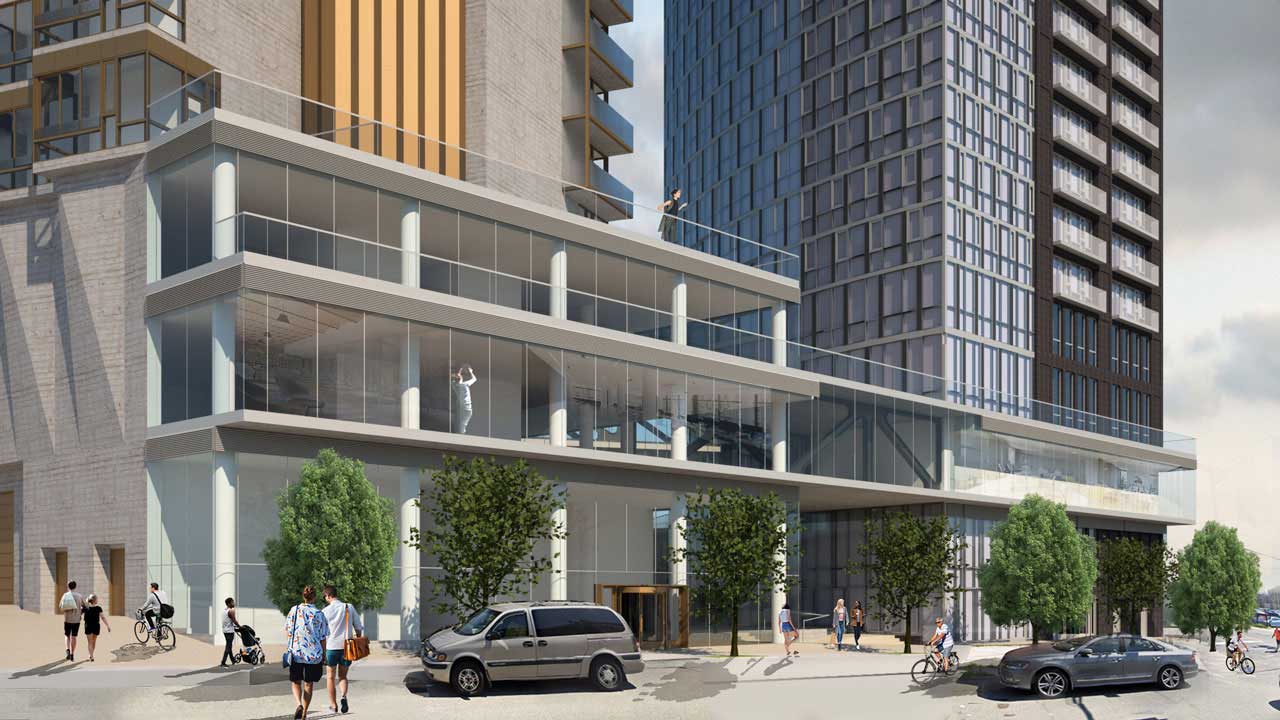 414 Hoboken Avenue will be creating a 5,500-square-foot public plaza between the two towers, which will overlook and provide access to the historic Bergen Arches at what's known as the Erie Cut. The plaza portion was drawn up by landscape architect Arterial Design Studio and will create a walkable pedestrian connection between Hoboken Avenue and Central Avenue when completed.
6,700 square feet of retail space will surround the plaza, which will feature movable tables and chairs, raised planters, and permanent seating areas. Other features of 414 Hoboken Avenue include 29,000 square feet of office spaces that sport outdoor areas and both towers are set to include rooftop decks complete with pools.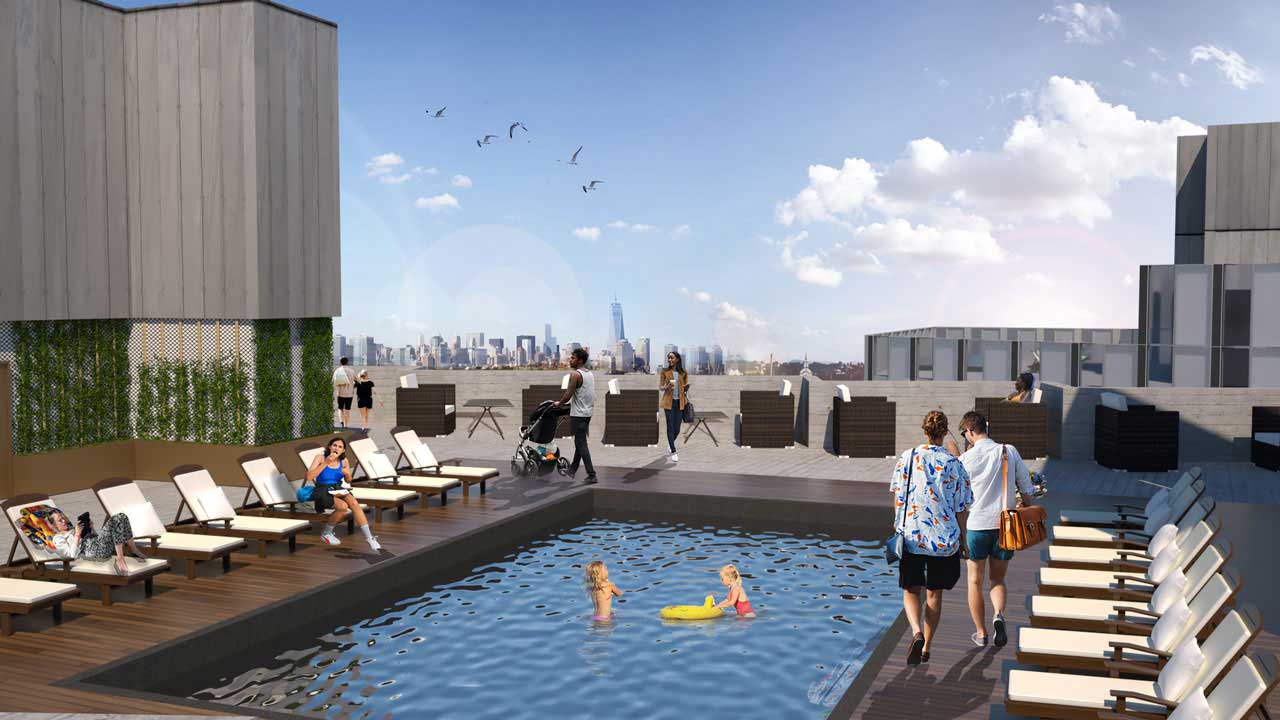 LWDMR says they embraced a cascading nature when working on the project to make it both appealing and accessible from street level. "The hope is that designs like this will create truly mixed-use experiences that invite the general public into communal spaces on different levels, each fostering activities in business, arts, culture, and residence," the firm says.
The project is located within Zone 4 of the Journal Square Redevelopment Plan and was granted a "c" variance related to the building's bulk from Jersey City's planning board via the approvals. A groundbreaking date hasn't been set.
414 Hoboken Avenue is the second project to move forward this year near the Bergen Arches, an abandoned railway corridor that various groups hope to one day repurpose into open space. Last month, a 27-story tower at 622 Summit Avenue was green lit and also touted access to the Bergen Arches as one of the community benefits.
Related: