The possible revitalization of a warehouse near the entrance to The Heights has caused much community debate since being first proposed, but a downsized version looks like it will finally be heard by the zoning board later this week.
Plans to adaptively reuse a three-story brick building spanning over half an acre at 107 New York Avenue first emerged during a contentious community meeting held last March. Those plans were looking to expand the structure upward to nine stories as part of a project that then included 96 apartments plus three separate retail spaces.
Last September, Jersey Digs exclusively reported on a smaller version of the project that would have a setback expansion atop the block-long warehouse rising 67 feet at the highest point. That proposal has been settled on by property owners MJSM LLC, a company that's registered out of 107 New York Avenue but can been traced to two individuals in Brooklyn.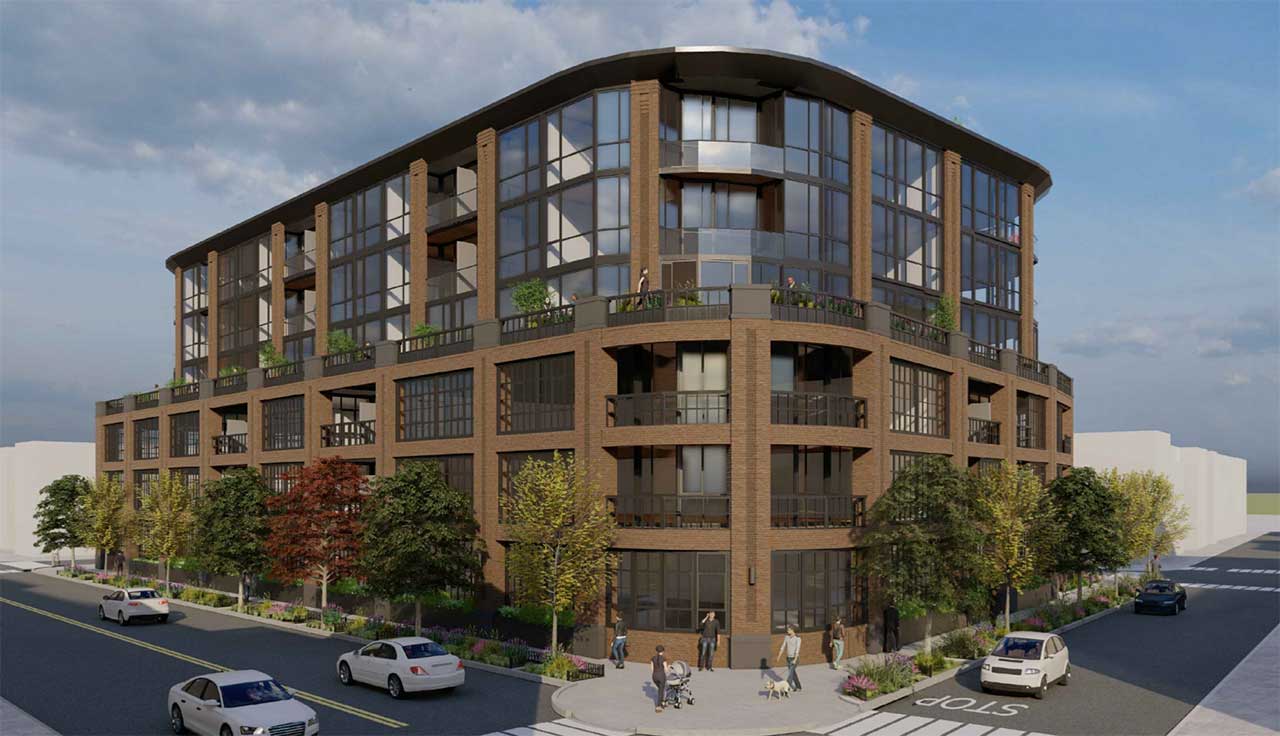 Drawn up by Hoboken-based MVMK Architecture, the currently proposed six-story structure would utilize brick that matches the current building on the expansion, which would sport black frame windows and an aluminum cornice. The project includes 75 total residences breaking down as five studios, 56 units designated as either one bedroom or one-bedroom plus den, 20 two-bedroom units or two-bedroom plus den, and four four-bedroom apartments.
Many of the development's apartments would have private balconies or decks, including sizable ones on the fourth floor units due to the setback nature of the upward expansion. A 17,000-square-foot parking garage with 76 spaces for cars and 36 bicycle spots is built into the plan, but the latest proposal completely eliminates all the retail space that was included in previous versions.
Amenities in the proposal include a 1,545-square foot gym on the second floor and a 600-square foot third floor lounge. The roof at 107 New York Avenue calls for an indoor amenity area of over 1,600 square feet surrounded by outdoor lounges and dining areas.
The proposal includes a few environmentally friendly components like a 6,000-square foot green roof and an underground rainwater detention tank to be located in the development's basement.
The property falls within a R-1 zone that caps height a three stories, so MJSM will be asking for several variances for the project to move forward. They include exceptions for residential use from the current industrial, one for maximum height and another for maximum stories, and two more related to minimum driveway aisle width and maximum curb cut.
After many months of delays, the city's zoning board is set to hear the application for 107 New York Avenue during a Special Meeting on May 26, which will take place virtually on Zoom. It starts at 6:30 p.m. and can be accessed here or by using the meeting ID 844 4732 5214.
Related: