Lodging facilities in the Mile Square City are surprisingly hard to come by, but one of the more prominent developers in Hudson County is looking to redevelop their headquarters into a 14-story hotel.
Last year, Fields Development Group submitted plans to the city regarding several parcels at 1 Henderson Street, 497 Observer Highway, and 503-511 Newark Street. The properties currently act as the company's headquarters and a private parking lot, all of which would be demolished under the submitted scheme.
The combined parcels total just under 25,000 square feet and are located a stone's throw from the Jersey City border, where Henderson Street turns into Marin Boulevard as you head south. Fans of Kobrick Coffee need not worry; their facility is not included in the plans and will be staying put.
The proposal, called 1 Henderson Street, falls within the Southwest Hoboken Redevelopment Plan and is designed by Marchetto Higgins Stieve. The potential hotel from Fields would rise 160 feet above the Designated Flood Elevation (DFE) and be built to LEED Silver standards.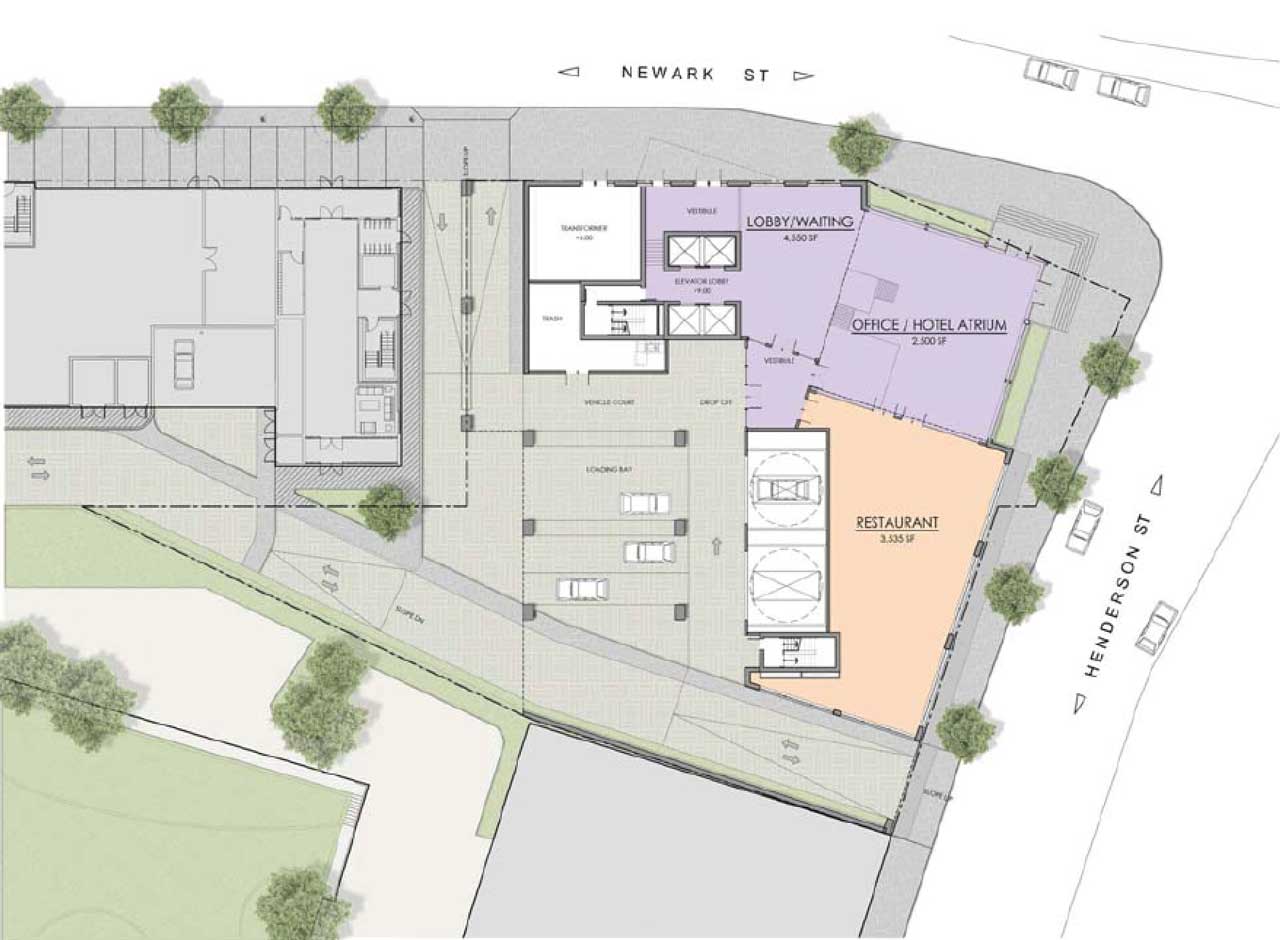 The ground floor of the development would sport a lobby and atrium plus a 3,500-square-foot restaurant space that faces Henderson Street. The next three floors would consist of office space totaling 39,000 square feet.
The fifth floor of the property would be the starting point where the 195 total hotel rooms at the development would begin. Besides the rooms, it would feature an amenity roof deck facing the intersection of Henderson Street and Observer Highway. The remaining floors would be set back a bit from the base and the design includes a roof deck featuring both an amenity space and a pool.
The proposed hotel would include 136 garage parking spaces and create an alleyway behind the building that's accessible from Henderson Street. The plans comply with the existing zoning of the area, but there's a few steps to go before demolition or construction occurs at the properties.
The proposal from Fields will now be vetted by a council subcommittee before a resolution looking to award the company a conditional redeveloper designation can be voted on by the council. After that, a redevelopment agreement between Fields and the city would need to be negotiated and approved by the council. In addition, plans for the property would be subject to approval from Hoboken's planning board.
If the proposal gains steam, it would be just the second hotel in the Mile Square City after a W Hotel at 225 River Street and the first to be built away from Hoboken's waterfront. A noteworthy 20-story Hilton project from KMS Development Partners at 1st Street and Sinatra Drive has been fully approved but is being legally challenged in court by two nearby property owners over community givebacks included in the plan.
Related: