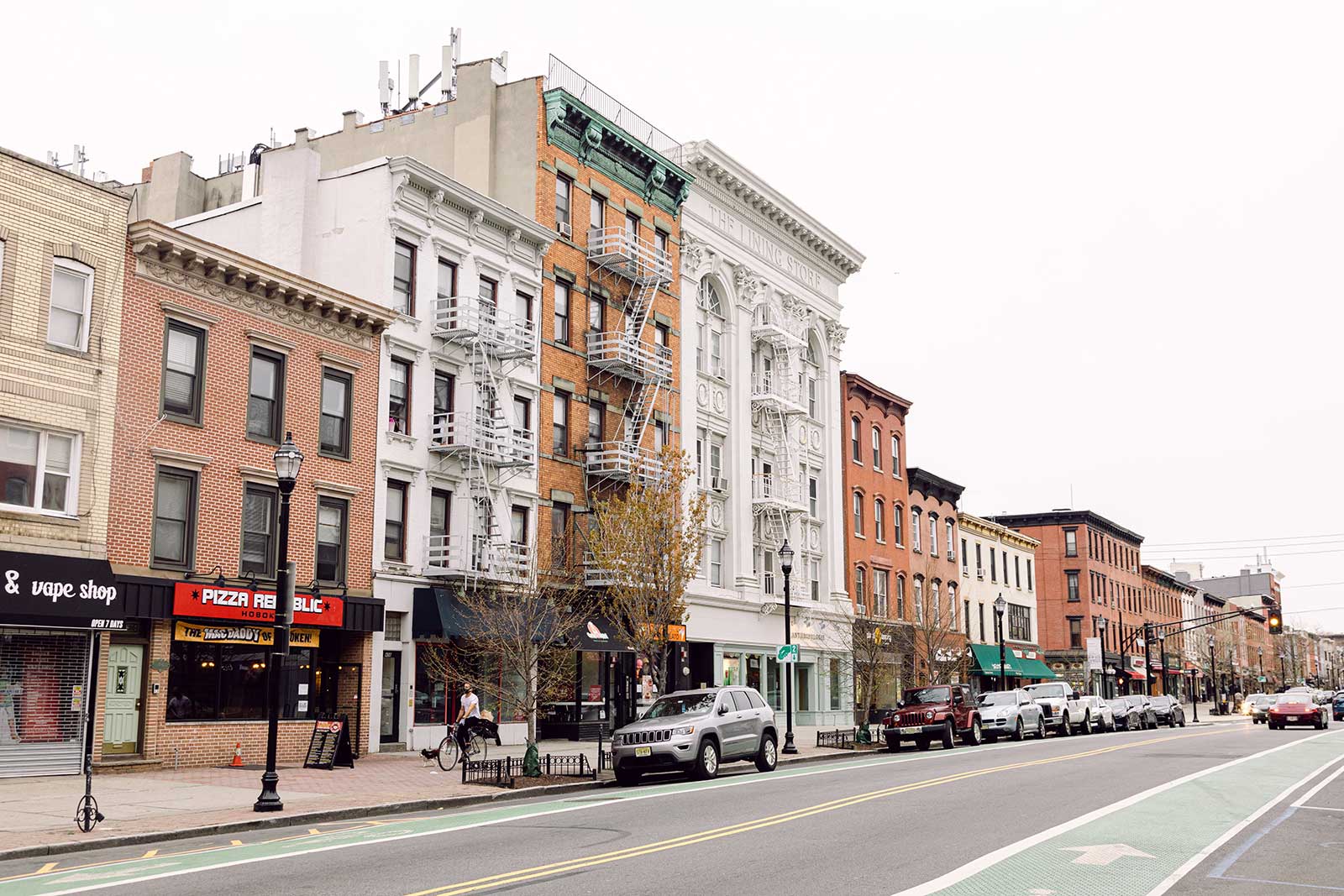 When you live this close to 'the city that never sleeps', coffee is not just an option, but a way of life. So, we put together a list featuring some of the places to find the best coffee in Hoboken.
Hoboken's coffee tradition dates back to 1939 with the Maxwell House Coffee plant, now known as Maxwell Place.  There are currently more than 3 dozen coffee shops and cafes in Hoboken — roughly one for every 1,600 residents. 
With so many options to choose from, what makes a Hoboken coffee shop truly great?
What makes a great coffee shop in Hoboken?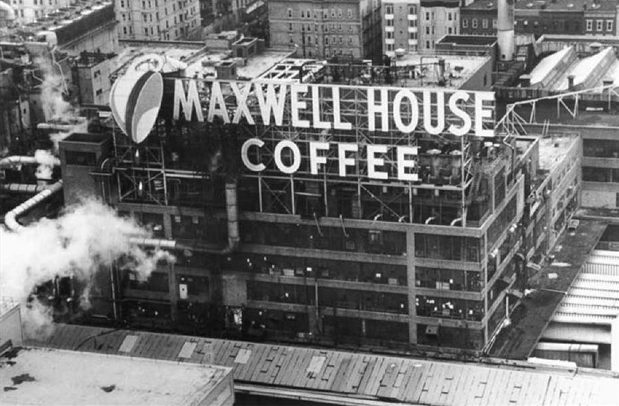 Hoboken features a diverse selection of coffee shops across town. The good ones base their business model on high-quality beans and roasting methods. The best Hoboken coffee shops start with great coffee, then find even more ways to provide value to customers.
If you're new to Hoboken — or a longtime resident looking for a new experience — this list of Hoboken coffee shops is what you need. From River Street shops near the Hudson to hidden gems on Adams and Madison, we've got you covered with our picks for the best coffee in Hoboken.
Here's our list of the 12 best coffee shops in Hoboken. And, if you have a nut allergy, read to the end — we've included a Hoboken coffee shop that's 100% nut-free!
The Best Coffee in Hoboken
The Hive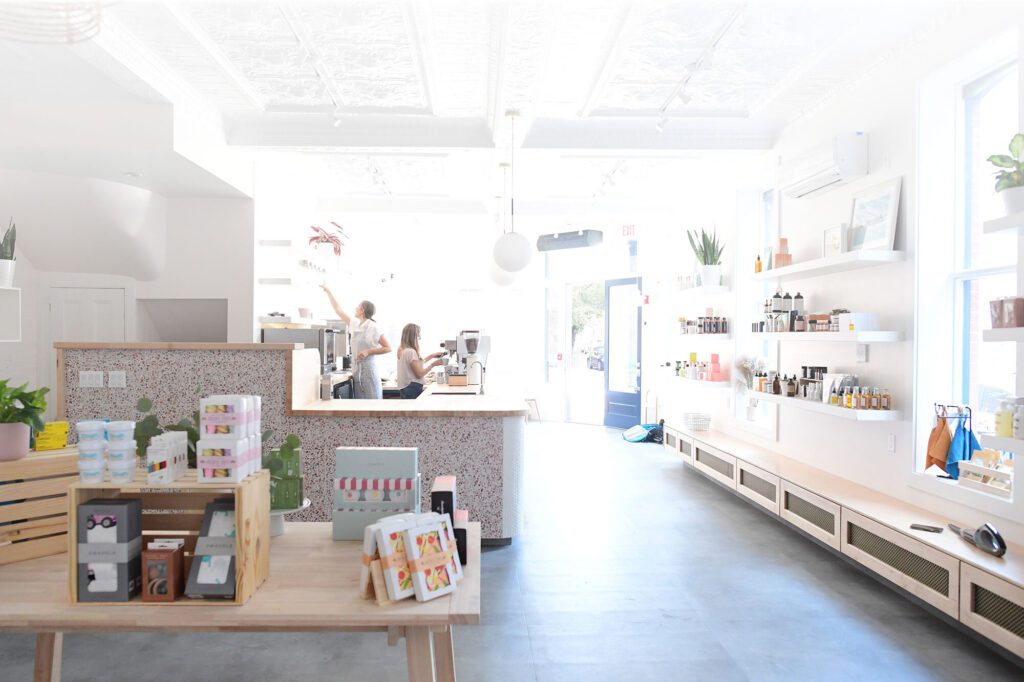 The Hive's owners call it a "little love note to the community". The decor, vibe and menu all reflect a business tailored to relaxation and family. Their organic coffee is locally sourced from Kobrick's to ensure frequent, fresh delivery.
The Hive is ideal for families. There's a dedicated play area for kids to explore while adults kick back with a well-deserved espresso. Grab a few baked goods and explore The Hive's retail area. It's always stocked with apparel, coffee-inspired candles and self-care items.
What to Try: The cereal milk latte is crafted with steamed housemade milk (Cinnamon Toast Crunch steeped in Oatly) and pairs beautifully with an almond croissant. The Hive's flat white is a highlight of their espresso menu as well. If tea's your style, try the Spring Fever Matcha.
1000 Park Avenue, Hoboken, NJ
https://www.thehivemarket.com/
Empire Coffee & Tea Co.
Empire's vibe is always fresh. It starts with the vibrant green exterior of their corner entrance, and it continues with their staggering array of coffee. It's a hotspot for freelancers, remote workers and artists that flock to Empire for its creative energy.
Empire Coffee & Tea Co.'s whole beans are worth buying. (There are over 30 homemade varieties available daily.) Grab a cup of fresh-brewed joe and admire the "who's who" of Empire visitors on the wall — it's a cast of characters you'll feel compelled to join.
What to Try: Empire Coffee aficionados rave about the Starry Night dark roast. And don't sleep on their extensive selection of loose tea! The white-tip green tea and Assam varieties are tremendous. Almond milk drinkers will enjoy themselves here.
338 Bloomfield Street, Hoboken, NJ 07030
https://www.empirecoffeetea.com/
Bwé Kafe
Bwé Kafe means "drink coffee" in Haitian Creole. Their shop is rooted in a passion for community and for Haiti itself — Bwé Kafe helps fund higher education for Haitian students with their profits. 
There's more to love than just Bwé Kafe's mission. Their menu features rotating seasonal options like Winter's intriguing Spicy Mocha. Haitian coffee is loved for its low acidity and robust flavor. Try the BEAUTY blend for an introduction. 
What to Try: Bwé Kafe also features a fantastic 20-hour dark roast cold brew that delivers rich flavor. The most unique menu option is the vegan-friendly Golden Turmeric Latte, made with turmeric, ginger and cayenne pepper.
1401 Adams Street, Hoboken, NJ
1002 Washington Street, Hoboken, NJ
https://www.bwekafe.com/
MOJO Coffee Company
MOJO brings the hometown vibe with its distinctive interior, complete with an exposed brick wall and clean black furnishings. Their coffee shop is a winning blend of West Coast roasting and Hoboken-based owners, providing highly-curated coffee blends.
The MOJO Coffee menu is simple and effective. Their drink quality benefits from their owners' ability to curate and perfect a smaller selection of beverages. Fans of espresso beverages will be particularly happy — their espresso is smooth and well-extracted.
What to Try: If you catch the Blackberry Mocha Latte in season (spring months), get it early and often. It's also worth the wait for a pour over of MOJO's coffee of the month, as their selections are diverse and intriguing. The vanilla cold brew is particularly refreshing.
230 Willow Avenue, Hoboken, NJ
https://www.mojocoffeehoboken.com/
The Little Local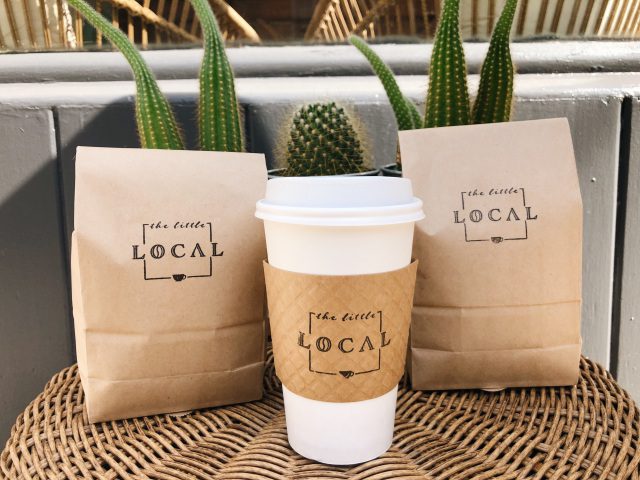 If you want a Hoboken coffee shop with a focus on its community, this is it. The Little Local's mission statement says it all: "We source from local shops to make local coffee for all of our local friends." 
The Little Local uses a local provider that sources beans from Central and South American coffee farms. The result is a focused menu of coffee and espresso beverages with robust, nutty notes. True to its sense of community, it's located in the heart of Hoboken on Adams between 5th and 6th Avenues.
What to Try: The Little Local menu is succinct and excellent. The Local blend is great with a splash of milk. If you aren't in a "coffee mood", the iced matcha latte and chai latte (both hot and iced) are very well made.
519 Adams Street, Hoboken, NJ
https://www.thelittlelocalhoboken.com/
Black Rail Coffee
If you want an appetizing plated dish with your coffee, Black Rail Coffee is the right choice. The breakfast and lunch items are generally excellent and aesthetically pleasing. Their rotating Sandwich of the Month (S.O.M.) menu is worth a try.
The Black Rail Coffee shop itself is clean and modern, with a diverse staff and eclectic group of patrons. You're equally as likely to find freelancers on laptops as you are couples enjoying a brunch date. 
What to Try: If you're going without caffeine today, the lavender hot chocolate is an excellent choice. Espresso drinkers have several quality options to consider as well. Try the bullet cortado for a gently sweet take on the classic cortado, or a S'mores latte if you have a sweet tooth.
800 Jackson Street, Hoboken, NJ
https://www.blackrailcoffee.com/
The Roost Outpost
The Roost Outpost is a lovely "little sister" to its NYC Avenue B counterpart. The classic white subway tile from the original Roost is complemented by beautifully-mixed wood grains to create a fresh take on the "city coffee shop" motif. The surfboard over the retail wall space is a fun touch that sets the tone for a friendly atmosphere.
Speaking of retail, The Roost Outpost is the ultimate "sip while you shop" spot in Hoboken. The clothing selection is fun and varied, and the retail space itself feels like a shopping getaway built into a coffeehouse.
What to Try: Lean on The Roost Outpost's staff for daily selections — they won't steer you wrong. Their oat milk pairings are very well-executed, so try out their oat milk dirty chai latte and oat milk latte. 
55 1st Street, Hoboken, NJ
https://hoboken.theroostnyc.com/
Jefferson's Coffee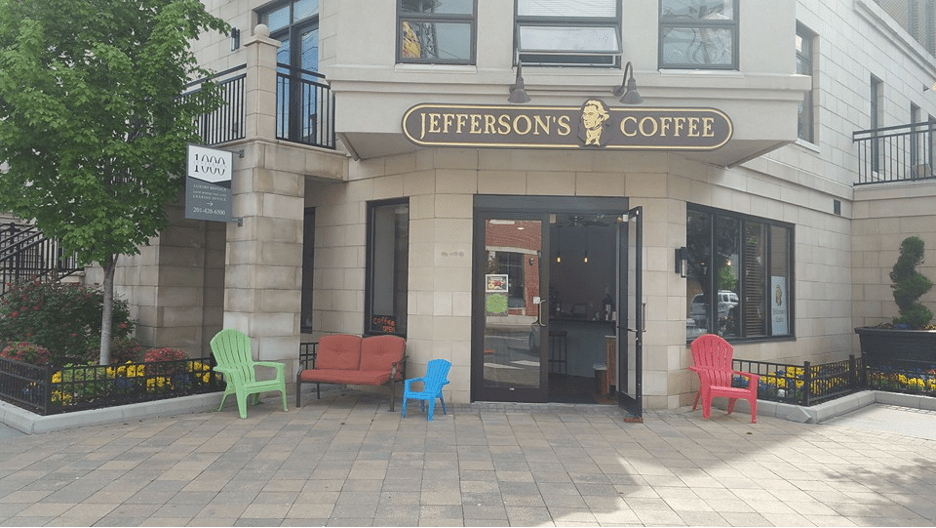 Jefferson's Coffee is the choice if you want coffee brewed with a ton of heritage. The Jefferson family has been in the coffee business since the 1880s, and the company takes care to combine quality beans with fresh preparation. Their espresso is grown in Brazil and roasted in northern NJ to ensure fresh delivery.
The aesthetics of the Washington Street location are particularly interesting. Their tables are made from repurposed Singer sewing machines, and there's a neat outdoor backyard seating area for warmer months. It's not all vintage at Jefferson's — the WiFi accessibility is as strong as the espresso.
What to Try: The Brazilian espresso is rich and earthy with citrus notes. Try it in a variety of options, like the vanilla pistachio latte. The London Fog tea latte is exceptional, and the breads and sweets are made from scratch in a hearthstone oven.
534 Washington Street, Hoboken, NJ
1001 Madison Street, Hoboken, NJ
http://www.jeffersonscoffee.com/
Hidden Grounds Coffee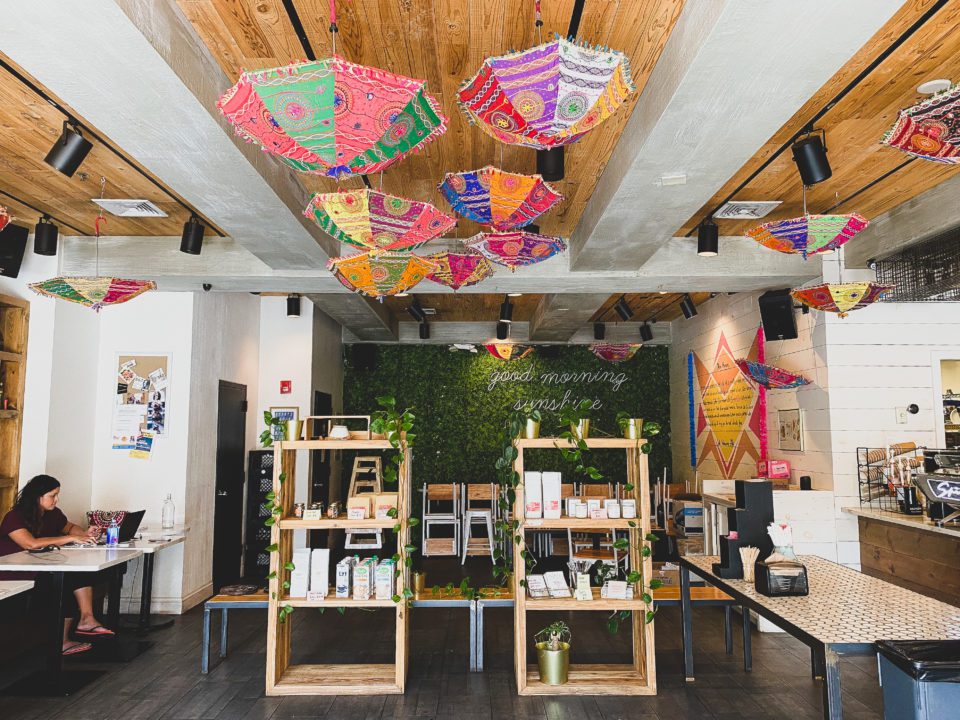 Hidden Grounds blossomed from its New Brunswick roots into 2 Hoboken locations. The Garden Street shop is elegant, with black and white feature tile and gorgeous lighting fixtures. The Espresso Bar on Hudson Street is funky and fun, with vibrant umbrellas serving as ceiling features above large table seating.
While it's not a "one shop" business, Hidden Grounds has earned its spreading popularity. From New Jersey to Brooklyn, each of its locations is uniquely decorated to reflect its neighborhood. Grab a latte and a bite to eat, and take some photos that are definitely Instagram-worthy.
What to Try: Get your hands on the Rose Chai, a chai latte made with rose and served hot or cold. The Hidden Grounds cold brew menu is wonderful — try the New Orleans Cold Brew, crafted with chicory and simple syrup. If you want a signature Hidden Grounds beverage, try the intriguing taro latte.
700 Garden Street, Hoboken, NJ
79 Hudson Street, Hoboken, NJ (Espresso Bar)
https://thehiddengrounds.com/700-garden-st-hoboken-menu/
Pour Amor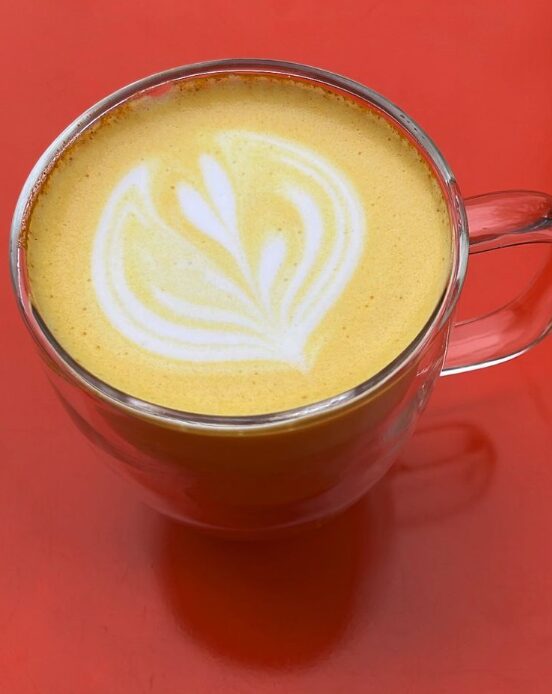 Everything about Pour Amor screams "cute and cozy". The exposed brick wall and counter space bring a vintage vibe, and they're nicely balanced with fun handcrafted wooden signage. The art pieces and chalkboard-style menu give Pour Amor an inviting "DIY" style.
The allure of Pour Amor to new customers is simple: the coffee's really good, and really well made. The staff excels in places lesser coffee shops fail — the pour overs are excellent, the lattes don't sacrifice espresso for sugar, and the taste profile of their beverages is consistent across multiple visits.
What to Try: If you don't mind a bit of sweetness, the Ube Latte is a unique selection you won't find everywhere. The iced americano at Pour Amor is bold, refreshing, and doesn't suffer as the ice melts. If you want something new, try their mint-infused cold brew.
123 Washington Street, Hoboken, NJ
https://www.instagram.com/pouramorcoffee/
Choc O Pain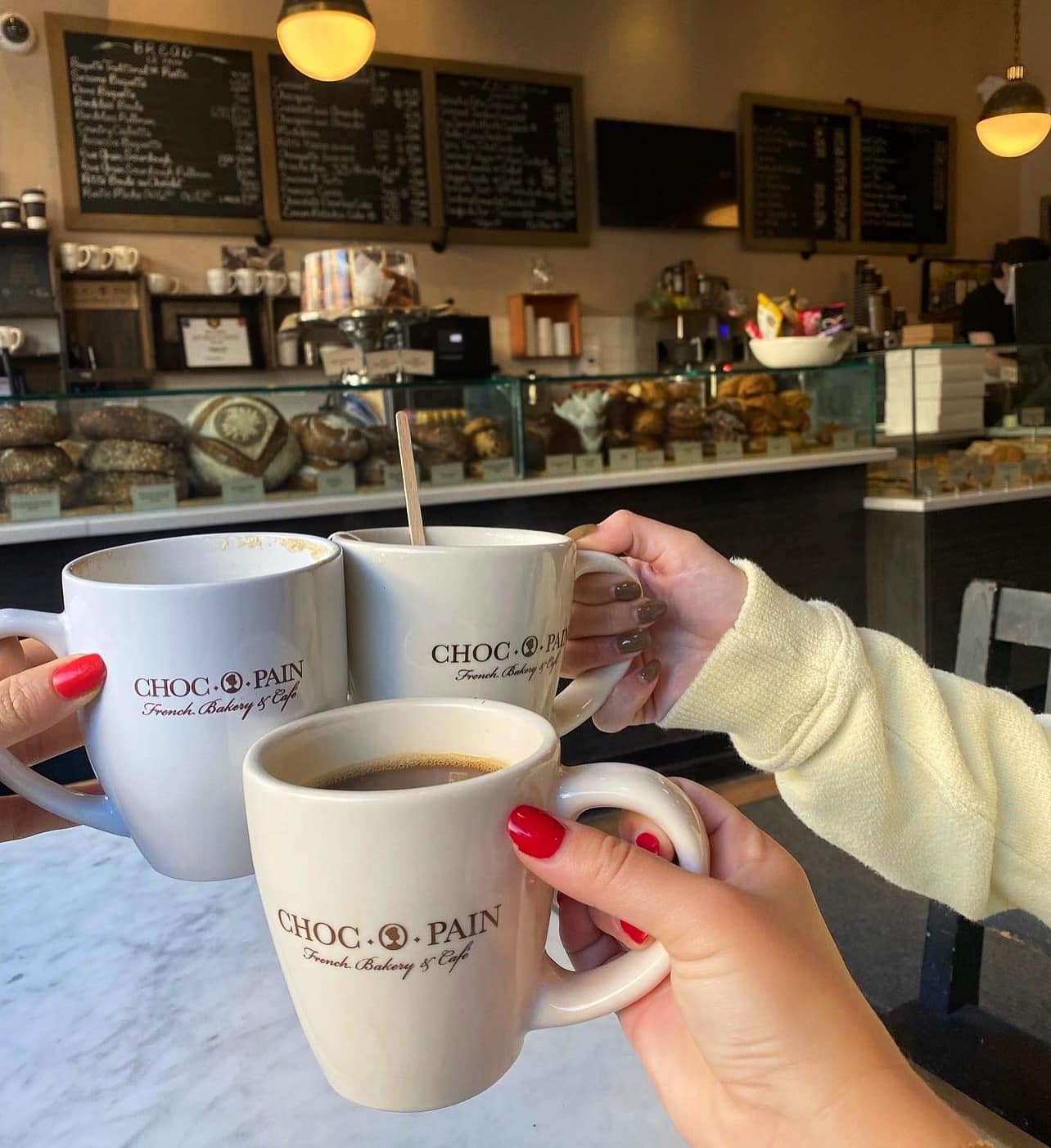 Choc O Pain features a twin bill of Hoboken storefronts serving both uptown and downtown residents. Both locations feature a ton of indoor and outdoor seating, and a menu of French breads, pastries and sandwiches that pair beautifully with your coffee or espresso.
It's a "come for the food, stay for the coffee" vibe at Choc O Pain. Unlike other entries on this list, your drink selection depends on how it complements your food order. The espresso at Choc O Pain is robust and brewed on the stronger side.
What to Try: Go on the weekend, order a Palmier, and thank us later. For breakfast, order the Avocado Toast on 5 Grain Sourdough and a house blend drip coffee. If you want bread to go, try Choc O Pain's award-winning focaccia. 
157 First Street, Hoboken, NJ
1500 Hudson Street, Hoboken, NJ
https://www.chocopainbakery.com/
Joey No Nuts Cafe: a Nut-Free Hoboken Coffee Shop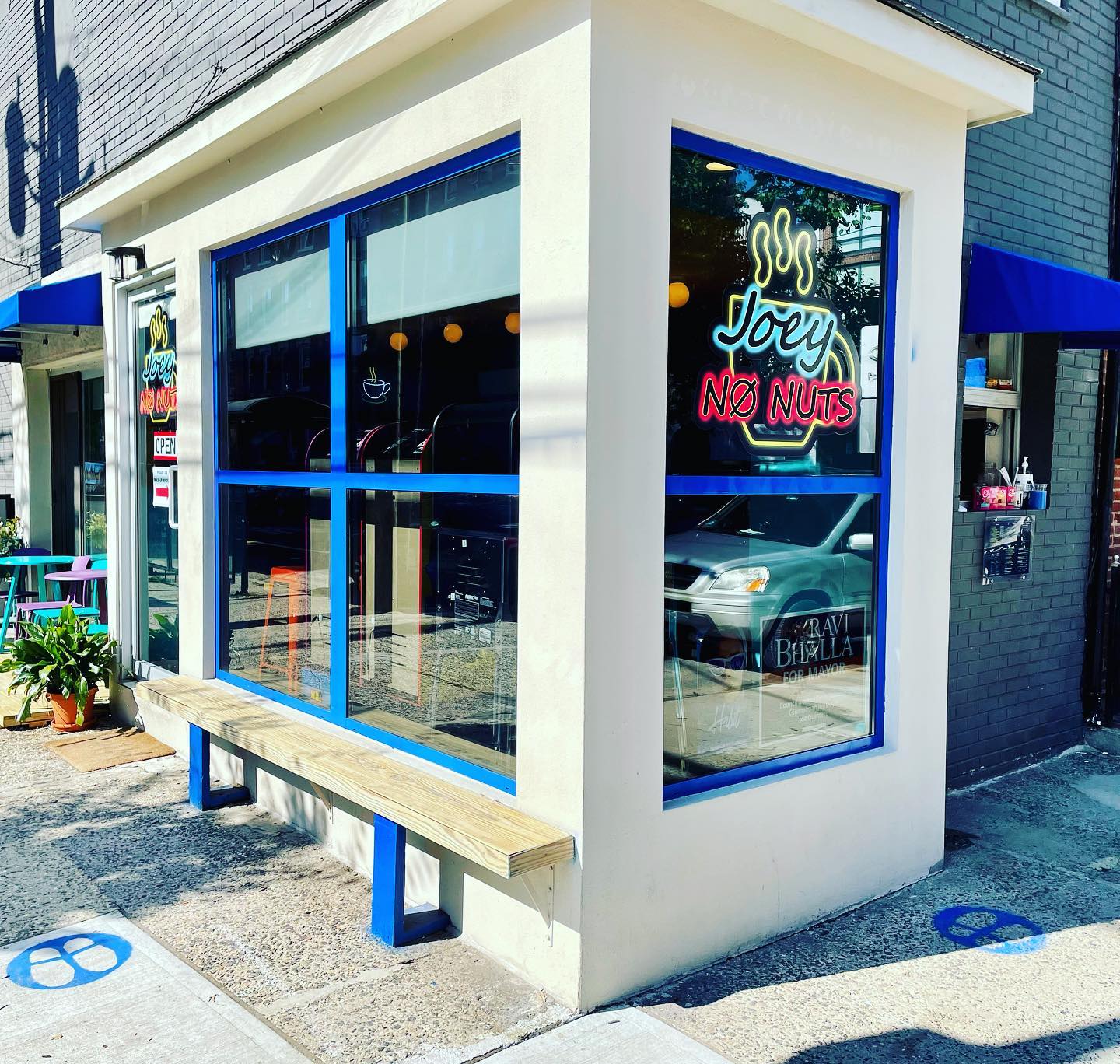 If you or a loved one has a peanut or tree nut allergy, there's a Hoboken coffee shop for you! Joey No Nuts Cafe is the only nut-free coffee establishment in town, and their beverages still stack up with some of the best in town.
The shop features fresh-baked muffins, so there's food available for nut-free diets. You won't find any almond milk or coconut milk here, but Joey No Nuts does offer Ripple milk made with pea protein.
What to Try: The El Cubano latte features honey, vanilla, nutmeg and cinnamon. If you want a break from coffee, try the Ruby Arnold Palmer. This refreshing mix of fresh-squeezed lemonade, razz and hibiscus tea is named for the owners' daughter.
638 Willow Avenue, Hoboken, NJ
https://www.joeynonuts.com/
The Best Coffee in Hoboken Depends on Your Vibe
You can't go more than a few blocks without reaching a world-class shop in Hoboken. As a result, your coffee shop decision will come down to two factors — your neighborhood, and your vibe.
Whatever your vibe, you'll definitely fall in love with a Hoboken coffee shop in your neighborhood. Whether it's grab-and-go or stay-and-sip, your next great coffee or latte is only a few blocks away.