A stalled high-rise proposal in Jersey City's Journal Square neighborhood could be re-born via two prominent developers as plans have emerged to revitalize a slew of properties near the Loew's Jersey Theatre.
A new application has been submitted to rejuvenate several properties with addresses of 808 Pavonia Avenue, 132-140 Van Reipen Avenue, 12 Bryan Place, 813 Pavonia Avenue, 270 Magnolia Avenue, and 54 Journal Square. Jersey Digs reported on two towers that were approved for the site back in 2017, but the development never came to fruition.
Kushner Real Estate (KRE) Group, run by Murray and Jonathan Kushner, are teaming up teaming with New York-based Silverstein Properties on the new endeavor. KRE Group is best known locally for their massive Journal Squared project, while Silverstein is renowned for owning and redeveloping the World Trade Center in Manhattan.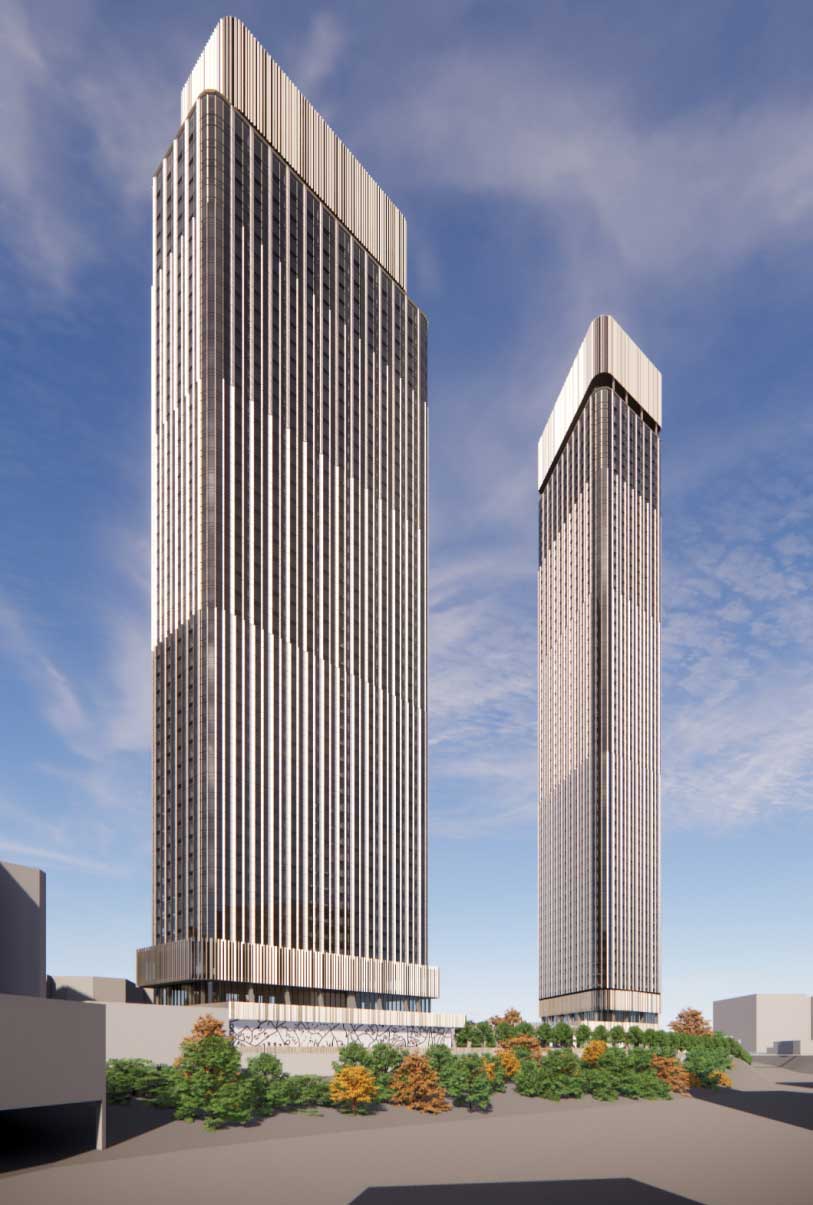 Designed by New York-based Handel Architects, the proposal envisions two towers of 55 and 49 stories directly behind Loew's Jersey Theatre. The entirety of the project would include a total of 1,189 units, breaking down as 405 studios, 611 one-bedrooms, 149 two-bedrooms, and 24 three-bedroom units.
No affordable housing component is listed on the application, but the development does include some amenities for the community. The proposal features 6,194 square feet of gallery and café space on the taller building's ground floor and would build a Pavonia Avenue and Van Reipen Avenue "street connector" in an effort to make the stretch more cohesive.
The application also touts a public "art walk" that would border the PATH train tracks running up to Kennedy Boulevard and several green spaces that would include plazas, a dog park, and an outdoor performance space for local artists.
Per a redevelopment agreement with the city, the developers would also make a $3.5 million contribution to the Journal Square Cultural Arts Fund that would allow the two towers to exceed the area's 37-store height limit.
The towers themselves would include 368 parking spaces within the below-grade levels plus 606 spots for bicycles. Residents would have access to amenities like an onsite pool, roof amenity areas, a karaoke room, golf simulators, billiard rooms, a kid's playroom, lounges, and co-working spaces.
The design of both structures would be tiered, with the exterior of the buildings utilizing articulated metal panels plus ground floor curtain walls. The first phase of the project would include 595 units, the art gallery and cafe space, 244 parking spaces, and a portion of the pedestrian walkway, while the final portion would sport 594 units, 125 parking spaces, and complete the art walk.
The Journal Square neighborhood has essentially turned into a construction zone as of late with a plethora of towers rising throughout the area. The planning board could soon decide if another major project joins the party, as they are scheduled to hear both a final site plan and subdivision application for 808 Pavonia Avenue during their September 6 meeting.
The public session, which will be held virtually on Zoom, begins at 5:30 p.m. and can be accessed at this link or by using the webinar ID 810 6202 8033.