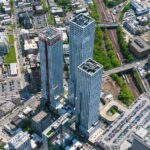 The final phase of KRE's 2.3 million square foot Journal Squared redevelopment has topped out and is one step closer to completion.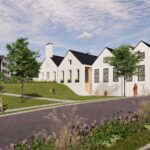 Kushner Real Estate has begun work on redeveloping the former Mondelez headquarters in East Hanover with a complex that will include some affordable housing units.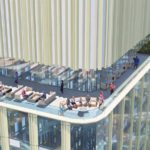 Two new 55 and 59-story high-rises coming to Journal Square, Jersey City will add plazas, greenery, and gallery space to a stretch near the PATH tracks.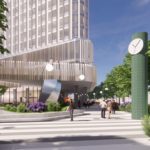 Newly obtained images detail plazas, café space, a dog park, and an outdoor amphitheater that would be featured in a 1,189-unit Jersey City project.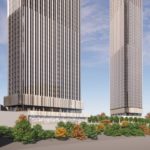 Kushner Real Estate Group is teaming with the company who owns the World Trade Center to pitch a two-tower project that would create an art walk and open space in an alley behind the Loew's Jersey Theater.
The 38-floor complex is fully occupied just five months after opening in Downtown Jersey City.
Food Story Natural Market is coming to 10,000-square feet of space near Journal Square's PATH station in Jersey City.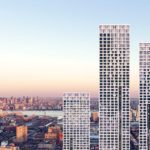 The final portion of KRE Group's Journal Squared development is commencing just five months after the second phase fully leased its 704 units.
Almost 1,000 apartments, several storefronts, a plaza, and a new theater for Art House Productions are slated to transform a block not far from one of the city's PATH stations.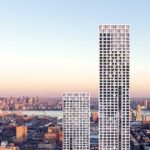 Phase two and the tallest of the three-tower luxury rental development will bring 704 units to market this March.