A Jersey City property just a block from the Hudson River will soon be home to a modern high rise across from the Newport Green as LeFrak is moving full steam ahead on their latest development.
Jersey Digs first revealed renderings of a then-planned development at 30 Park Lane North back in 2020, with the project gaining approval about a year later. The 387-unit complex has been rapidly rising across the street from The Beach, LeFrak's most recently completed waterfront project.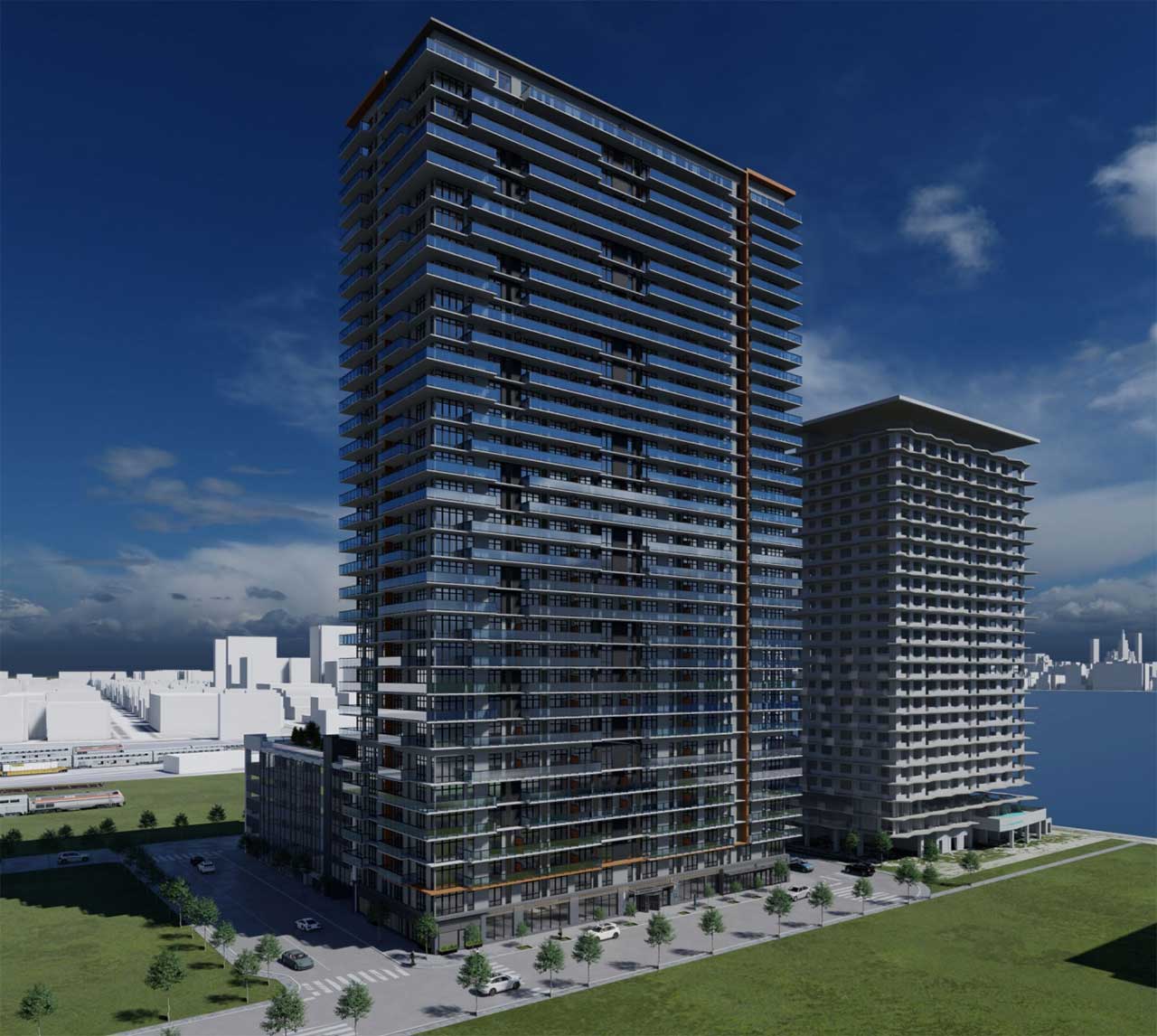 30 Park Lane is designed by Lambertville-based Minno Wasko and now rises to its apex at almost 362 feet at the tallest point. The mixed-use development includes a shorter six-floor section that will be devoted to a 379-space parking garage on the northernmost part of the lot.
Exterior work has begun along the north and south portions of the development, with a section of façade installed on the area that will become the garage. Many outward-facing units of the glass-heavy 30 Park Lane will feature balconies and the building's exterior will otherwise utilize brick and pre-cast stucco.
The parking garage component will allow LeFrak to include a sixth-floor outdoor amenity terrace at 30 Park Lane North that will feature decks, outdoor fitness equipment, lounge areas, fire pits, a grilling area, chaise lounges, ping pong tables, benches, and a yoga lawn.
Residences at the development will consist of 24 studios, 175 one-bedroom, 153 two-bedroom, 33 three-bedroom, and two four-bedroom units.
30 Park Lane will add two ground-floor storefronts to the streetscape consisting of a 2,752-square-foot restaurant spot at the property's southeast corner and another 4,709 square feet of retail along the River Drive extension.
While no tenants have been announced for the retail spaces just yet, two new restaurants will be opening in the coming months across the street. NYC's Dunhuang is bringing their northwestern Chinese cuisine to the neighborhood, while the seafood-forward Blue Anchor Bar + Kitchen is currently building out their restaurant space.
30 Park Lane North falls within what's known as Newport's Northeast Quadrant, an area spanning about seven acres abutting Hoboken border that owners LeFrak subdivided into six lots.
The company gained approvals last year to construct two connected towers plus a new roadway extension to 18th Street on a portion of that land that would include a total of over 1,100 units along with more new retail space.