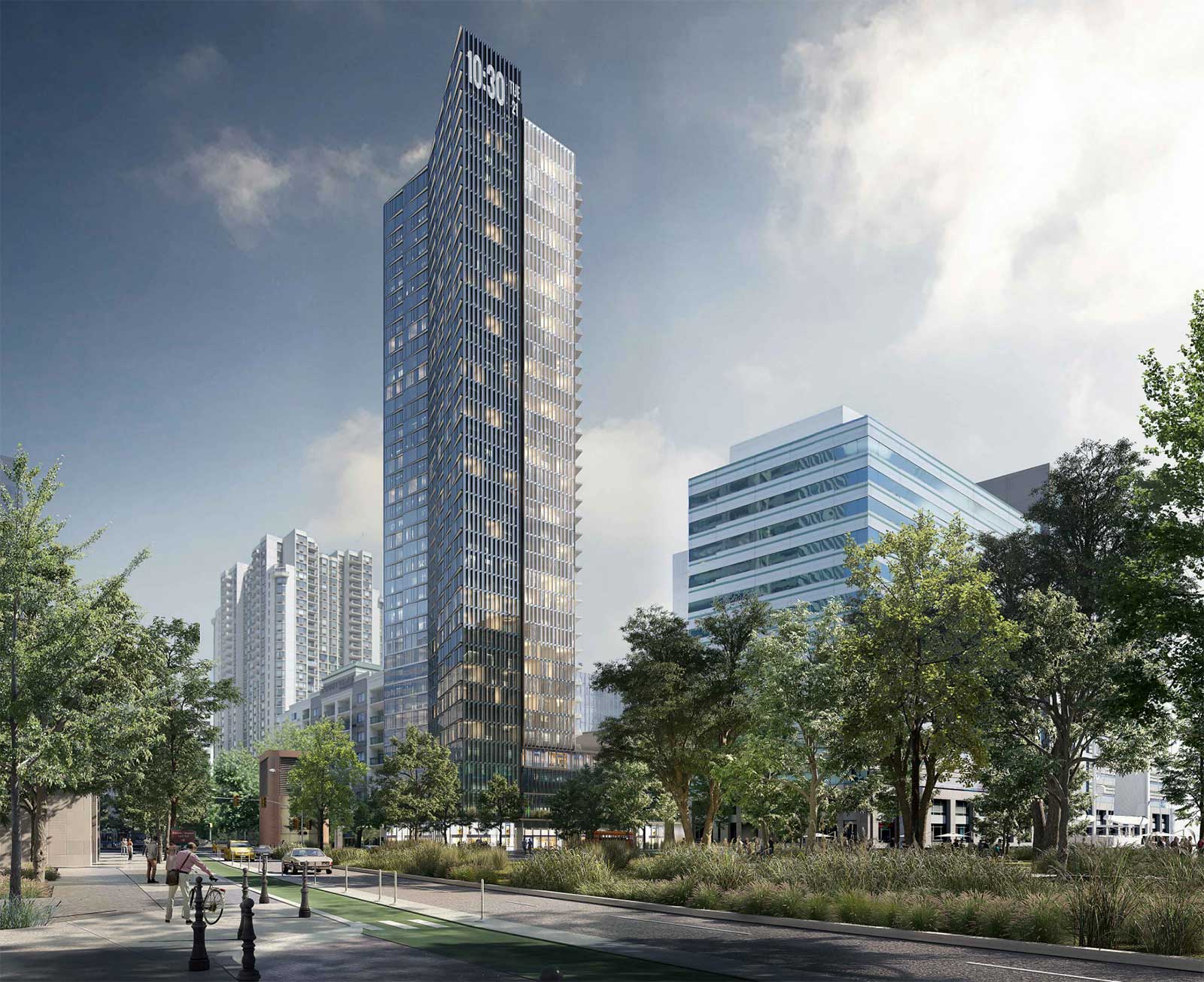 One of the most prominent developers in Jersey City's history will soon be pitching a proposal. The proposal would construct a new mixed-use high-rise above a transit hub that would add a new local landmark to the neighborhood.
A subsidiary of LeFrak has filed plans to bring their latest project to 110 Town Square Place. Jersey Digs reported back in July on the proposed tower from the company, who constructed much of the existing Newport neighborhood since the area's redevelopment began.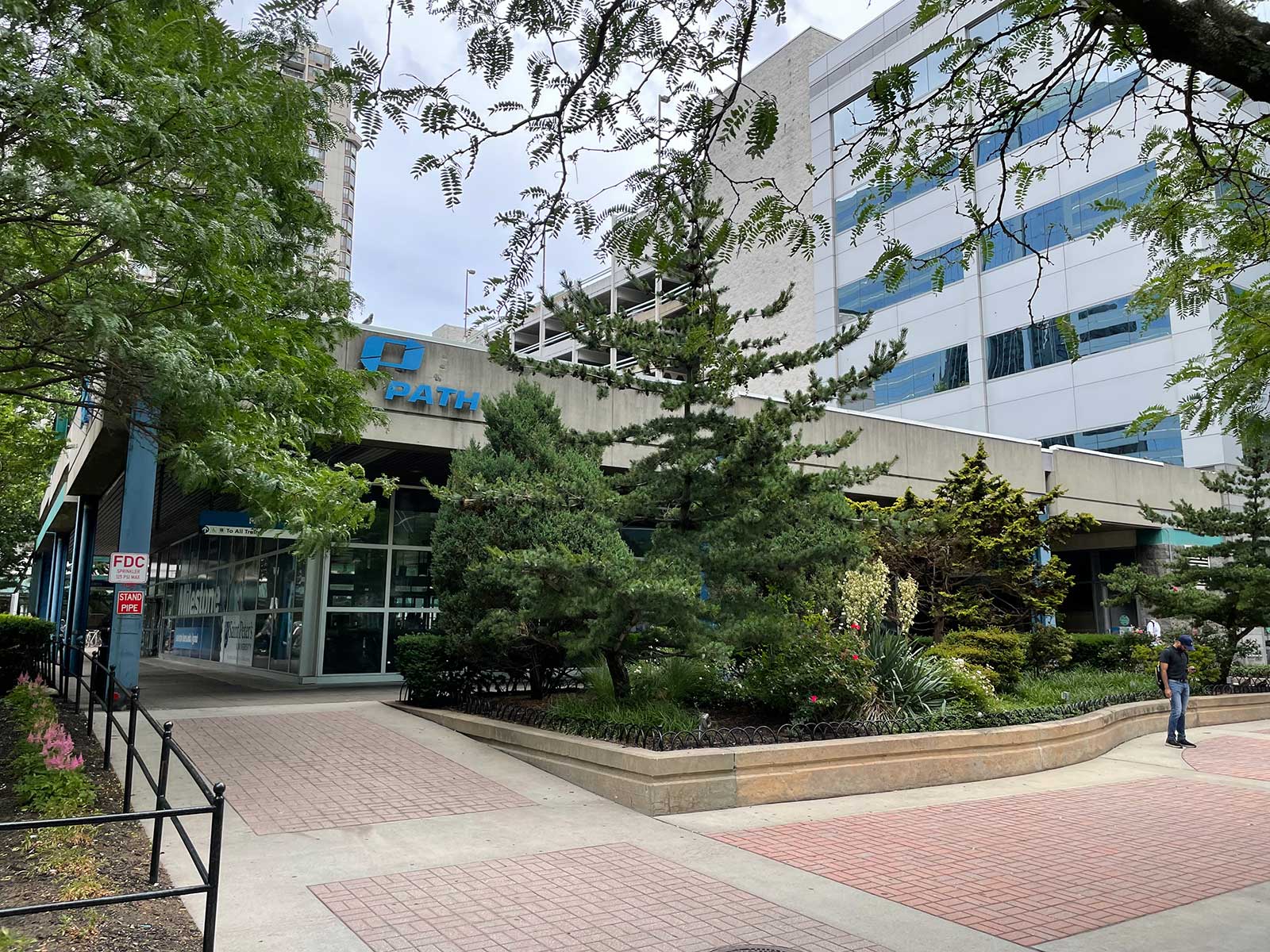 Set to rise 420 feet at the tallest point, the proposed development has been designed by Kohn Pederson Fox Associates (KPF). The building, which will consist of a three-story podium before the tower begins, would sport 423 residential units that skew smaller, with the application calling for 71 studios, 211 one bedrooms, and 141 two-bedroom units without any affordable housing component.
LeFrak's proposed development would also feature approximately 3,450 square feet of retail space on the lower floors and about 45,000 square feet of commercial office space.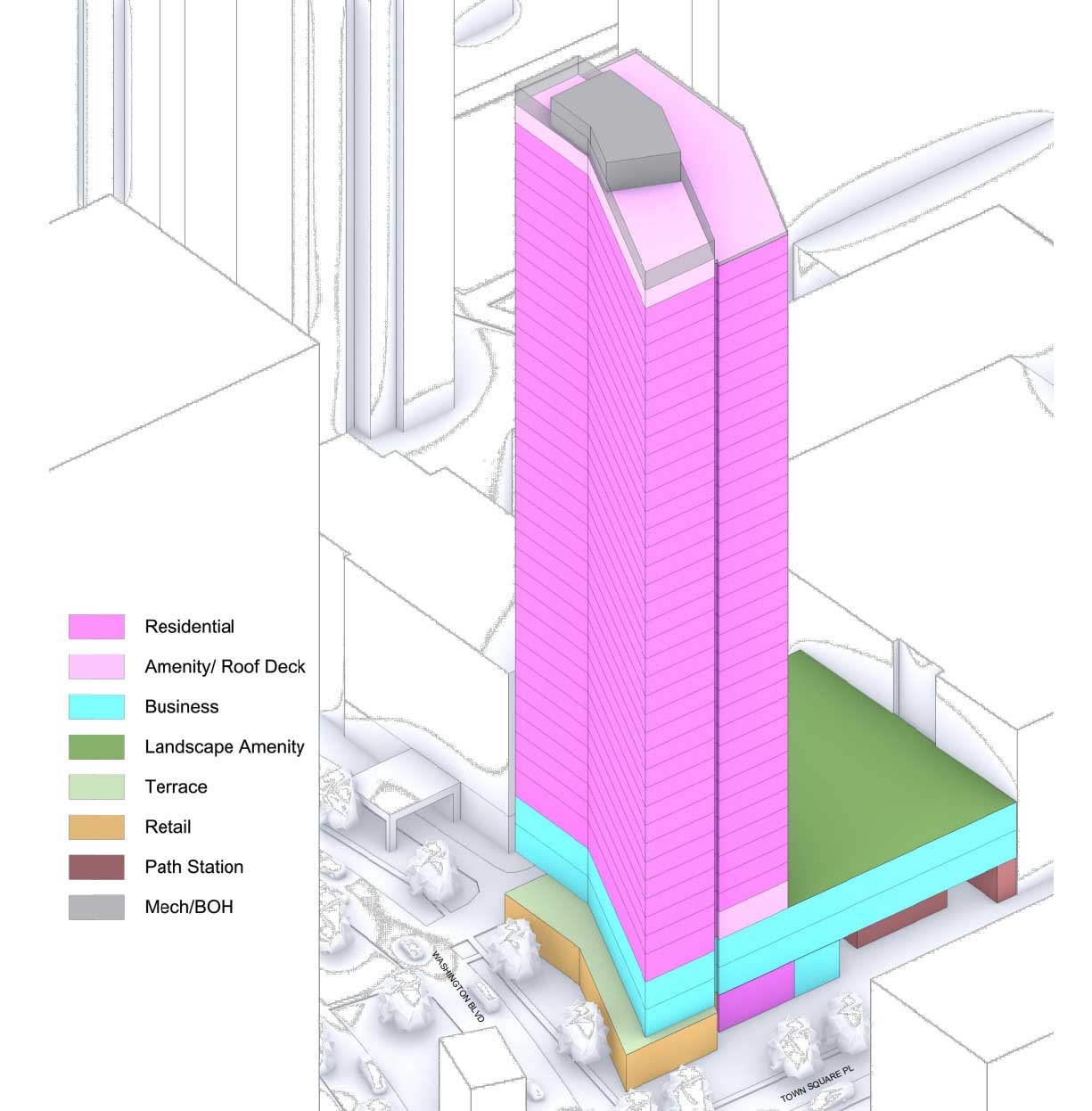 One of the more notable aspects of the project involves a proposed digital LED clock that would run 33 feet high and 39 feet wide in the upper most southern corner of the building overlooking Washington Boulevard on the Town Square Place façade.
Elsewhere at the proposed development, the building's fourth floor will provide a total of 6,400 square feet of indoor amenity space for future residents along with 14,150 square feet of common outdoor space including a covered patio and roof terrace.
The plans for 110 Town Square place do not include any vehicle parking spaces but space will be set aside for 218 bicycles.
The buildout of the project would spruce up the area surrounding the PATH station entrance a bit, installing new concrete sidewalks while adding 16 new street trees, new landscaping, and fresh seatwalls along the Town Square Place frontage. The improvements to the open space included in the proposal total approximately 13,600 square feet.
The current plan for 110 Town Square Place requires a minor variance related to signage standards and a parking deviation, as 211 spaces are required under the Newport Redevelopment Plan that governs the area and none are proposed. The city's Planning Board is tentatively scheduled to hear LeFrak's application during their November 28 meeting.
LeFrak is hard at work finishing their 30 Park Lane North project just a few blocks north along Newport's waterfront and other notable projects in the pipeline from the company include a four tower, 1,700-unit development along a pier on 6th Street.
The company has another 322-unit project near the Hoboken border that was approved over the summer and a plan to revitalize a former elevated rail line dubbed Rampart House was greenlit last year.