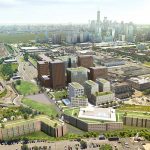 A sweeping transformation is occurring where Hoboken and Jersey City collide, and now a previously approved project in the area will have more units than originally planned and create some much-need green space in a quickly evolving district.
The local watering hole. That spot that makes the best latte. A place to meet up with good company. Outposts like these are what create the fabric of a new neighborhood. In Jersey City's quickly growing Soho West neighborhood, Donovan Realty has worked hard to bring a diverse mix of retail options to the area.
The Cast Iron Collection, an offering of upscale rental homes, resort-inspired amenities and supportive street-level retail space, has quickly become something of an icon in SoHo West (South of Hoboken, West of New York City), the exciting new lifestyle neighborhood being spearheaded by developer Manhattan Building Company on the border of Jersey City and Hoboken.
Yesterday, Mayor Fulop joined officials from the Manhattan Building Company to officially open Cast Iron Lofts II, a new 27-story residential building in the quickly growing Soho West neighborhood of Jersey City.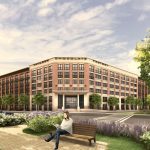 Van Leer Place is a two phase development project located in the Lackawanna area of Jersey City. Situated just below the Palisades cliffs, the...
What's in a name? When it comes to a neighborhood and its brand, it can mean quite a bit. Just ask SoHo or Tribeca,...