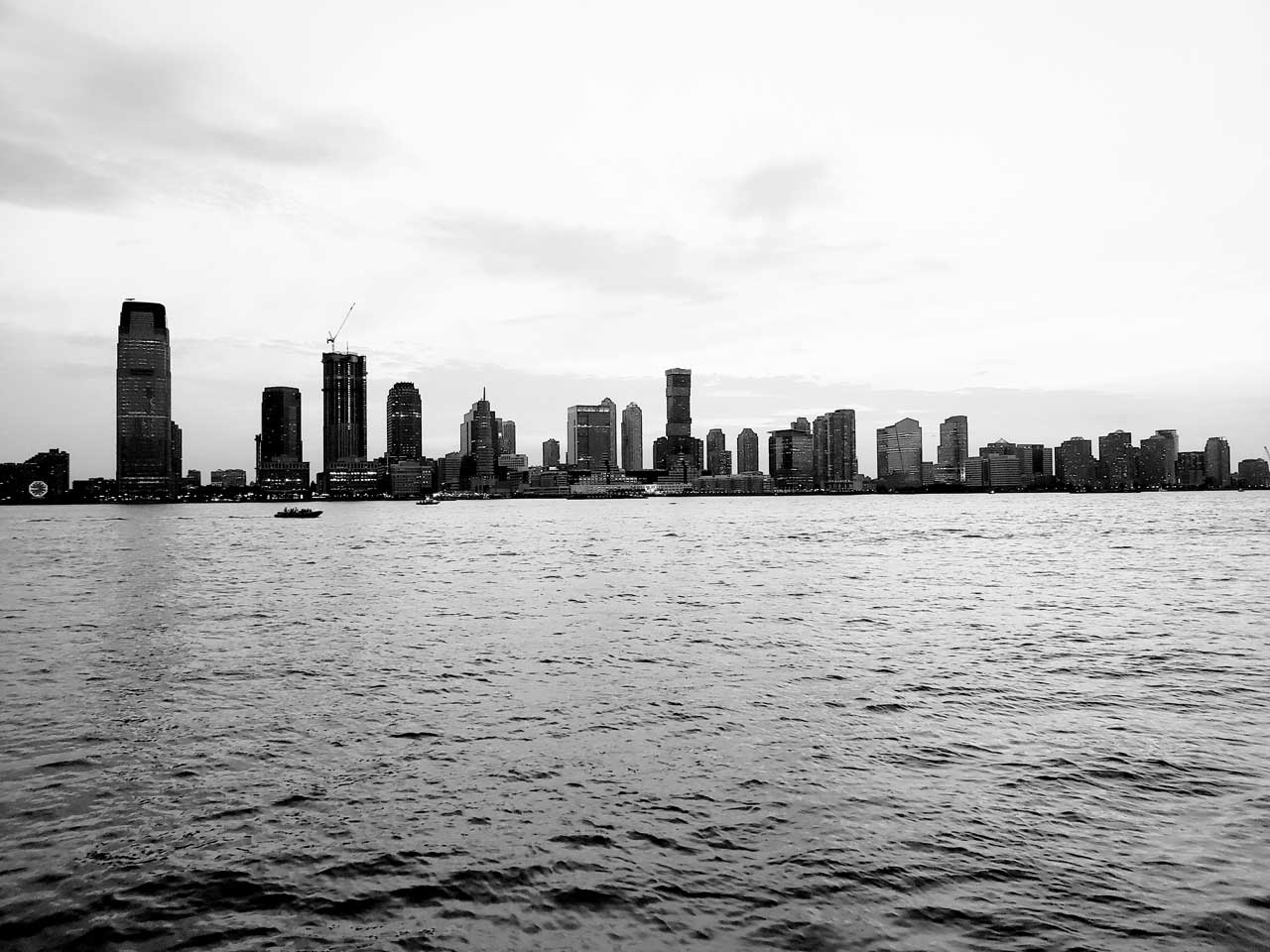 Jersey City was the Gold Coast's closely guarded secret for decades: Residents, old and new alike, talked with hushed pride about Chilltown and New York City dwellers just didn't get the geography of convenience and culture right across the Hudson River. Well now, the word is out.
More than two-and-a-half years ago, The New York Times asked the question, "Moving to Jersey City?" followed by "Join the Club." Thanks to a steady stream of newcomers spurred by non-stop construction, Jersey City needs little introduction, but for those of you just getting to know the area, there is way more to it than the waterfront. Every neighborhood across Jersey City's 15-mile expanse offers a unique place to call home. (If you're interested in relocating, chat with the real estate experts at our partner Triplemint).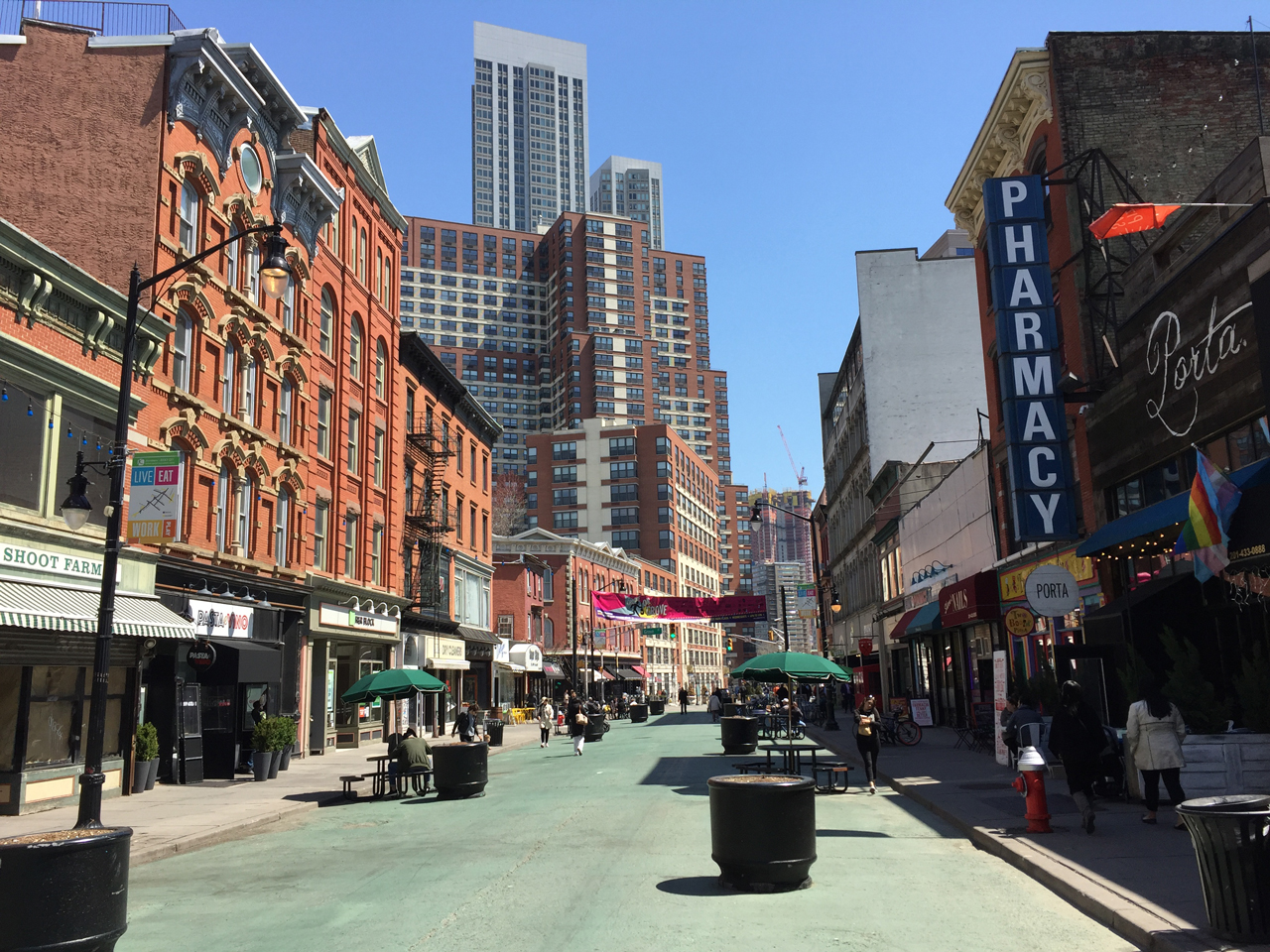 Downtown, due to its unparalleled proximity to Manhattan, has experienced the most new development and is definitely the Jersey City you probably know about, but beyond the sky-high towers with luxury amenities, there are multiple urban microcosms comprising Downtown that create a refreshing diversity of architecture and availability.
Downtown is best known and loved for its charming historical architecture. Four of the five historic districts are Downtown where beautiful brownstones beguile along tree-lined streets in Harsimus Cove and around namesake parks in neighborhoods like Van Vorst Park and Hamilton Park.
Paulus Hook, tucked between Exchange Place and the Colgate Clock along the Hudson River, is one of the most sought-after historic districts. There, you can find leafy side streets dotted with restaurants, shops, and magnificent brownstones. Paulus Hook also boasts one of the best public elementary schools in Jersey City and to accommodate the neighborhood's longstanding reputation as an ideal spot for families, luxury apartment towers have begun to spring up, increasing the available inventory — in fact, Fields Development recently completed two rental projects there, Lenox and Quinn.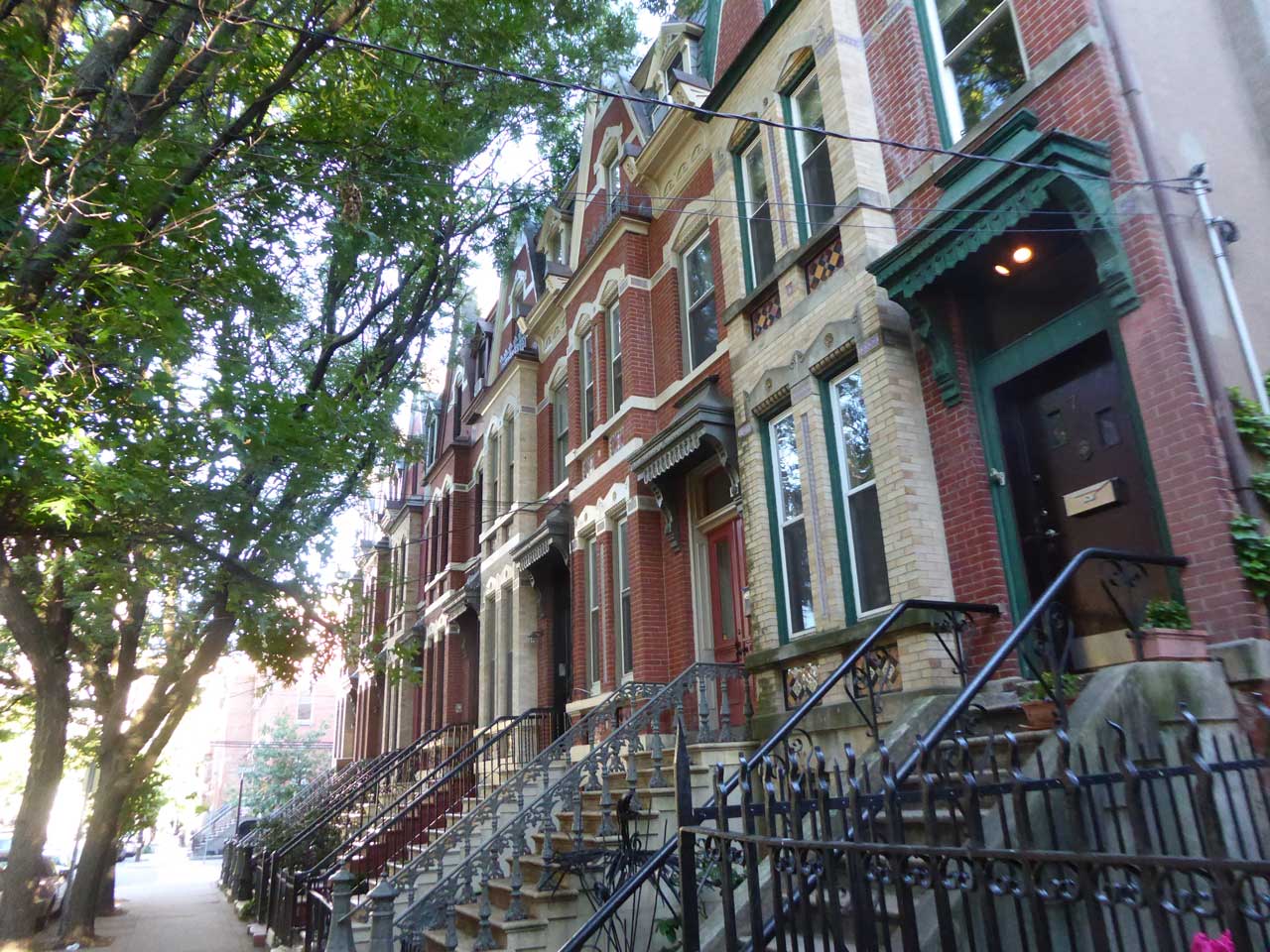 Also Downtown, the Powerhouse Arts District is exactly what it sounds like with cool conversions and new construction with an industrial aesthetic. And The Village, just west of downtown proper, is where all of the above coalesces for an exciting mix of old and new. Downtown offers the most transportation options with three PATH trains stations and three NY Waterway ferry stops, making the commute to NYC less than 10 minutes. Buses and the Hudson-Bergen Light Rail are accessible as well. Downtown is also the beating heart of the bar, restaurant, and retail scene, but neighborhoods farther out, originally built as suburbs of Jersey City, are just as enlivened, extending the pulse of Jersey City north, south, and west.
(If you're interested in relocating, chat with the real estate experts at our partner 
Triplemint
).
The Heights, so called for its perch high atop the Palisades overlooking Hoboken, offers Victorian and Edwardian homes alongside newer two- and three-family homes as well as thoughtful condo conversions. On the new construction front, Palisade Avenue has some developments in the works, including Gallery Lofts.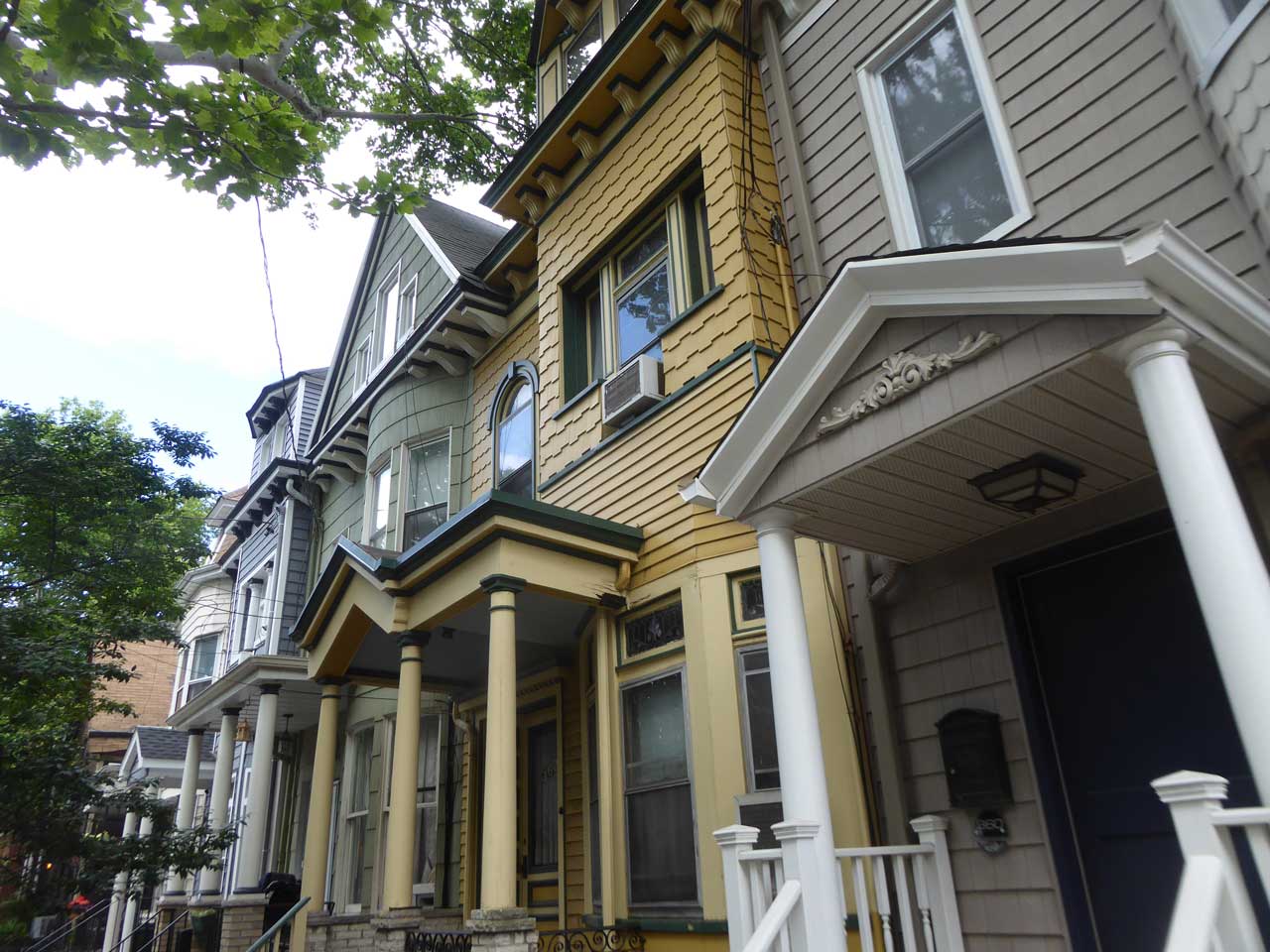 A number of NJ Transit bus routes run through the neighborhood past staggering views of Manhattan and the convivial community is contagious with its commitment to small businesses and green spaces. The Heights has also long been the epicenter of Jersey City's art scene and its main arteries continue to expand with new amenities, restaurants, bars, and retail.
On the opposite end of town, Bergen-Lafayette, due west of Liberty State Park, also features architecture more apropos of a stately Downtown suburb and really runs the gamut — brownstones, row houses, pre-war apartment buildings, Victorian homes, and converted industrial spaces.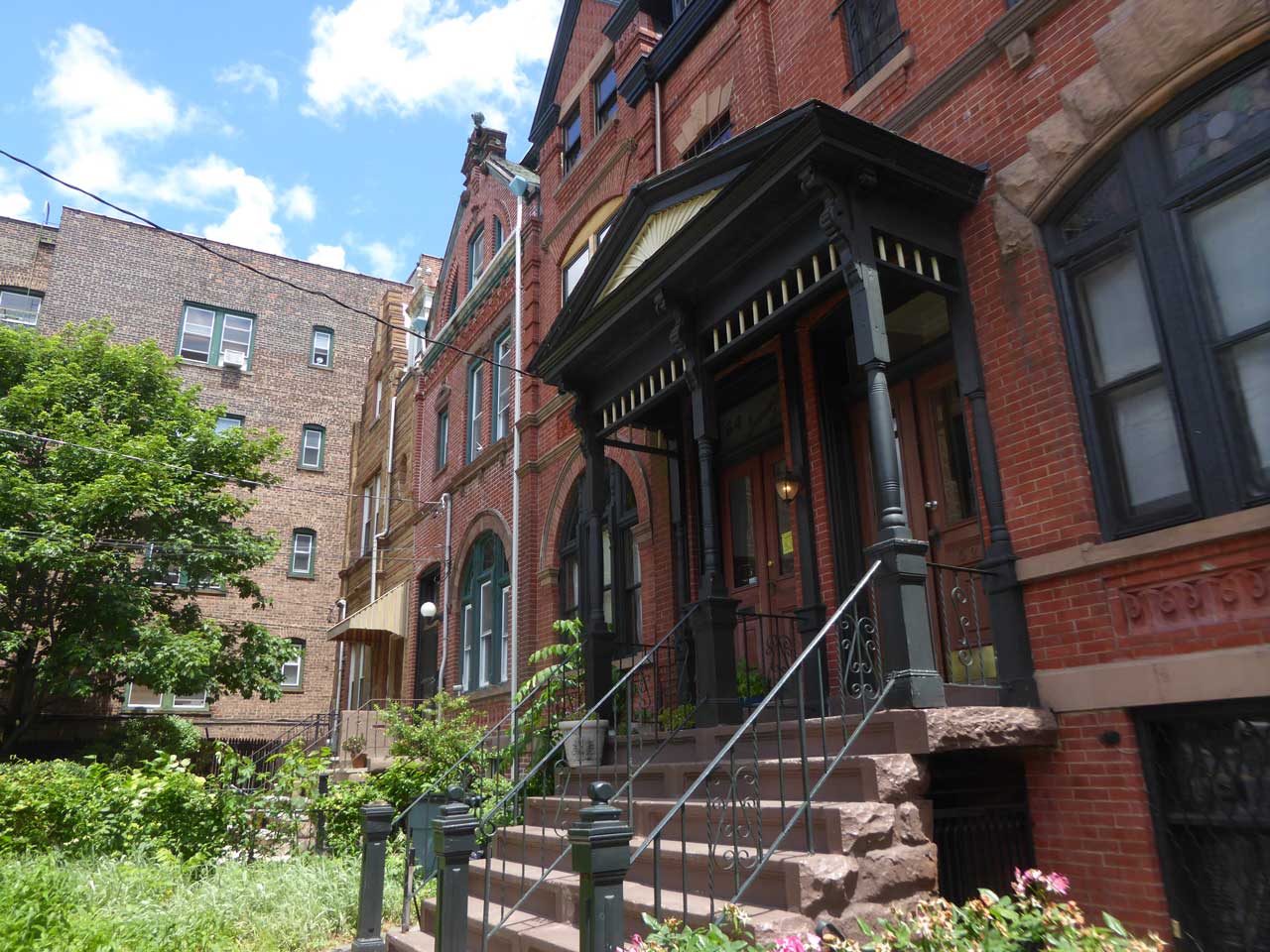 The neighborhood is very residential and boasts the newest and biggest park in Jersey City but is also accessible by the Hudson-Bergen Light Rail and NJ Transit buses. And the bar and restaurant scene is really on fire here with creative concepts and beautiful build-outs popping up.
Immediately west of Downtown is Journal Square. At the crossroads of Bergen Avenue, John F. Kennedy Boulevard, and Summit and Pavonia Avenues, the Journal Square Transportation Center rivals the convenience of Downtown and developers have taken notice.
Although the neighborhood is still infused with a pioneering spirit, there's been a major uptick in new construction and services, most recognizably with the towering Journal Squared rental development. Historic brownstones and pre-war apartment buildings along with multi-family homes and newer rentals surround the Square which is sure to live a second life as a glamorous urban hub for residents and visitors alike.
For the newcomer to Jersey City, there is a ton to discover and many more neighborhoods than the aforementioned to consider: Soho West, north of the Holland Tunnel on the border of Hoboken, is booming with lofty residential offerings; Lincoln Park is the crown jewel of the Hudson County Park System and is the anchor for the newest historic district and street over street of magnificent mansions; West Bergen and Greenville both offer gated planned communities; and McGinley Square is experiencing a renaissance due to its convenience both to Downtown and Journal Square, old and new architecture, and a growing restaurant scene along Bergen Avenue.
The list goes on and by no means is it comprehensive — it's just a peek past the waterfront and across the expanse of this not-so-secret city. And it's still possible to find your own spot somewhere under the radar, but good luck trying to keep it hush-hush for long.
Note: This article was originally published on November 2nd, 2018. It's recently been updated.
—