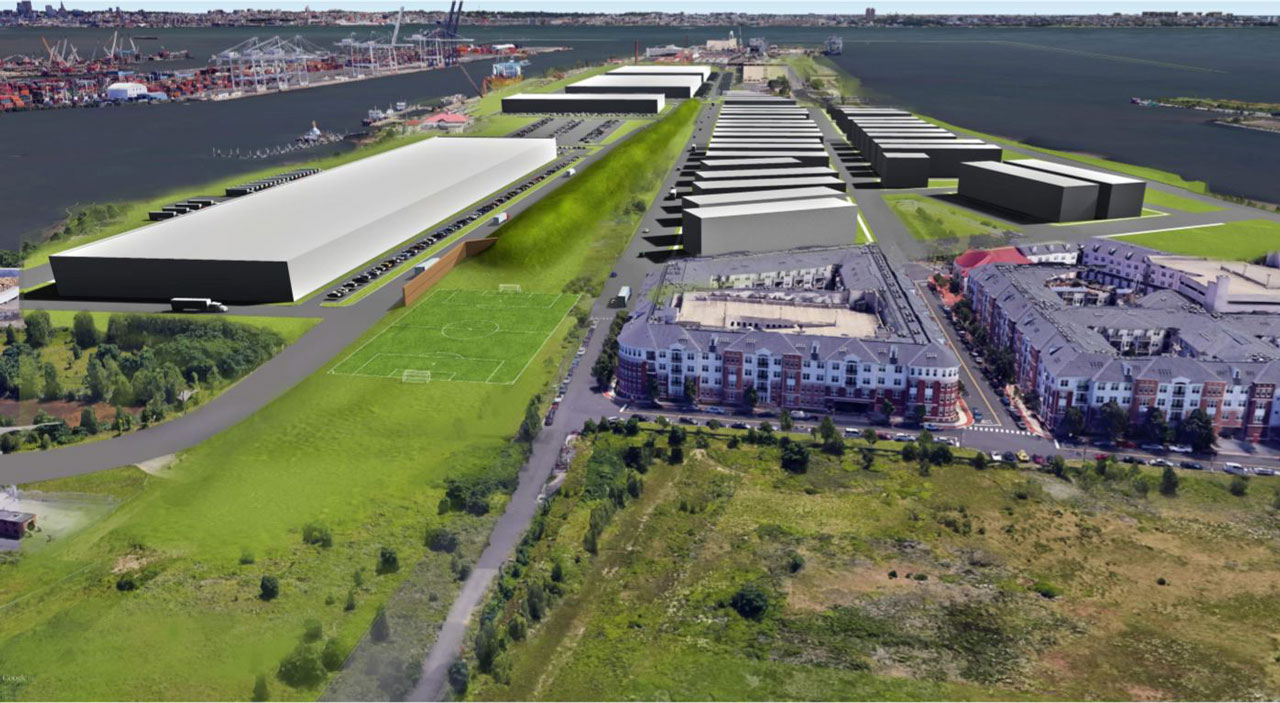 East Rutherford-based developer Lincoln Equities Group recently began preparations for construction at its roughly 153-acre waterfront site in the City of Bayonne. The developer has secured zoning approvals for up to 1.4 million square feet of industrial space alongside the Port Jersey Channel as part of a joint venture with British Columbia-based Global Container Terminals (GCT) to redevelop a parcel of the Bayonne Military Ocean Terminal.
The project, known as Lincoln Logistics Bayonne is an approximately $500 million investment by Lincoln Equities and GCT, the latter of which owns and operates the 163-acre GCT Bayonne container terminal across the Port Jersey Channel.
Lincoln Equities said the development will break ground in 2020 while construction is slated to wrap up in two years.
"We're just 7 miles from Newark and 8 miles from the Holland Tunnel," Lincoln Equities Group President Joel Bergstein said in a prepared statement. "We're essentially the 'sixth borough,' and this will be a prime distribution point for the city."
"This development is a perfect example of the City of Bayonne, the Port Authority of New York and New Jersey and private business pulling together to get the project done."
Bergstein said the redevelopment of the Military Ocean Terminal is expected to create 2,700 jobs. Current zoning variances at the site allow for up to four buildings between 150,000 square feet and 477,000 square feet or a single 1.1 million-square-foot property with 40-foot ceilings and ample parking.
Almost 62.9 acres at the site hold riparian water rights — the right to make reasonable use of the flowing water for shipping, building docks, and other purposes — and a 1,700-foot wharf will also be made available to tenants and occupants. Lincoln Equities said brokerage firm Cushman & Wakefield will oversee the sale and lease of parcels at the site.
And as part of the Bayonne Terminal redevelopment zone, the site is eligible for city and state tax incentives.
Lincoln Equities Group acquired the 152.9-acre site from Ports of America Group, Inc. in 2018 for $81 million. According to property records, the City of Bayonne traded the site to a limited liability company associated with New York investment firm Oaktree Capital Management LP and Ports of America Group, Inc. in February 2016 for $90 million.
As previously reported by Jersey Digs, the redevelopment of the Military Ocean Terminal is an ongoing project for the City of Bayonne. Just last month, an LLC known as Mahalaxmi Bayonne Urban Renewal submitted a proposal to redevelop 12 lots into a 218-room hotel, 4,500 residential units, and roughly 81,000 square feet of retail space. A ferry terminal operated by SeaStreak LLC has also been proposed within the military terminal redevelopment zone.
In June 2016, the city tapped Whippany-based developer JMF Properties to redevelop a 16-acre parcel of land as part of the Harbor Station South project.
Related: