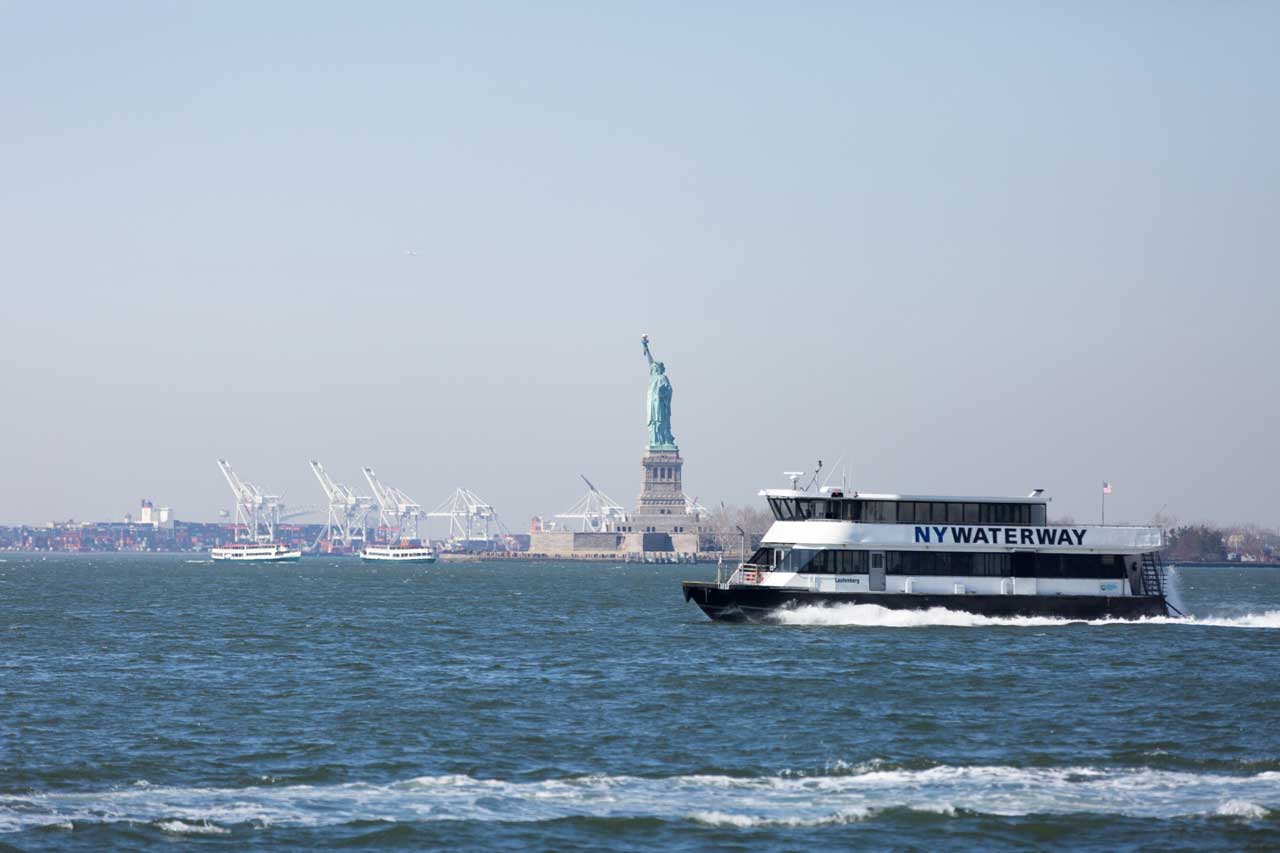 Despite being a peninsula surrounded by the Delaware River, the Atlantic Ocean, and the Hudson River, most of New Jersey's waterfront communities are not served by ferry service connecting them to other New Jersey municipalities or neighboring states. Over a century ago, ferries linking New Jersey with New York and Pennsylvania were far more common, with some traces remaining today such as the Perth Amboy Ferry Slip and Central Railroad of New Jersey Terminal's ferry slips in Jersey City.
Now, at a time when New Jersey Transit (NJT) and PATH trains are standing room only during rush hour and cars remain bumper to bumper heading into and out of Manhattan during the mornings and evenings, some towns along the water could soon be served by commuter ferries again.
Conceptual plans were revealed a few years ago for a new ferry service between the Middlesex County borough of Carteret and New York. In May, officials held a press conference to announce that a ferry terminal is expected to open in Carteret in 2022 and that the Federal Transit Administration (FTA) gave NJ $6 million for a ferry that would include nearly 300 seats. The agency would then lease the ferry for $1 annually to Carteret.
Through a public records request, Jersey Digs obtained the application submitted by NJT and the Borough of Carteret to the FTA. The application reads in part that "based on the short distance between the Turnpike entrance and the ferry terminal, it is anticipated that commuters from surrounding municipalities and from a region encompassing Monmouth, Middlesex, Union, and Somerset Counties will use the Carteret ferry service to commute to NY City" and that the service could be influential in "transforming an area of environmental degradation into a catalyst for economic development."
The application also mentions that service could operate from the borough's existing Arthur Kill Waterfront Pier before the ferry terminal is completed. The completed terminal would be located 500 feet farther north along the Arthur Kill and is expected to be connected to the rest of the community by a free jitney bus transportation system. The ferries from Carteret would most likely operate to the World Financial Center in Battery Park City and take 55 minutes each way.
Several miles south, plans are also in the works to restore ferry service to the bayside city of South Amboy. Responses to a Request for Qualifications for companies interested in designing a new "ferry facility" in the city were due back on September 26, according to a public notice. The firm that will end up being selected to design the facility is expected to possess "the highest professional, financial and administrative capabilities to provide the proposed services" and "will agree to work under a fair and reasonable compensation arrangement negotiated during the final selection process."
Few other details have been revealed yet about what specifically South Amboy is currently proposing. However, the city sought engineers late last year for what it is referring to as the Radford Ferry Intermodal Transportation Center.
Just across the Raritan River from South Amboy, plans were revealed last year for a new fast ferry service connecting the upcoming Mill Creek Place and Riverside Galleria developments on Staten Island's South Shore with Manhattan, possibly stopping in Perth Amboy along the way. However, there has been little visible progress on that proposal as of late.
Should the projects in Carteret, Perth Amboy, and South Amboy end up moving forward, they would be the first consistent ferry services to operate in Middlesex County in over a decade. Commuter boats traveled between South Amboy and New York from 2002 until 2006. Previous plans for ferry service over the last five years involving Staten Island Borough President Jim Oddo, Perth Amboy Mayor Wilda Diaz, and South Amboy Mayor Fred Henry did not end up coming to fruition, according to the Borough President's office.
The news of these newly proposed ferries also comes as Citigroup is planning its own private ferry service for employees between Jersey City's Newport and Manhattan's Pier 25. Additionally, plans for Seastreak service from Bayonne are advancing, and ferry service is launching between Tuckerton and Beach Haven.
A plan earlier this year also called for a ferry linking New York with the Kushner Companies' Pier Village development in Long Branch, Monmouth County, though it appears that those plans have since been scrapped. In addition, a decade ago, Tern Landing Development proposed a massive new development in Elizabeth, Union County, with ferries to New York, but those plans also never moved forward.
Currently, New York Waterway and Seastreak commuter ferry service connects Manhattan with Hoboken, Jersey City, Belford, Highlands, Atlantic Highlands, Edgewater, Weehawken, and Sandy Hook in the Garden State. New Jersey is not served by the new NYC Ferry system that connects four of the five boroughs.
In South Jersey, the Delaware River Waterfront Commission's RiverLink ferry connects Camden with Penn's Landing in Philadelphia, the Delaware River and Bay Authority's Forts Ferry Crossing connects Fort Mott in Salem County with Delaware City, Delaware, and the Cape May-Lewes Ferry runs between North Cape May and Sussex County, Delaware, though these three services are largely not designed for commuting purposes.
Will ferries once again become a primary form of commuting in the Garden State? At this point, New Jerseyans will likely have to wait and see.