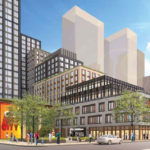 The company announced in an email to property owners that they are no long pursuing a 50-story redevelopment that would have added a 300-student school to a Downtown Jersey City neighborhood.
A subsidiary of DVORA is looking to the courts to stop the 12-story project, which they claim was improperly approved and will block their New York views.
The 15-year tax abatement for downtown development 372 9th was rescinded after Shuster Group failed to meet agreement terms.