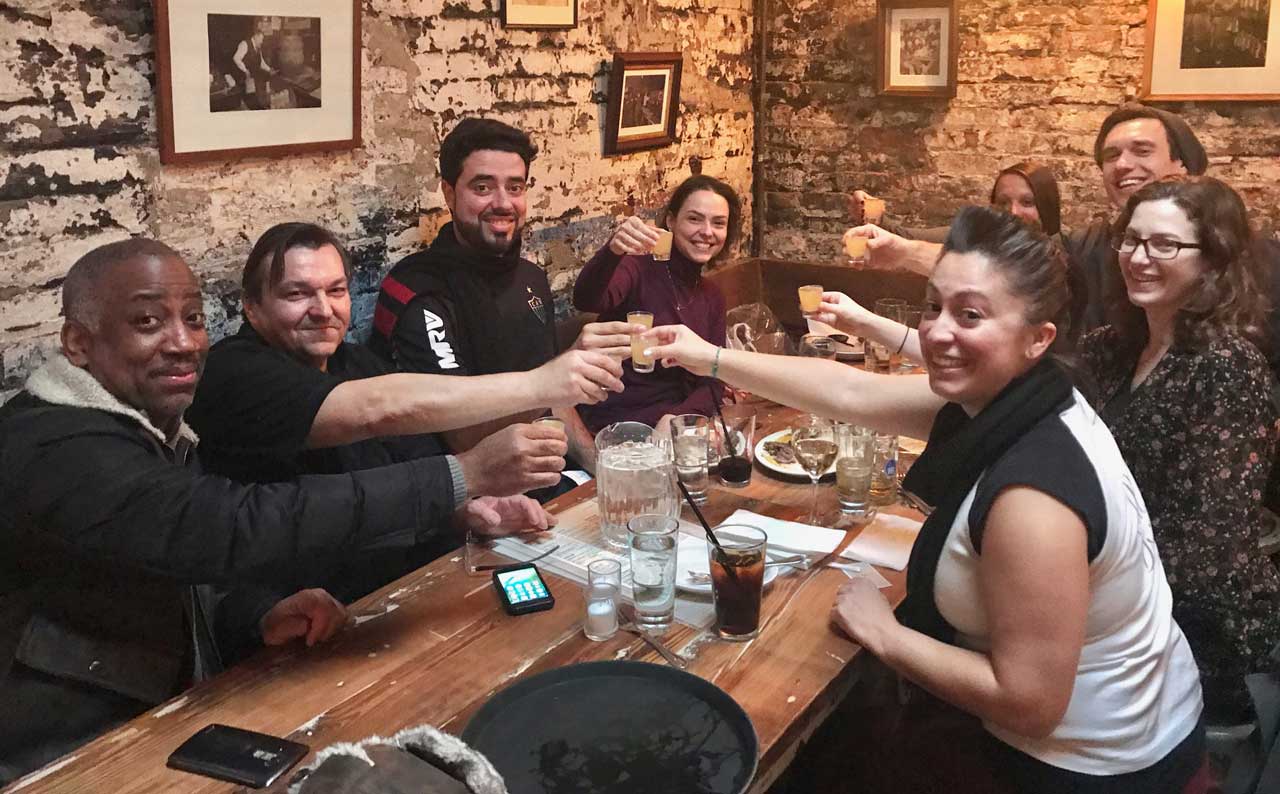 Since launching their first curated food tour in downtown Jersey City in 2014, Jersey Girls Food Tours (JGFT) has touted the Garden State's culinary scene. Co-founders Janis Borroto and Alessia Aron are on a mission to make the state's residents and visitors alike realize they don't have to cross a bridge or tunnel to experience amazing food. In four years, they have built one of the state's few food tour companies and JGFT recently expanded their operations to Rutherford, Red Bank, and Princeton, with plans to add more locations — including different neighborhoods in Jersey City — in the future.
The idea for JGFT came about just as Jersey City's development boom was amplified by newcomers being told to "make it yours." After working in corporate jobs and various restaurants in the New York City area, both women wanted to explore their own foodie-related ventures. Borroto moved to Jersey City in 2012; she began a food blog and building ties with the local restaurant scene. Around this time, Aron was working in Jersey City restaurants and as a Jersey City ambassador for Dishcrawl, a now-defunct company that specialized in food tours. After taking a food tour in Seattle, Aron sensed an opportunity to launch a food tour company in New Jersey but sat on the idea until meeting Borroto. The duo met when, Aron says, "[Janis] signed up for one of the events I was hosting. It was one of the last ones I was going to do."
Aron and Borroto soon partnered and initially launched as Garden State Food Tours. But within months, they experienced personnel challenges that made them unable to launch the company how they originally conceived. "We had this pivotal moment. We sat by the Colgate Clock, feeling so defeated," says Borroto. Faced with the prospect of giving up and returning to their corporate careers, "We decided, no, we're going to turn this around," Borroto continues. They rebranded and relaunched the company as Jersey Girl Food Tours to signify female entrepreneurship and their New Jersey roots.
At the same moment, culinary tourism was becoming one of the travel industry's emerging trends, redefining how tourists experience a destination. But the challenge of bringing a trend to New Jersey trickled back to building a business in a city without a defined tourist market. "We realized people are passing through [Jersey City] to go to Manhattan. So our main focus [is getting] people to stay in New Jersey and make them realize that the quality product is here," explains Borroto.
While building JGFT, Aron and Borroto have balanced positions within the local tourism industry and as a real estate agent, respectively. They believe that having an understanding of Jersey City's booming real estate market and New Jersey's tourism industry has only enriched their product. New Jersey's $44.1 billion tourism revenue largely comes from the Jersey Shore. Tourism offices in other New Jersey municipalities, including Jersey City, have smaller financial resources and, as seen with Jersey City's JC Make It Yours campaign, flashy, multi-million dollar branding campaigns can illicit complicated feelings from local communities.
Reflecting on their experiences, Aron and Borroto have felt that the image of Jersey City, commissioned by the city and created by advertising executives, has not translated into overwhelming support for local small businesses.  
Despite this challenge, "What we're selling about New Jersey is our diversity," says Borroto. A typical Jersey Girls Food Tour stops at five restaurants, and since launching, JGFT has more than quadrupled their restaurant partners. On JGFT's Rutherford tour, diners can try Peruvian, Cuban, and Italian cuisine; the Princeton tour visits exclusively farm-to-table eateries. The most recent Taste of Downtown Jersey City tour stopped at Bucket and Bay Gelato, Departed Soles, Hudson Hall, Porta, Pasta del Cuore, and Gringo's. Smaller group sizes allow for an intimate and fun experience, with chefs and owners giving tour participants one-of-a-kind dining adventures and sharing insights into their culinary journey.
Jersey Girl Food Tours typically cost $89 per ticket and run for 3-3.5 hours. Visit www.jerseygirlsfoodtours.com for more information.