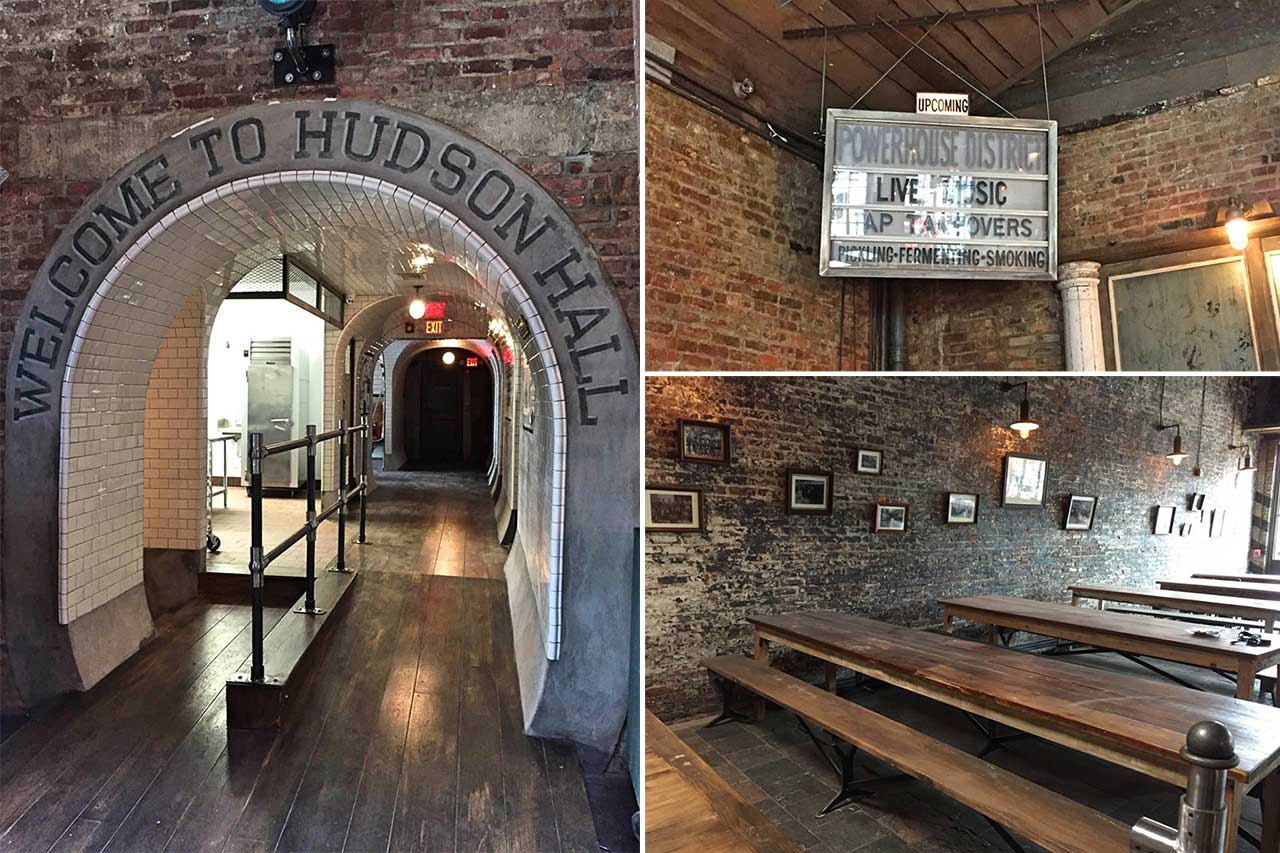 Last year, a new concept was unveiled for the former Powerhouse Lounge space in Jersey City's Downtown and in just a few short weeks, a smoke house dubbed Hudson Hall will be opening its doors.
The restaurant, which Jersey Digs recently took a tour of, has lofty goals, seeking to provide customers with an authentic European-style smokehouse complete with great beers and drinks. But potential diners shouldn't mistake Hudson Hall for a rib and brisket joint.
"In America, people think of a smokehouse as a place that serves traditional barbeque," says Hudson Hall GM Kevin Hunt. A more Euro-centered menu is their focus, which will include some smoked meats like house-made pastrami, but additionally feature smashed chicken, fermented veggies, and smoked fish dishes. The restaurant will also be smoking their own cheeses and offer in-house pickling.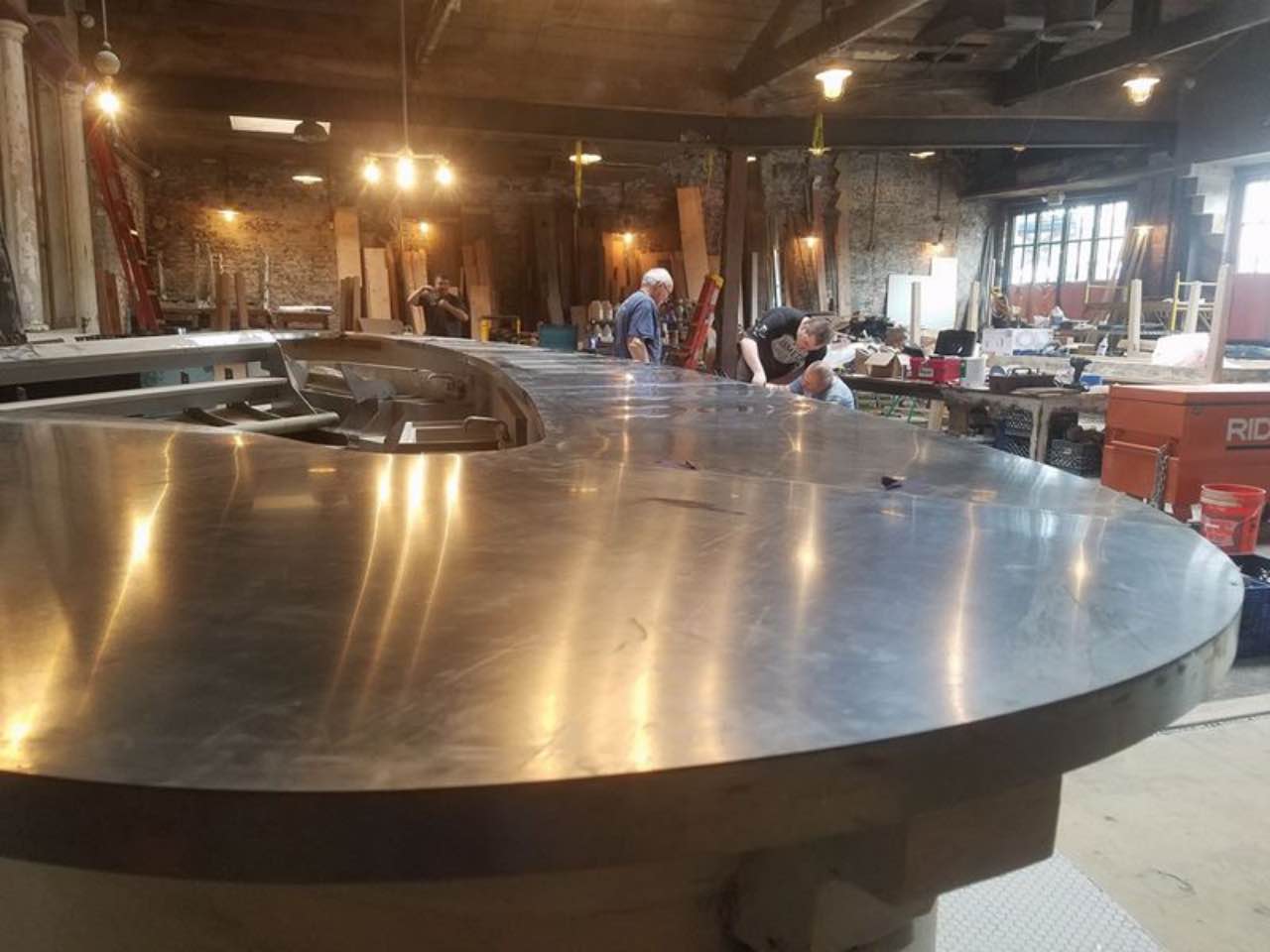 Hudson Hall is outfitted with two hot smokers and a cold smoker in their open-style kitchen, which will allow customers to watch the food prep process. The cavernous property, an industrial structure featuring soaring ceilings, was completely gutted down to the walls during a renovation that preserved the original brick of the facility. Old wood floor beams at the building have been re-purposed into communal tables.
The restaurant, designed by Jirka Kolar, features a main room with ornate details intended to look distressed and older. Handmade bar tops and signage adorn the walls of the larger space, while a smaller, more intimate section dubbed a "deli" will open for lunch during the week and strive for more of a lounge vibe on weekend nights.
Hunt says the restaurant group, which owns Hoboken's Pilsener Haus & Biergarten and Asbury Park's Asbury Festhalle & Biergarten, was drawn to the property in part because of the size of the space, but also the general vibe of the area. He says the older neighborhood, combined with several development projects nearby, sold them on the project.
"We wanted to get in ahead of the boom," says Hunt, noting that the group initially opened Hoboken's Pilsner Haus when the neighborhood was still underdeveloped. He says ownership also wanted to be in an area where folks are open to trying something different.
"Nobody is serving our style of food nearby," Hunt says. "But 20 miles inland, [Hudson Hall's] concept wouldn't work. You need a receptive audience."
Hudson Hall will feature about 50 beers, 21 of which will be on tap. The brews will skew about 60/40 in terms of European to American craft, and the restaurant is working with local breweries Departed Soles and New Jersey Beer Company to feature a few of their beers. In addition, a wide variety of craft ciders and a Bourbon-based bar program is in the works, in part because it pairs well with the food they'll serve.
"Bourbon is a real niche market that's coming up strong," says Hunt, adding that the restaurant will feature house-made cocktails on a rotating basis. He stresses that quality and a lack of pretentiousness can go hand in hand, and he thinks that Hudson Hall's food and drinks can satisfy what is a diverse neighborhood.
"Too many restaurants focus on beer and cocktails, and the food can almost become priority #3," says Hunt. "But you need to have great food or people will catch on and go elsewhere to dine. We're looking to accentuate the great food with drinks, not the other way around."
Live music will be part of the Hudson Hall experience and the restaurant eventually wants to establish to-go sales of their smoked meats. The main hall of the 250-seat restaurant, located at 364 Marin Boulevard, will open at 4PM daily and is looking to be up and running by mid-August.