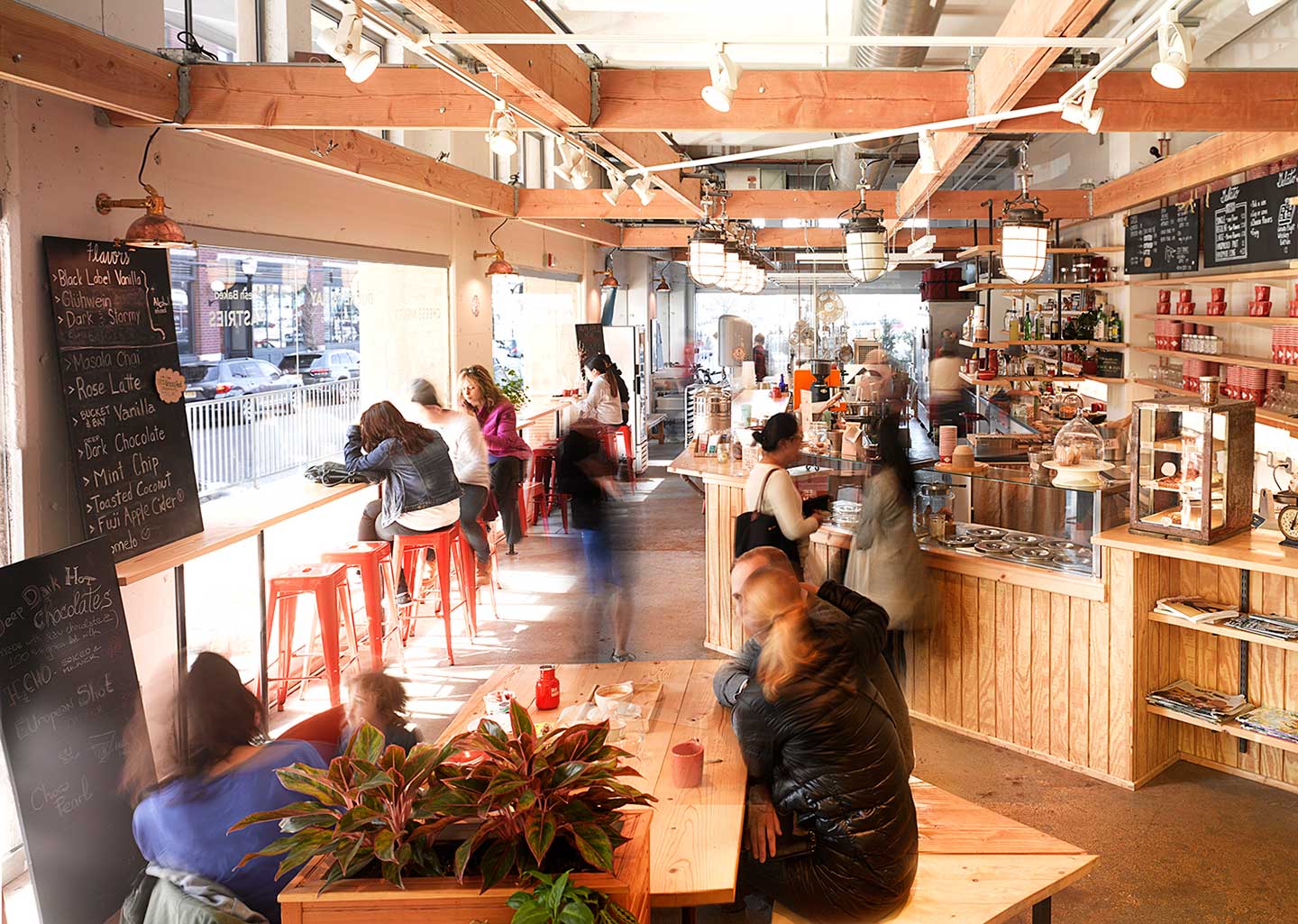 Since opening in July 2015, Bucket and Bay Craft Gelato has become a neighborhood favorite. From the anchor logo to the locally-sourced ingredients, to the considered decor, the shop is an expression of the founders' (Jen and Boris Kavlakov) love of origin and adventure.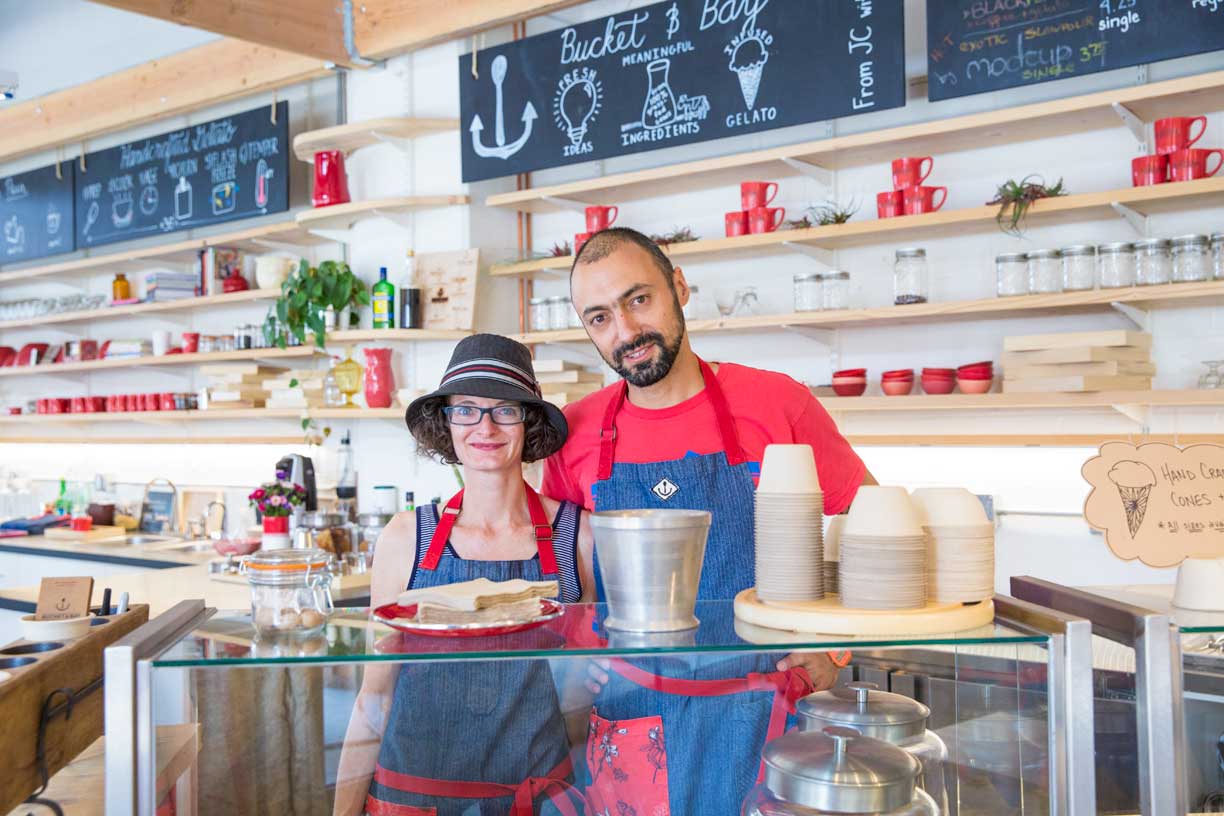 The shop is peppered with vintage finds from the coveted Brimfield antique flea market in Massachusetts. A jukebox top is utilized as a sneeze guard for pastries, a vintage milkshake maker for shakes, and 1920s lighting pendants hang in the windows. Vintage school chairs were sourced from their neighbors, Danish vintage company, Lanoba Design. In winter, it's a nice place to sit with a cup of tea or coffee. When the gelato season winds down, the shop offers hands-on classes.
A recent "speakeasy" themed gelato class included a flight tasting of their alcohol-infused options as well as gelato cocktail samplings like apple cider sorbet with a pour-over of Polish Zubrowka bison grass vodka to infuse it. A class includes small bites of cheeses, too, like their house-made ricotta on bread, and covers the stages of prep, cooking, churning, flash freezing and tempering, to serving and tasting.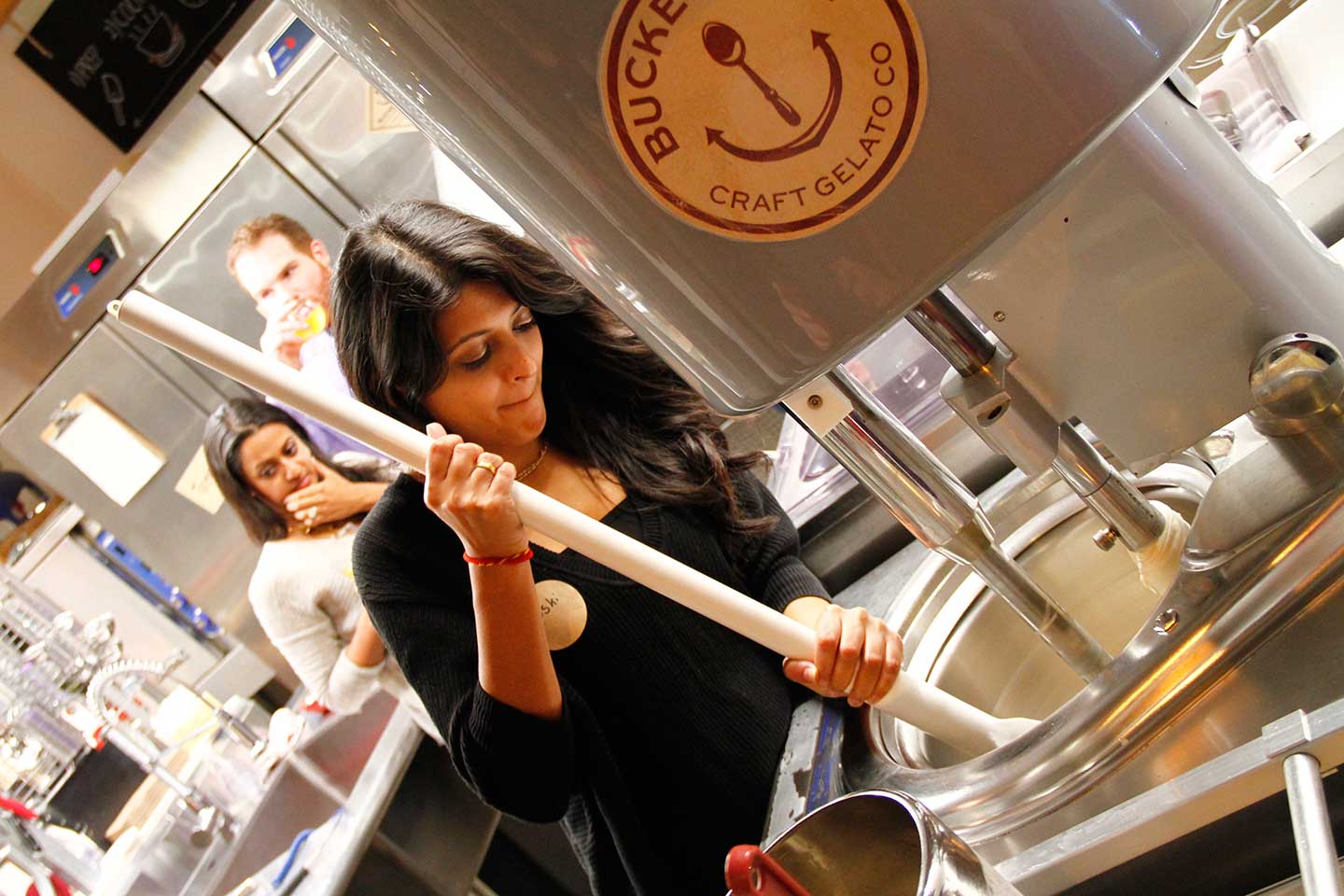 Bucket and Bay's base is made on site, and the milk, "the most important ingredient," according to Boris, is "100% grass-fed" milk, not just "grass-fed," he is quick to emphasize. High milk-fat of grass-fed means enzymes in the fat, which means delicious flavor and, yes, health benefits. The milk is from Oasis at Bird in Hand, an Amish farmers' cooperative.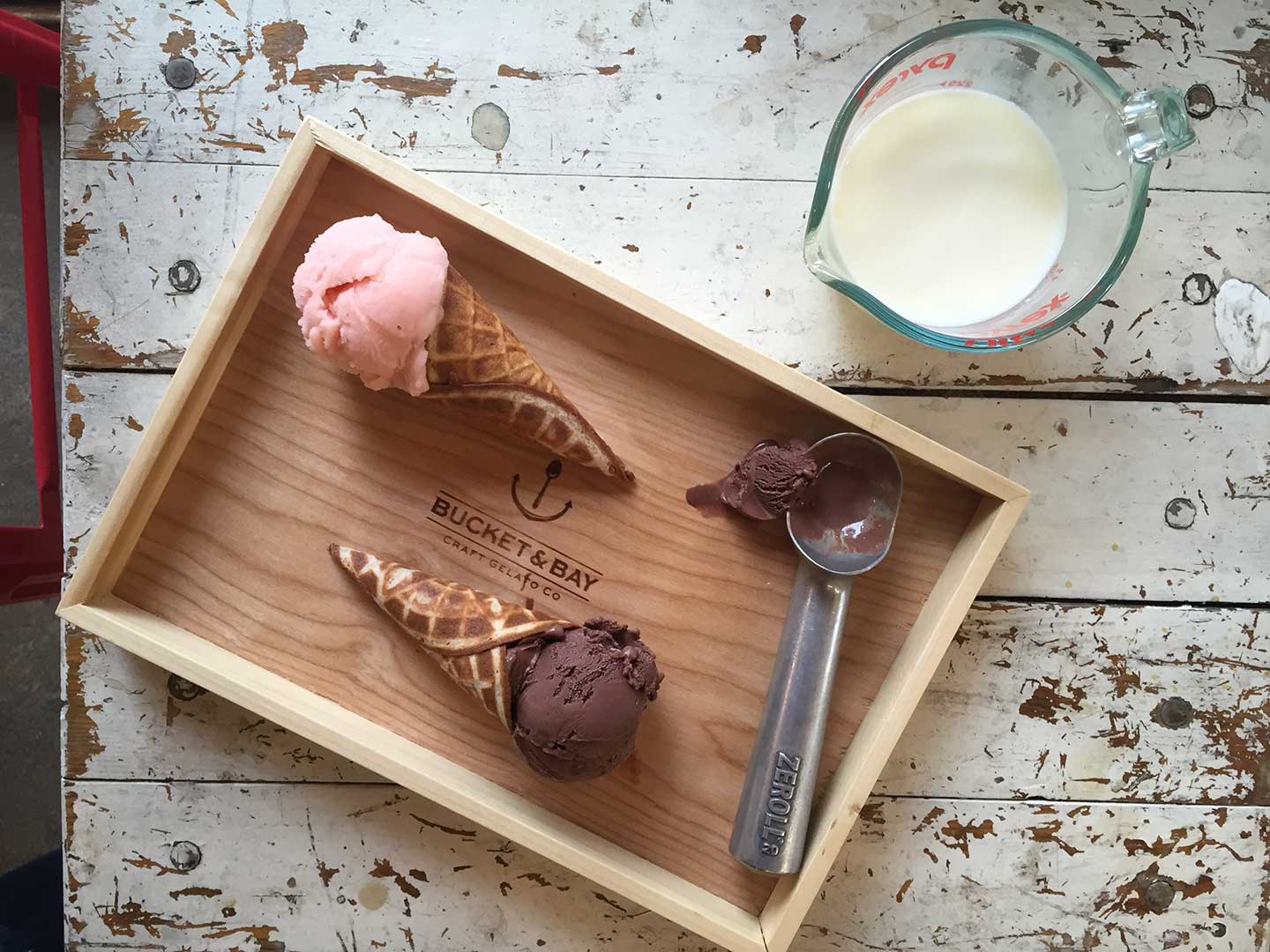 In a class, one learns that being a gelato chef is a lot like being a pastry chef or a craft cocktail bartender. The gelato bases are aged 24-48 hours to deepen flavor and then slow-churned, and flash frozen at -50° F. The gelato is served at 5° F, for the creamiest consistency since a smooth texture comes from less ice crystals, the enemy of ice cream. With a base, tweaks and flavors are limitlessly imagined with herbs, spices and fruits.
"I have flavors I am always thinking about and even haven't rolled out yet," said Jen. Strawberries are roasted for strawberry and flavors come and go with the seasons, which occasionally upsets some younger customers fixated on the bright pink gelato. Brooklyn's Raaka chocolate is used in all of their chocolate-infused offerings. For the popular mint-chip, peppermint essential oil (culinary-grade from Jersey City's own Radical Wellness) is used rather than mint leaves ("too grassy," says Boris.)
For the rest of the winter, Bucket and Bay's off-season, opportunities include a master class in January: "Zesty Beginnings," bringing the flavors of the tropics in gelato and jam, and for those feeling too cold for gelato, a Tea Blending Class—an afternoon high tea and crafting of your own tea blend. On Valentine's Day they will host a gelato making adventure "where eating your roses is encouraged." In March, a "Deep Dark Chocolate" class will include chocolate tasting and parings. For more information and dates, visit their website.