Some observers didn't paint a particularly rosy picture for Hudson County homeowners in 2018. A property revaluation in Jersey City, complete with new adjusted tax bills, saw winners and losers depending on the neighborhood. Meanwhile, the Federal Tax Cuts and Jobs Act led to a $10,000 cap on property taxes under State and Local Taxes (or SALT) deductions. Both changes had some worried about a negative impact on our region's market, but Pure Properties' newly released 4th Quarter Report contains much positive news, especially in more modestly-priced neighborhoods.
Even the disappointments within the report aren't that much of a letdown. Unquestionably a major storyline for Jersey City in 2018 was Downtown and the reval, where some properties had assessed values jump around 67%. 1-4 family homes got hit especially hard, resulting in an influx of inventory hitting the market earlier this year. The latest report demonstrates that issue has lessened in 2018's Q4, as there was a sharp drop in inventory levels experienced with 37 1–4 family homes listed for sale in Downtown.
However, prices in the Downtown 1–4 family market did retreat 7% in the quarter to a median price of $1.298 million, which was a 4% drop year on year. Condo sale prices in Downtown fared similarly percentage-wise, falling 4% in the quarter and 2% year on year to $718,000.
The other highest-priced market in Hudson County, Hoboken, also saw a notable drop; average 1-4 family home sale prices there fell 5% in the quarter and 9% year on year to $1.675 million, while condominium sale prices were off 2% year on year, averaging $727,500.
The Hoboken numbers may be of interest to Downtown Jersey City owners, as the Mile Square City had similar sale price decreases in the quarter despite their similar reval taking place almost five years ago. It suggests that while the reval has certainly had an impact on Jersey City homeowners, it perhaps won't hit values in Downtown as hard as initially thought. Another good sign is the rents in Downtown JC and Hoboken; they both held steady during 2018, remaining within 1% of their highs.
For the good news in the market report, we again head to The Heights. The neighborhood has seen the biggest average sale price gains in recent years and the trend continued in 2018's final quarter. The latest big value jump hit condos this quarter, as their median sales price jumped 20% in Q4 and 68% year on year to $500,000. 1-4 family homes saw a more modest increase to average $642,500, a 5% quarterly jump and up 4% year on year. Average rent in the neighborhood went up 10% to $1,875/month.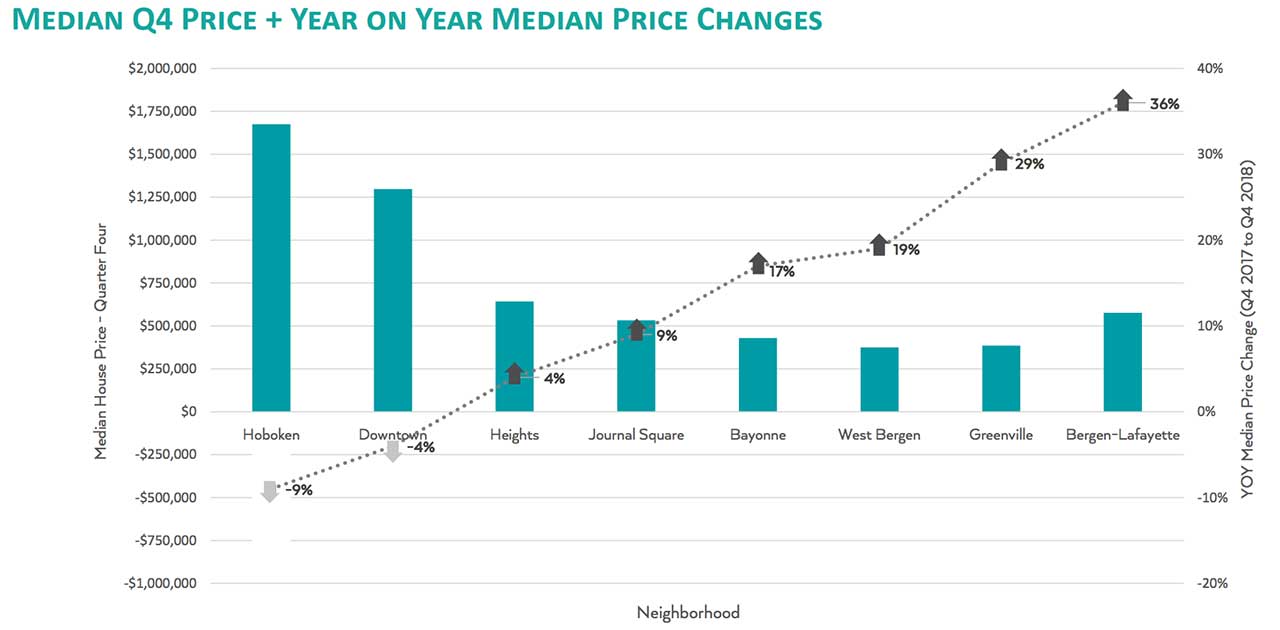 The neighborhoods that fared best in the report are all south of Route 139 and west of I-78. Journal Square continued its slow but steady climb, as sale prices for 1-4 family homes there averaged $532,500, up 1% quarterly but jumping 9% year on year. Condo sales in the neighborhood averaged $311,000, up 12% quarterly and 5% year on year.
West Bergen also saw good news, as average sale prices of 1-4 family homes rose 19% year on year to $375,000. Condo sale prices clocked in at $343,000, a 12% quarterly jump. The area's southern neighbor, Greenville, did pretty well too; 1-4 family homes in the neighborhood sold for an average of $380,000. That represented a 12% quarterly increase and a 29% rise year to year. However, Greenville condos fell 4% year on year to $395,000, nonetheless representing a 7% increase from the previous quarter.
The trends in several more affordable neighborhoods fly in the face of what happened nationally at the end of 2018. As equity markets retreated, higher interest rates were set, and tighter lending standards were enacted, Hudson County's real estate appears to have more than weathered the storm despite the top end of the market softening a bit.
Related coverage: