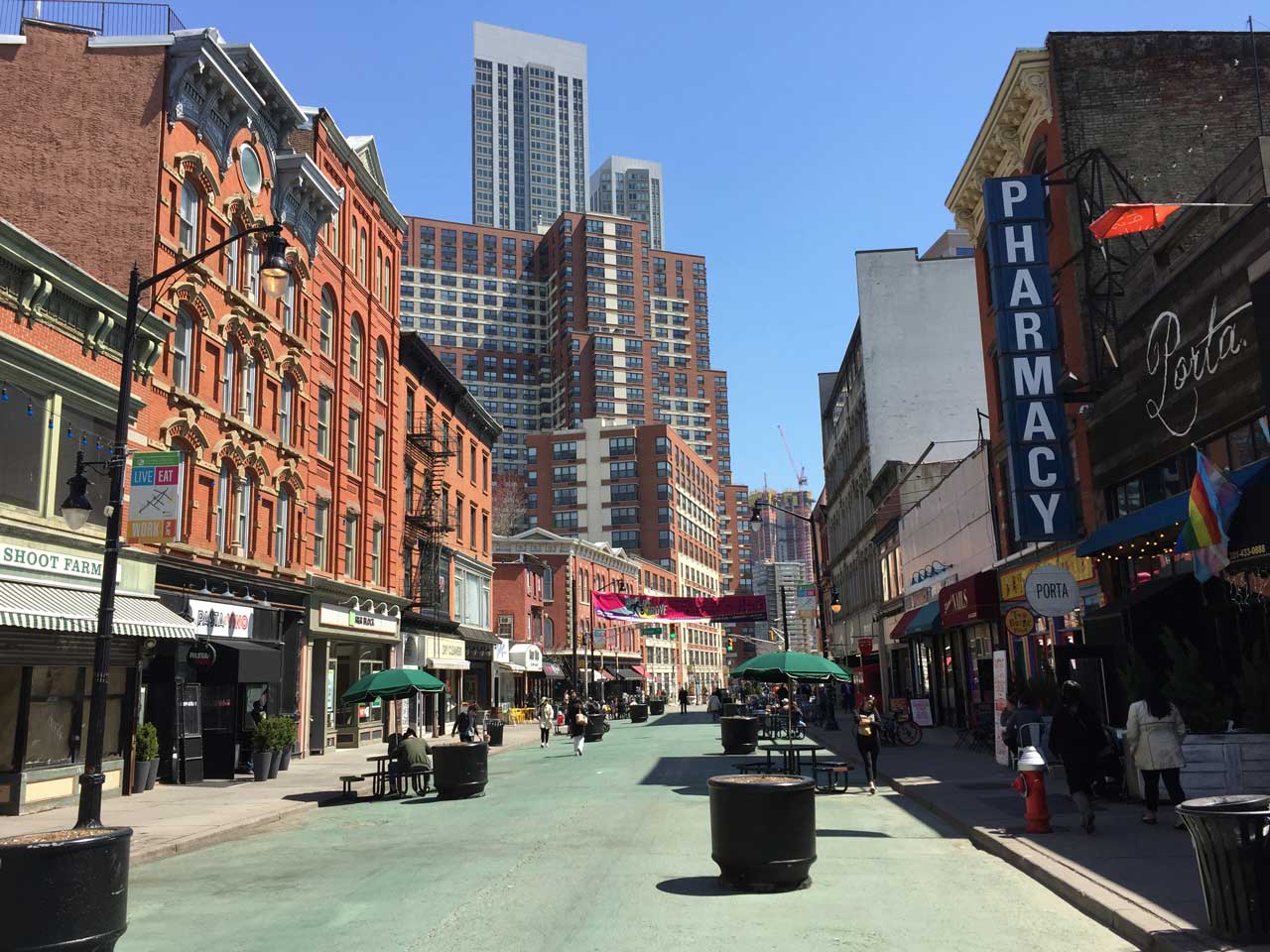 Since first being installed in 2015, the Newark Avenue pedestrian plaza has continued to develop into one of Jersey City's major nightlife spots. While some argue that the street's evolution is one of the city's great success stories, others have noted some unintended consequences related to quality of life in the neighborhood.
That debate is being brought front and center by two new proposed ordinances that could both address noise issues and limit the number of clubs in the city's Historic Downtown Special Improvement District. Both ordinances are sponsored by Ward E Councilman James Solomon and the most significant change would involve limiting the number of entertainment licenses that could be issued along Newark Avenue.
"A large number of businesses established and planned along the [Newark Avenue Pedestrian] Mall have applied for entertainment licenses to play live music or to play recorded music for group entertainment," the first ordinance reads. "This large concentration of businesses with entertainment licenses along the Newark Avenue Pedestrian Mall has the potential to alter the original intent of the mall as a place for pedestrians to gather and turn it into a primarily night-club driven entertainment district."
The legislation notes that police calls in the neighborhood around the mall have increased dramatically since 2013, as complaints about interpersonal conflicts are up 194%. Calls regarding loud music increased 450% and complaints about street fights were up 177% during the same time.
To combat the issue, the proposed ordinance would place some restrictions on entertainment licenses, which need to be acquired for any establishment featuring live music, dancers, floor-shows, or a DJ. Within the Newark Avenue Special Improvement District, entertainment licenses could not be issued to establishments that are within 250 feet of another business that already has an entertainment license.
The new regulations wouldn't place any limit on the number of entertainment licenses the neighborhood could have but would require they be separated by at least 250 feet. Under the proposal, all entertainment licenses obtained before September 1 of this year would be grandfathered in. The ordinance contains a few other regulations that aim to curb noise, as any establishment with a license would be restricted from placing the entertainment within 10 feet of any entrance door or open window.
A second ordinance proposed by Solomon would strengthen the city's existing Peace and Good Order article of their code. It states that no person shall "operate non-vehicular music or sound production devices where sound from such devices may be heard on any public street, sidewalk, park or place, in such a manner as to be Plainly Audible." Both ordinances were tabled at the city council's July 17 meeting so an informal committee consisting of Councilmen Solomon, Daniel Rivera and Jermaine Robinson will meet to review the ordinance, which could be brought up again sometime later this year.
The proposed regulations are being discussed about a year after new restrictions were placed on bars along the pedestrian plaza, which decreed that all rooftop sections must close to the public by midnight. Restaurants along Newark Avenue's green paint corridor continue to be popular; just last week, we reported on another proposed rooftop restaurant that could open at the building that's currently under construction at 143 Newark Avenue.
Related: