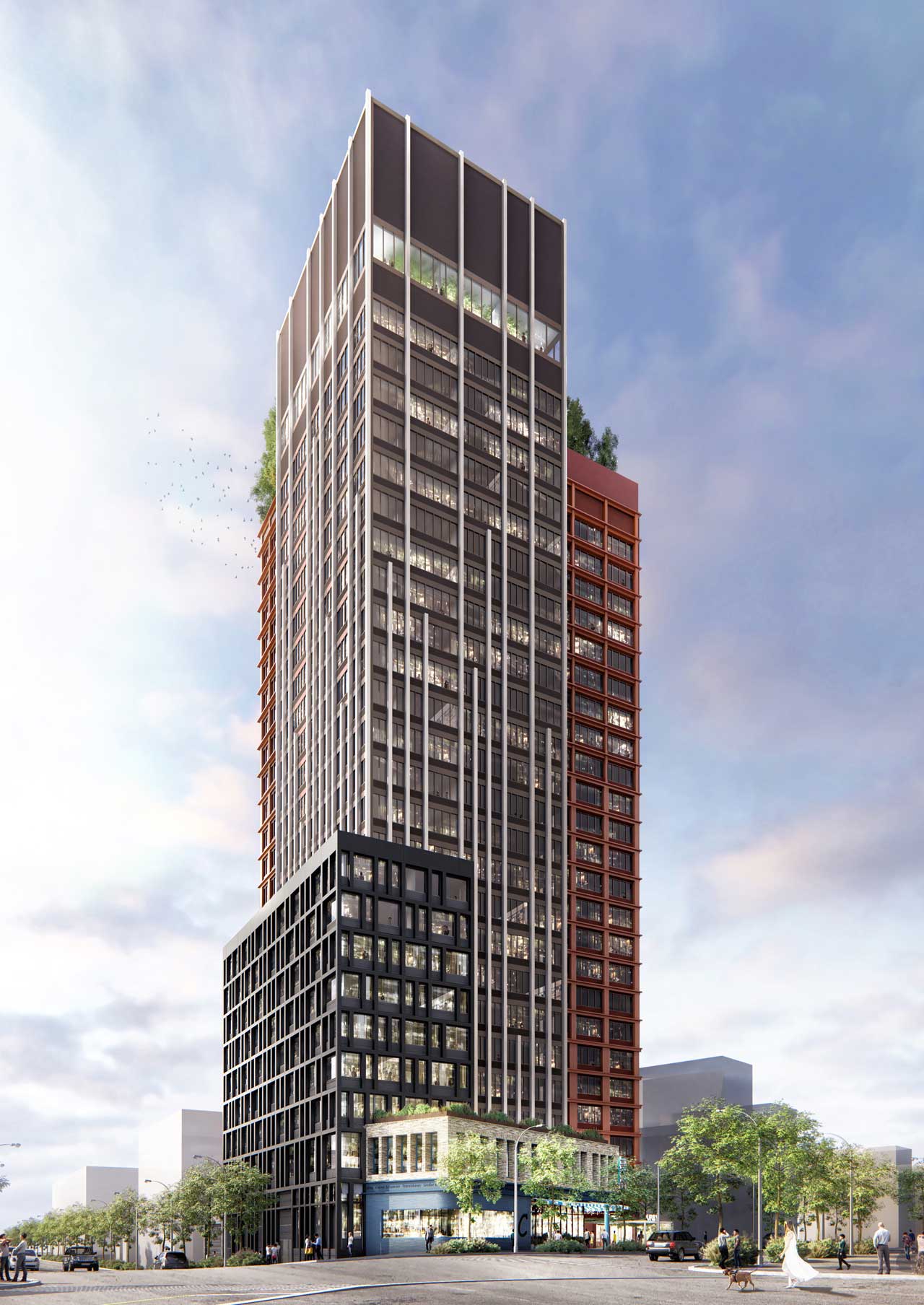 A modern urban living concept that's been a big success in the New York area is officially bringing their second Jersey City project to Journal Square, as Ironstate Development is moving forward with a 25-story high-rise set for a parking lot near the city's westernmost PATH station.
Back in October last year, we broke the news about Journal Square Urby being in the works. The development is set to rise on five lots at 571-577 Pavonia Avenue that total over 19,000 square feet with the Journal Squared development rising across the street in one direction and the historic Brennan Courthouse in the other.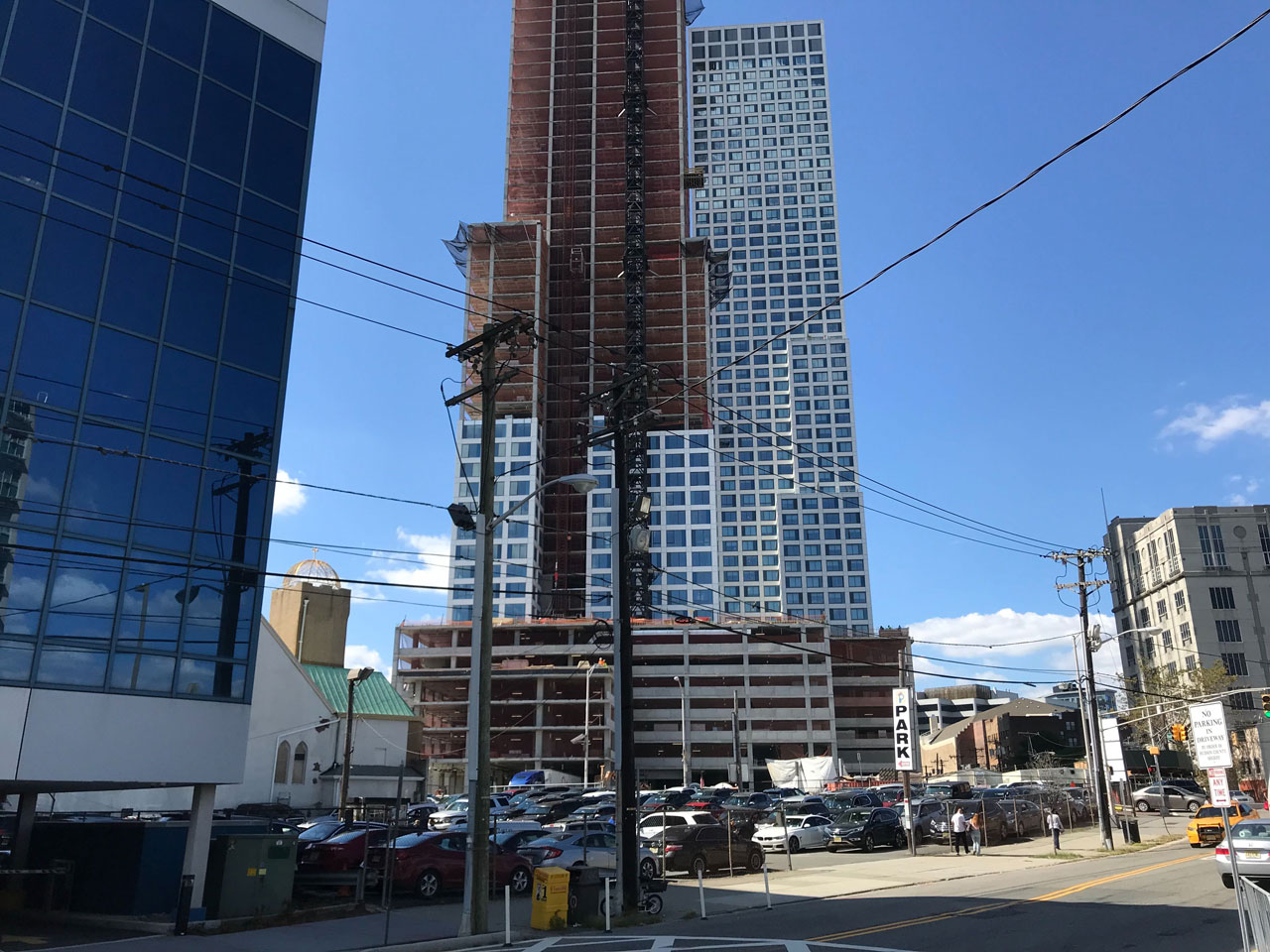 Jersey City's planning board granted final site plan approval last year for the project, which will be developed as a partnership between Ironstate, Panepinto Properties, and Kimmel LLC. A new tower will rise 265 feet at the corner of Summit and Pavonia avenues under the plans, while a new entry plaza between the development and the adjacent Saint Demetrios Greek Orthodox Church will be constructed.
The development will include a total of 340 market-rate units consisting of 159 studios, 120 one-bedrooms, 16 two-bedrooms, and 45 three-bedrooms. Amenities inside Journal Square's variation on Urby include a second-floor gym facility with an attached yoga studio and a sprawling roof deck featuring a pool deck, dog run, an indoor space sporting a communal kitchen, and a landscaped patio area.
While Journal Square Urby does not include any parking on-site, the development's ground floor will sport a 2,607-square-foot café space fronting Summit Avenue. 1,349 square feet of office space meant for a leasing facility is also featured in the design. An early conceptual rendering of the development included a mural on the Summit Avenue side of the building.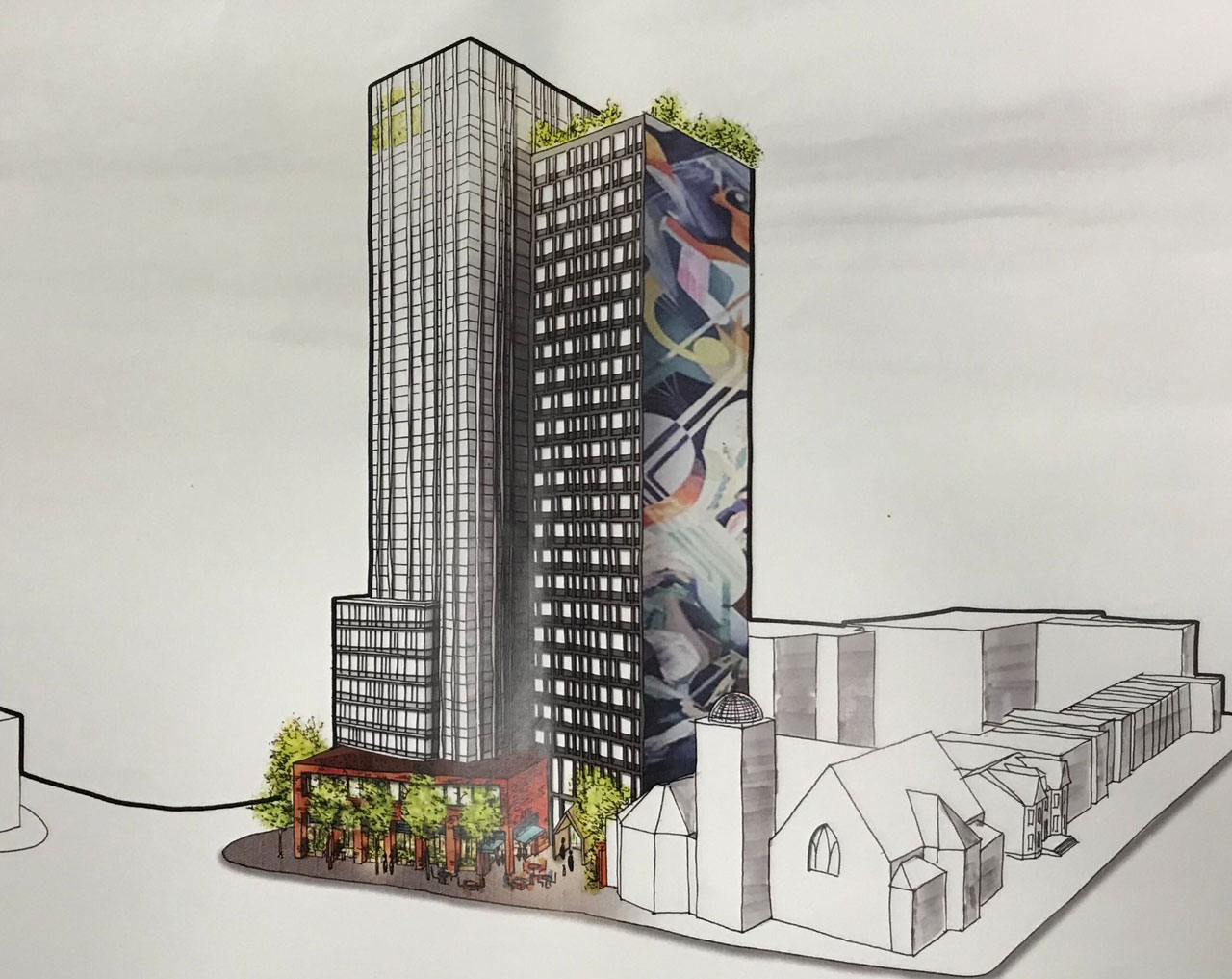 "With a focus on experience and community, Journal Square Urby will offer smartly-designed residences — which include studios, one-, two- and three-bedroom apartments — and shared communal spaces that encourage natural opportunities for neighbors to meet and interact," Ironstate said in a press release.
Madison-based HLW International is serving as the Executive Architect on the development, while the award-winning Dutch firm Concrete is working on the project's design. Ironstate says Journal Square Urby will feature an architectural aesthetic and layout that will complement the existing neighborhood scale at the street level while providing a visually dynamic tower that breaks out into three distinct masses.
Journal Square Urby will be the fifth development of the brand to hit the NYC-metro market and the second in Jersey City. It follows launches on Staten Island's north shore in 2016, the 69-story Jersey City Urby waterfront tower in partnership with Mack-Cali in 2017, Harrison Urby in 2017, and Stamford Urby in 2019.
Ironstate says their latest Urby is currently in design and tentatively scheduled to break ground during the third quarter of 2020, with initial delivery anticipated for 2022.
The neighborhood around Journal Square Urby will be busy over the next few years, as Hudson County is constructing a new courthouse just a block from the development. Jersey City has also committed to turning a parking lot across from the Journal Square Urby property into a three-acre park that could begin construction when the new courthouse is complete.
Related: