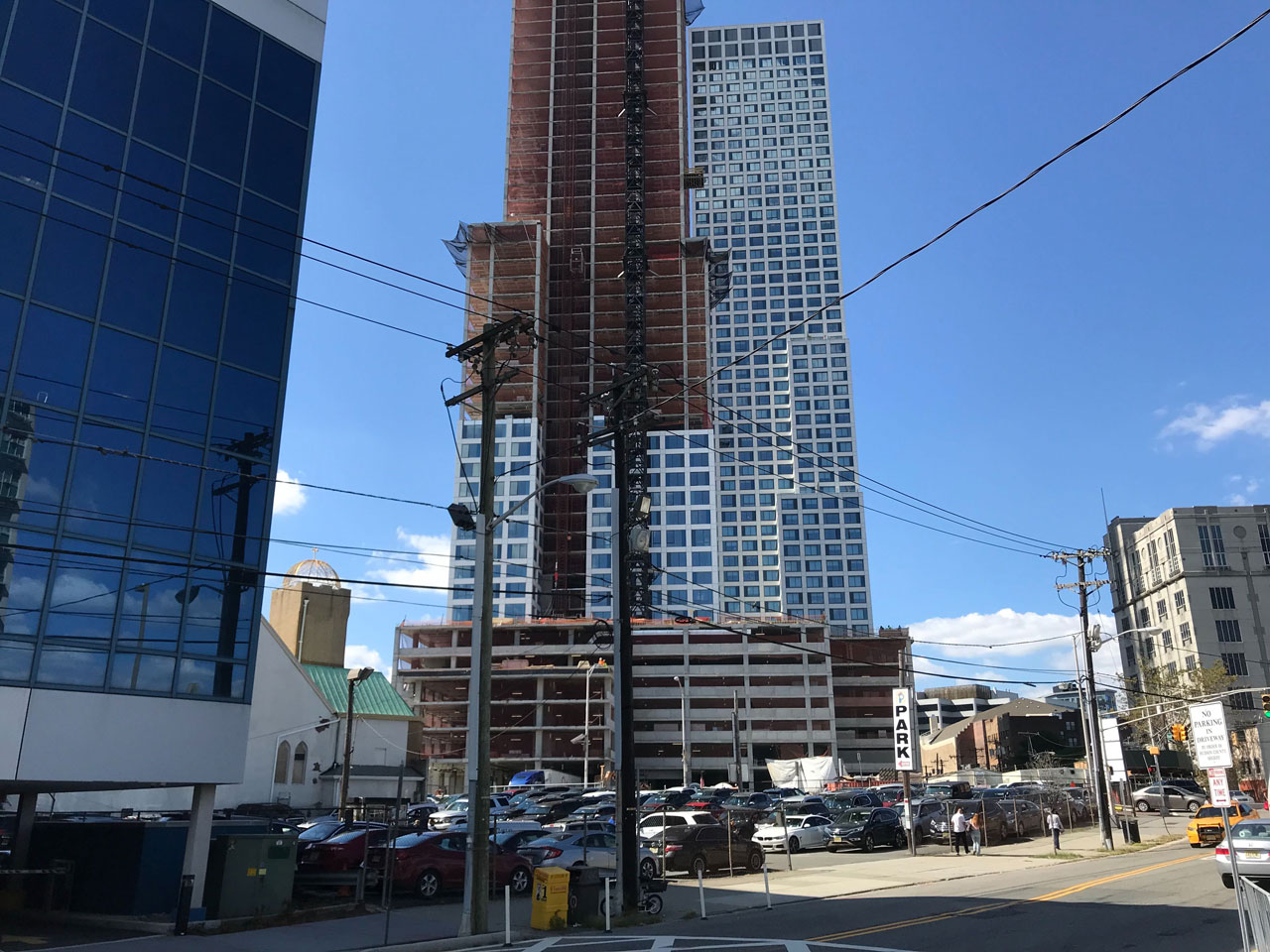 A modern urban living concept that's been a big success Downtown looks like it will be heading west, as the company behind Jersey City's Urby development has submitted plans that would bring a new high-rise to a parking lot near the Journal Square PATH station.
The first phase of Ironstate Development's Urby has been one of the most prominent buildings along the Jersey City waterfront since it was completed over two years ago. The company partnered with Mack-Cali to build the 69-story tower and quickly set records for price per square foot while drawing marquee restaurants like DomoDomo to the space.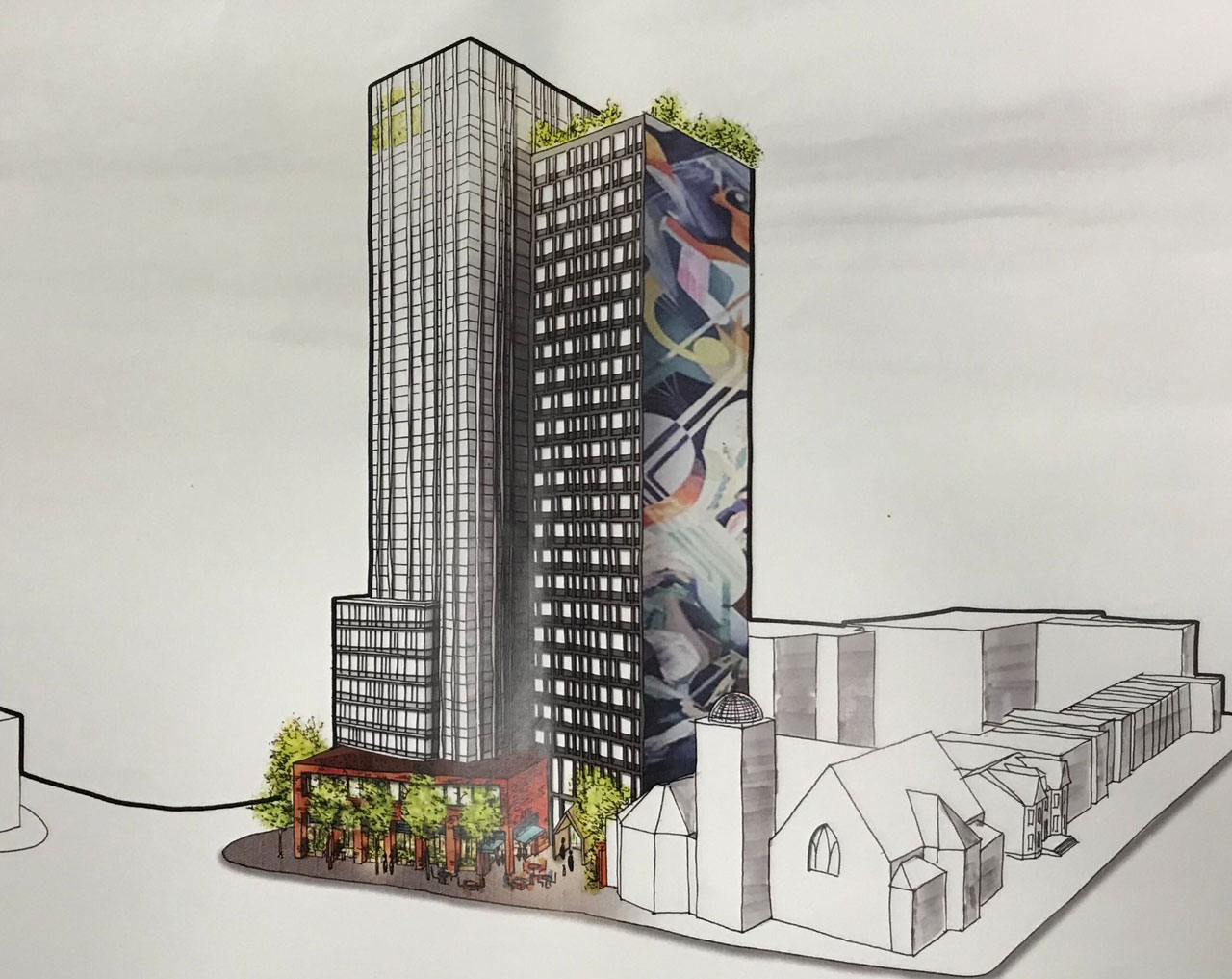 Over the summer, Ironstate quietly submitted plans for its latest venture that encompasses five lots, totaling over 19,000 square feet at 532 Summit Avenue and 571-577 Pavonia Avenue. The property, which has the Journal Squared development across the street in one direction and the historic Brennan Courthouse in the other, is currently controlled by Newark-based company Extended Management Corporation, who own parking lots throughout the tri-state area.
Plans submitted by Ironstate reveal they hope to build a 25-story, 341-unit project at the property that would be called Journal Square Urby. The structure would rise 265 feet and include a 2,607-square-foot café space on the ground floor fronting Summit Avenue. Under the plans, a new entry plaza would be constructed between the proposed Journal Square Urby and the adjacent Saint Demetrios Greek Orthodox Church.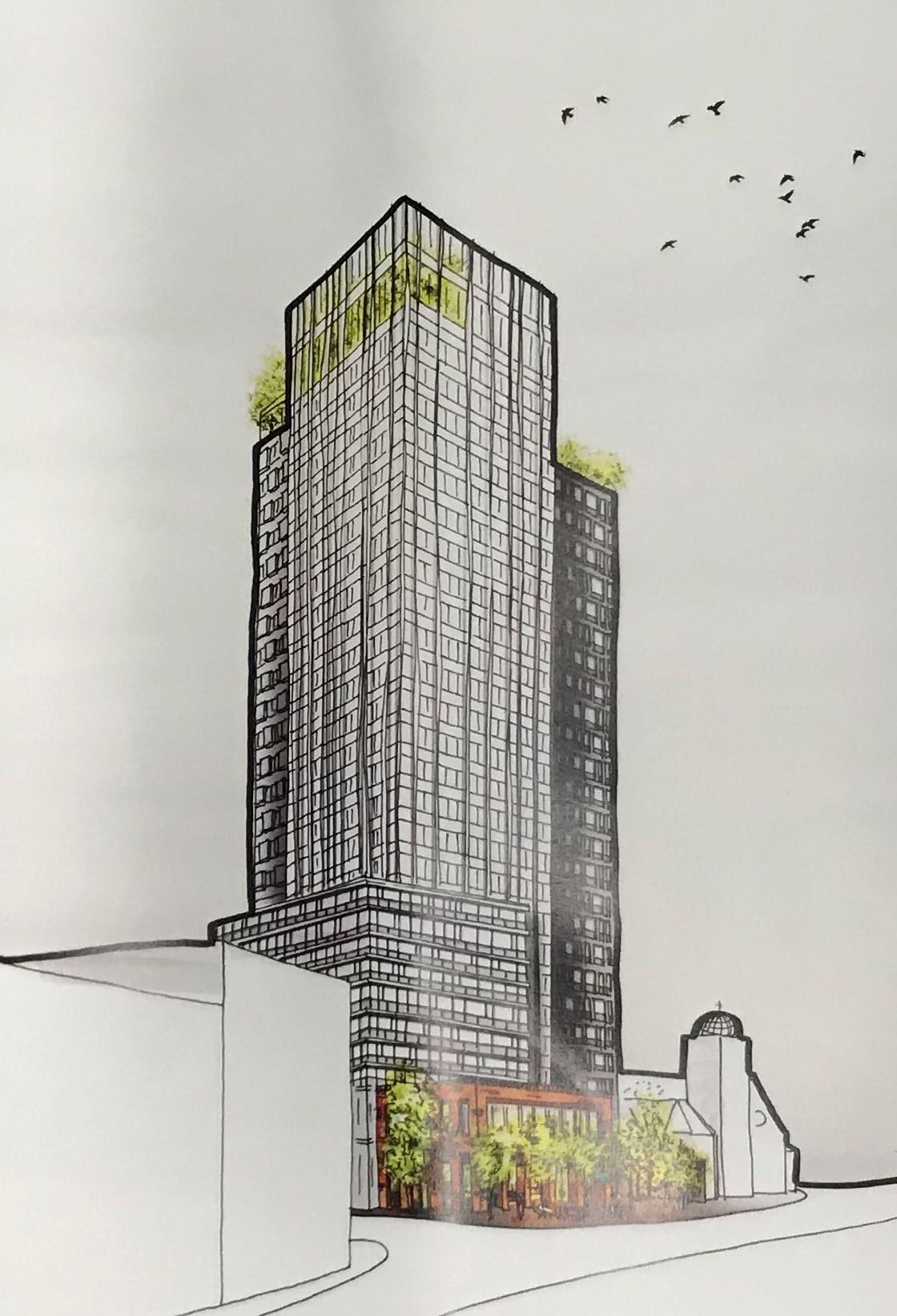 The project, designed by Madison-based HLW Architects, would consist of 159 studios, 122 one-bedrooms, 15 two-bedrooms, and 45 three-bedrooms. Urby's living concept is designed to encourage neighborly interaction, so several prominent shared spaces are included in the building to encourage social interaction and a sense of community.
Journal Square's variation on Urby would include a second-floor gym facility and a sprawling roof deck that includes several amenities. It would consist of a 2,085-square-foot pool deck, a separate 1,320-square-foot indoor space that includes a communal kitchen, and another 1,700-square-foot outdoor space.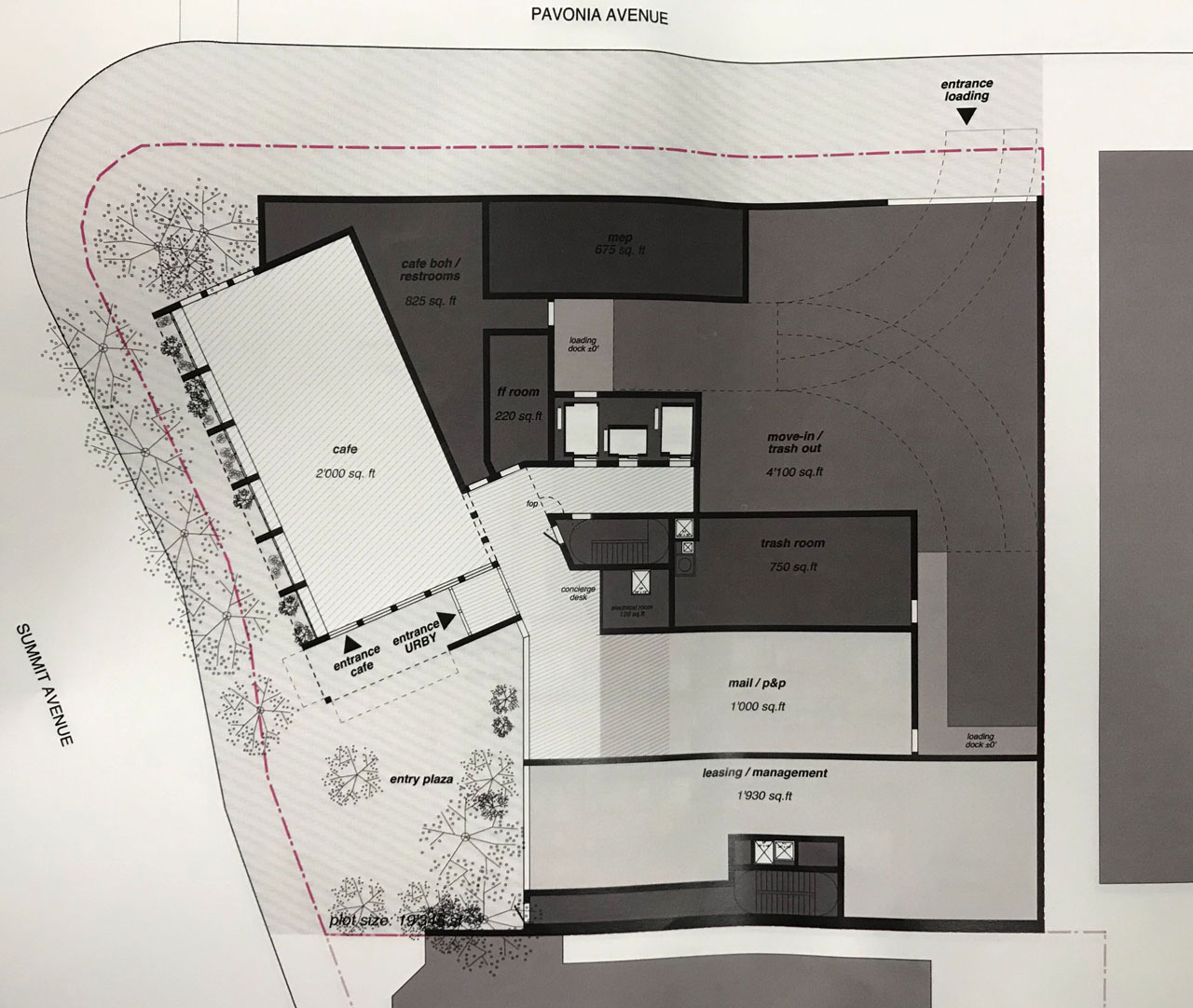 The development is slated to feature 1,349 square feet of office space meant for a leasing facility but would not include any parking spaces or affordable housing units. The property falls within Zone 3 of the Journal Square 2060 Redevelopment Plan and under current regulations, neither parking nor affordable units are required.
Ironstate is nonetheless seeking relief from the city's planning board via several "c" variances from what is allowed under current zoning. They include deviations regarding floor-to-ceiling heights, the building's base height, four separate setback variations, frontage of the first floor, and the development's proposed use of a synthetic stucco material called EIFS that's not allowed under current regulations.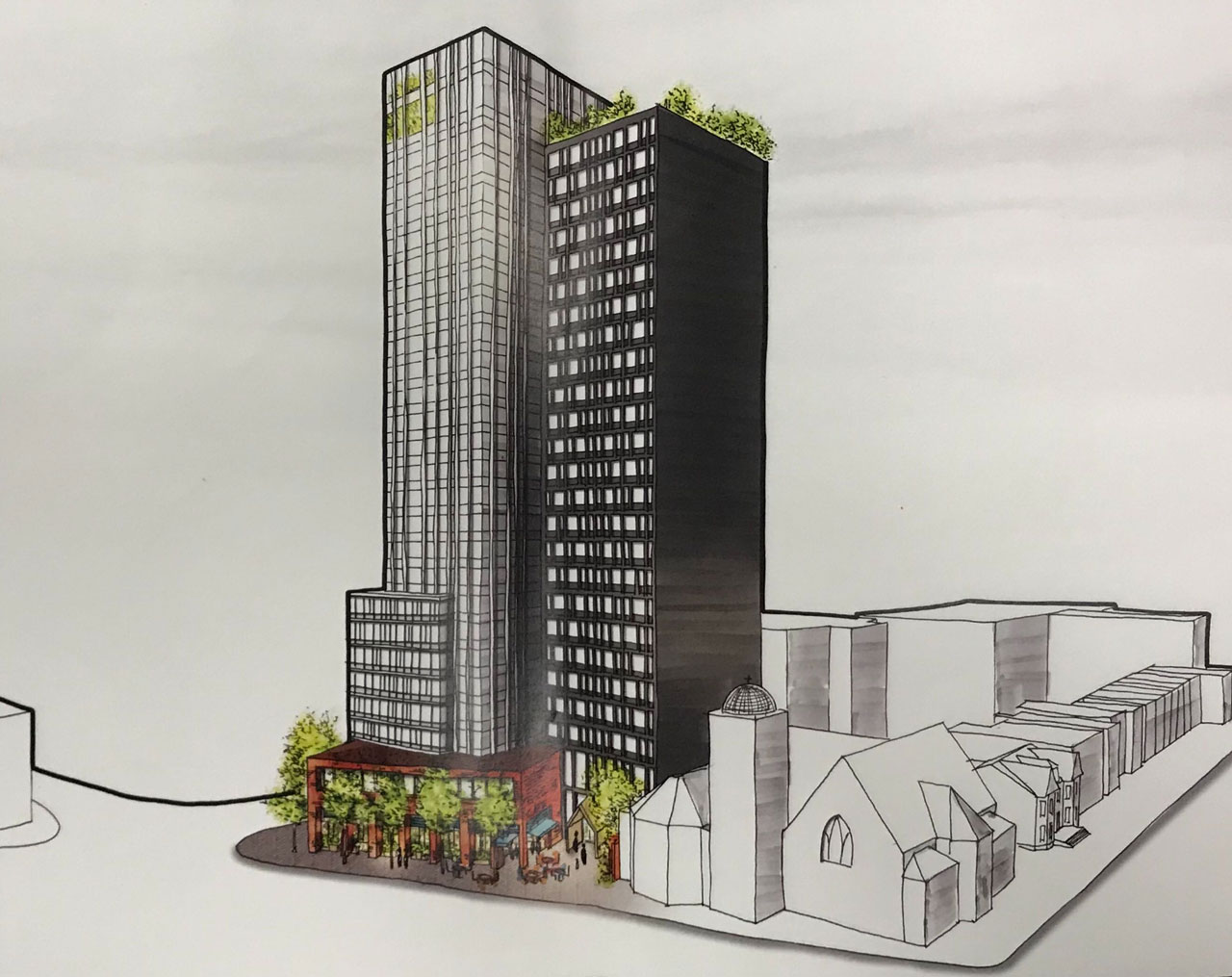 Ironstate submitted their Preliminary and Final Site Plan application to the city's planning department back in August, but a date hasn't been set to hear the proposal.
Related: