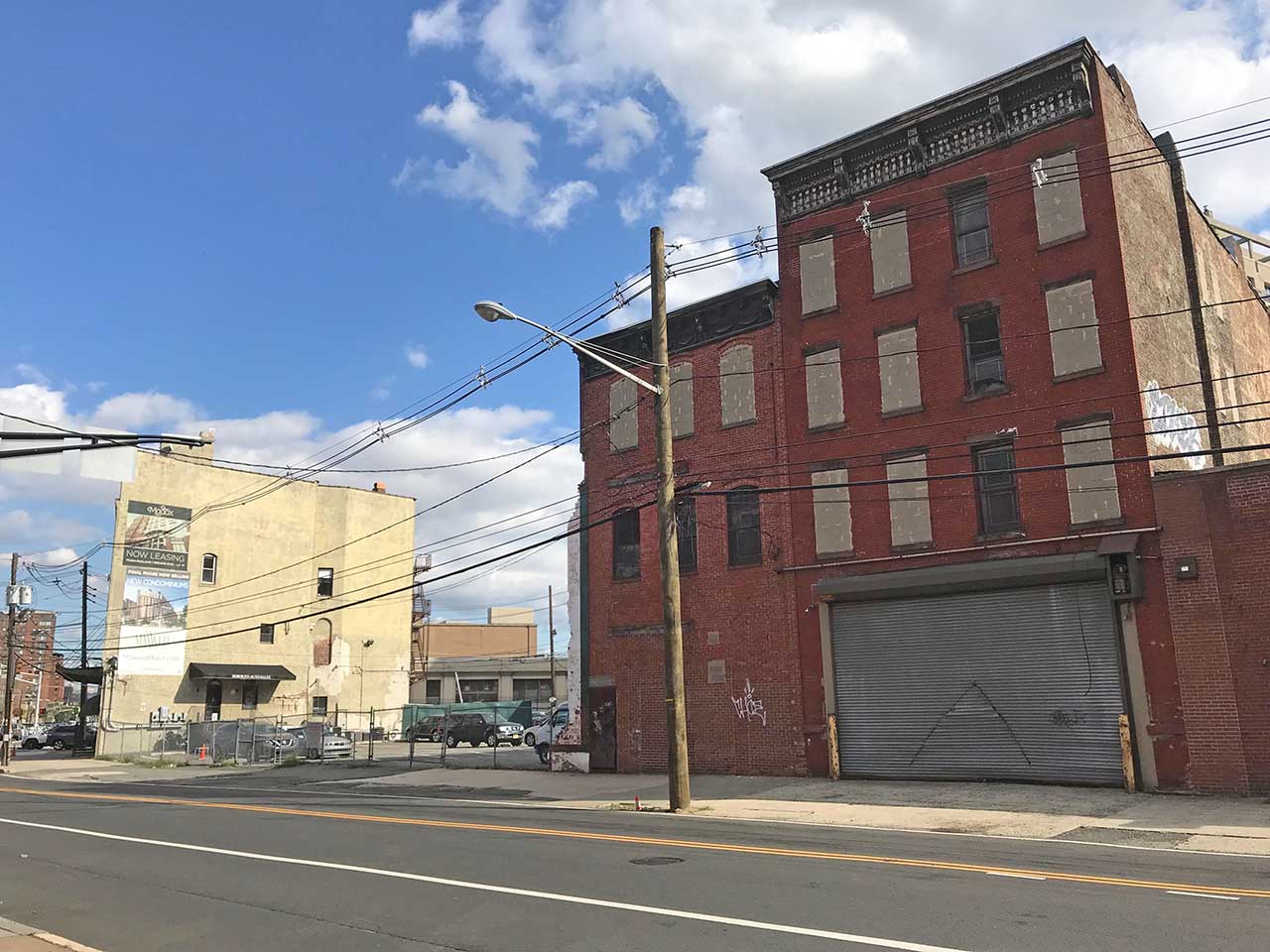 A large restaurant-ready storefront with apartments and 21 parking spaces could soon be coming to six parcels across the street from one of the city's fire stations.
On September 18, Hoboken's city council approved a resolution that would enter negotiations to redevelop several properties at 511-521 Newark Street. The lots were purchased earlier this year for $6.1 million by a company called Newark Street Capital 511-521 LLC, who are registered out of the same Secaucus address as National Realty Investment Advisors (NRIA).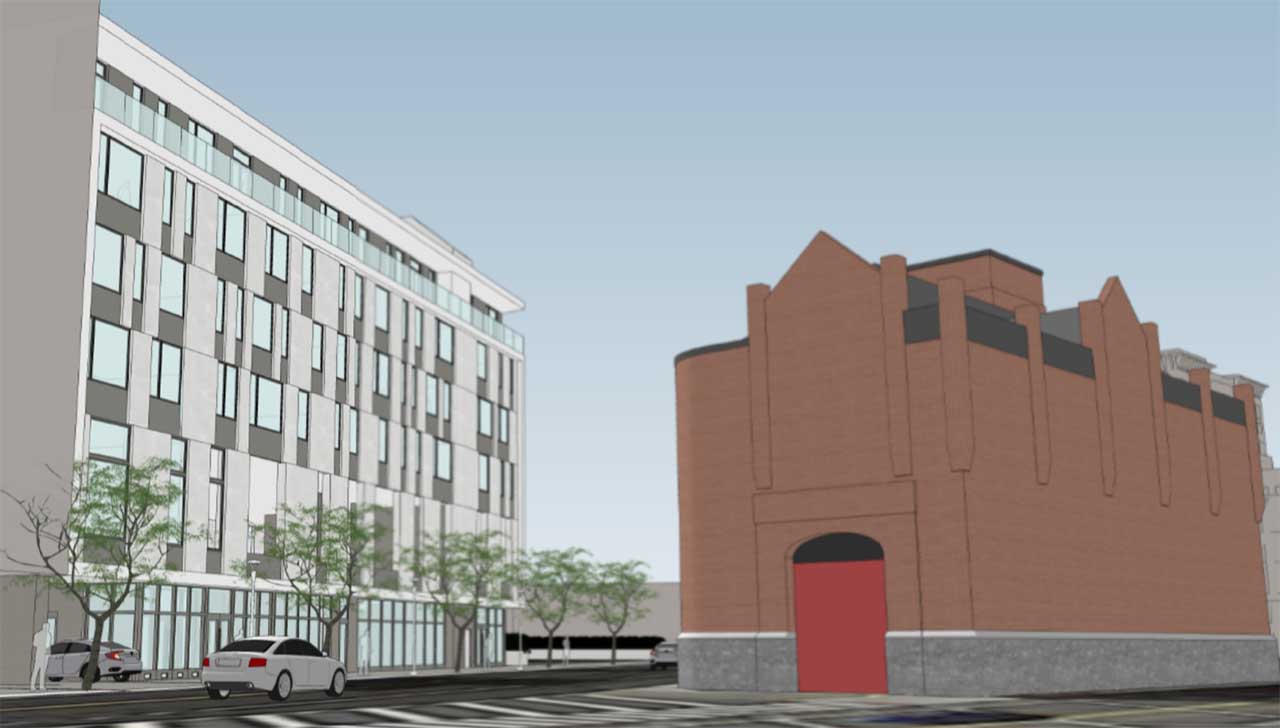 NRIA will now pay $25,000 to Hoboken that will be drawn upon to cover interim costs associated with negotiating an agreement for the property, and they've submitted preliminary plans to the city that will be used as a starting point for the process. The project appears to be called Hoboken Mews according to NRIA's website, but the look of development has changed considerably since the last update.
Drawn up by Nastasi Architects, the project would demolish all the existing vacant buildings and parking lots at the 12,950-square foot site and replace them with a six-story mixed-use project rising 67 feet. The development's first floor would consist of a 500-square foot lobby with an elevator plus 4,585-square feet of retail that would include an exhaust and a commercial kitchen space according to blueprints.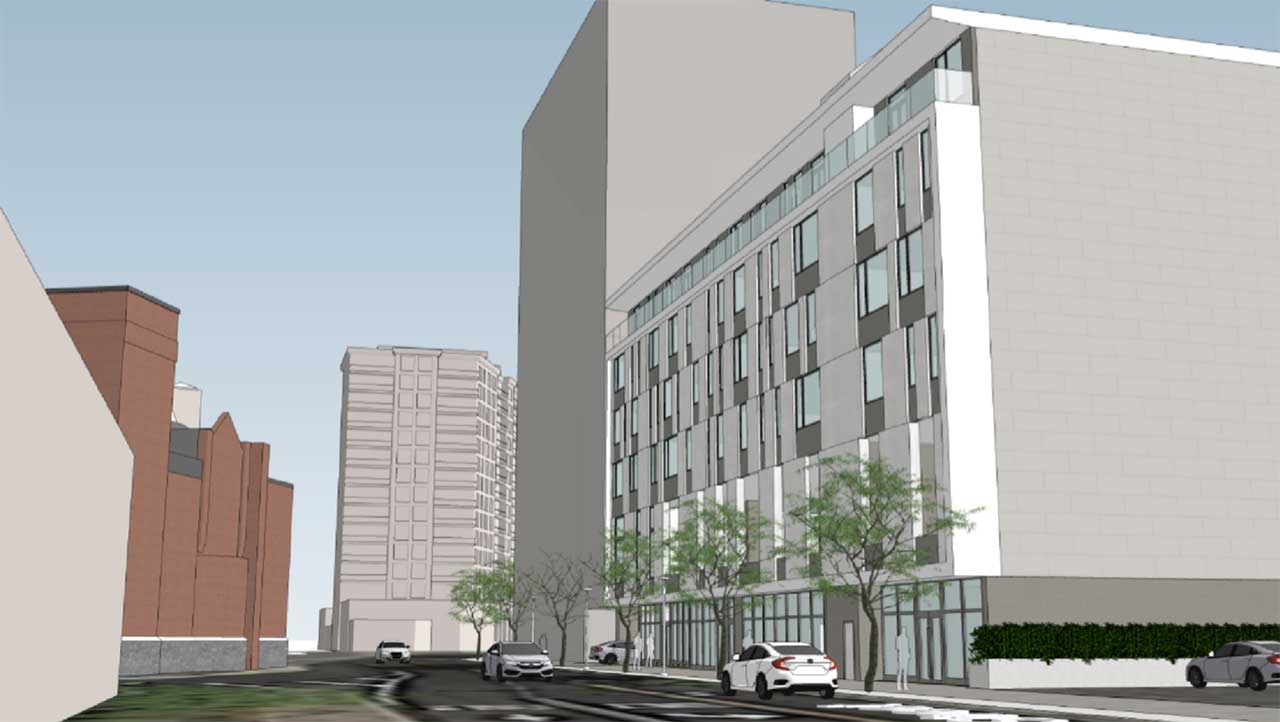 The second floor of the property would feature 21 parking spaces to be accessed by a car lift. A 744-square foot amenity room and a 321-square foot common terrace that would face south round out floor number two.
The remaining four stories would consist of 32 rental units, three of which would be designated as affordable housing. Four apartments on the top floor would include balcony spaces, while the building's roof would feature 1,500-square feet of usable space as part of an amenity deck.
In addition to developing the parcel, the project would establish a new neighborhood alleyway with access to Grove Street and Marin Boulevard. The service road would be built 20 feet wide with 6 feet of walkway and run almost directly along the Hoboken/Jersey City line, allowing for two-way traffic.
Establishing this connection was one of the objectives stated in the Southwest Redevelopment Plan, which was passed in 2017 to facilitate growth in the neighborhood. While the area just over the Jersey City border has seen a ton of development and approvals in the time since, 511 Newark Street is the largest proposal to emerge on the Hoboken side of things.
The project deviates from what's allowed under current zoning a bit; it would cover 69.7% of the lots where 60% coverage is permitted, include 32 units where 20 are allowed, contain 21 parking spaces when 28 are required, and rise 67 feet in a zone where height is capped at 40 feet. An agreement will need to be reached between Hoboken and the developer before they can apply to the planning board for approvals.
Related: