Editor's note: Yesterday, we reported on a new project at 854 Jersey Avenue. Upon further research, it appears that project is just one-half of a larger, two-part development LeFrak is planning for the block-long site.
A gas station and some vacant land along Downtown Jersey City's northern edge could soon be replaced with 258 apartments and three larger retail spaces, as plans for two parcels along the Hoboken border have become clearer following Planning Board approval.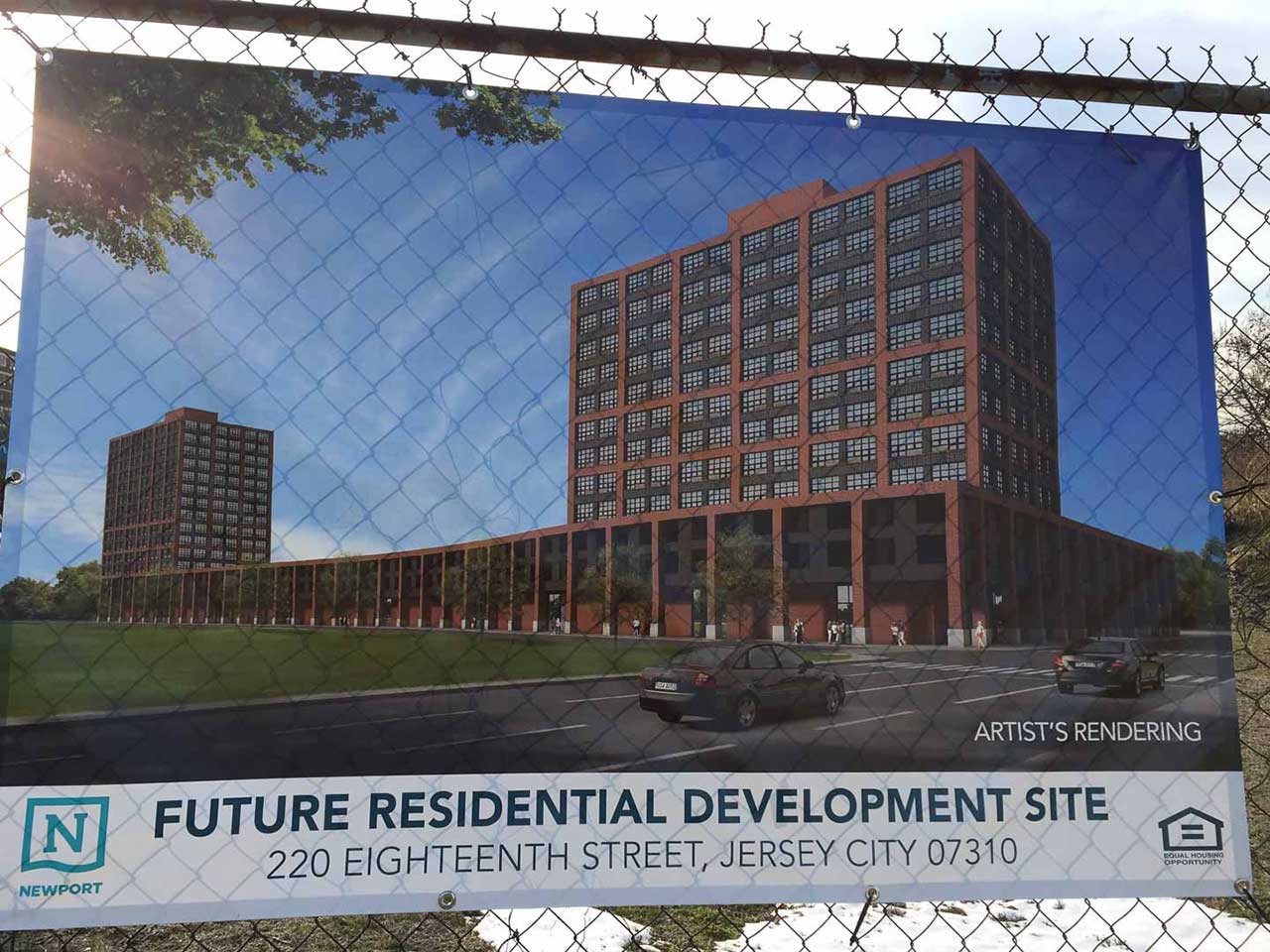 A mysterious sign with a rendering of a new development appeared back in March at 220 Eighteenth Street, a wide piece of land between Grove Street and Jersey Avenue that backs up to the Hudson-Bergen Light Rail tracks. Since then, developer LeFrak has drawn up plans for the two properties at 854 Jersey Avenue and 659 Grove Street, which were submitted in separate applications.
Both proposals were given the green light by the Planning Board on May 30th and all portions of the project were designed by Madison-based HLW International Architecture and Engineering. The first, at 854 Jersey Avenue, calls for a residential tower portion that will rise ten stories and 110 feet, plus another shorter three-story section that makes up a longer chunk of the property.
119 residential units will be in the tower, while the three-story section will be made up of a 14,013-square foot retail storefront and 116 parking spaces on the second and third floors. The units at 854 Jersey break down as eight studios, 64 1-bedrooms, 40 2-bedrooms, and seven 3-bedroom spaces. The second building at 659 Grove Street is designed to essentially be a "mirror image" of 854 Jersey, as the buildings will have the same footprint, but reversed.
659 Grove's ten-story tower will sport 139 units that break down as slightly smaller in size, with 18 studios, 68 1-bedrooms, 37 2-bedrooms and 16 3-bedroom apartments. Two retail storefronts will be featured in its three-story section, one of 8,150-square feet and the other clocking in at 4,377-square feet. 116 parking spots will also be included on the top two floors above the retail.
Both properties fall within the High Rise District of the Jersey Avenue Light Rail Redevelopment Plan, which was first designated in 2007 in an effort to facilitate growth in a somewhat forgotten industrial corridor. The new construction will utilize red and gray brick exterior materials in keeping with the feel of the area, also including some beige stone in certain sections.
The two buildings will additionally feature bike rooms, resident lounges, and a landscaped walking path area behind the buildings next to the light rail tracks. Two roof terraces featuring barbecues will also be built, as will a landscaped plaza and courtyard area in the middle of the two buildings that may be open to the public.
LeFrak has been busy planning lately, although their next move is unclear. The company will soon complete the Ellipse development and has approvals in place for Pier Six, the Revetment House, 700 Washington, and now 854 Jersey and 659 Grove.
The company was also given the go-ahead back in 2010 for another two-tower project near 700 Washington whose plans were recently extended by officials, giving them a total of six approved projects in the pipeline. Whatever ends up happening next development-wise, it's clear that LeFrak will be expanding their footprint on Downtown's northern end.