The owner of a tract on Jersey City's West Side could construct a new six-story development on the property.
The owner of 49 Fisk Street is planning a project that would include 295 studio, one-bedroom, and two-bedroom residential units. The company, which is simply known as 49 Fisk Property Owner, LLC, was designated as the redeveloper of the site by the Jersey City Redevelopment Agency's Board of Commissioners during its virtual meeting on May 19.
Slides that were presented to the Board of Commissioners included renderings and site plans from Minno & Wasko that show that the development would include a courtyard area with a pool along with a rooftop amenity area. Part of the project would face a future extension of Mallory Avenue, according to the concept site plan, which also shows the building could feature a club amenity room, a fitness area, 150 standard parking spaces, and 19 tandem spaces.
The resolution that was approved by the Board of Commissioners states that "the agency and the redeveloper intend to pursue pre-development activities, including negotiation of a redevelopment agreement and other related actions."
All of the units in the development would be market-rate. A representative for the developer indicated during the virtual meeting that "affordable" units are not required in this area. Although the meeting included a public comment period, no members of the public addressed the Board of Commissioners.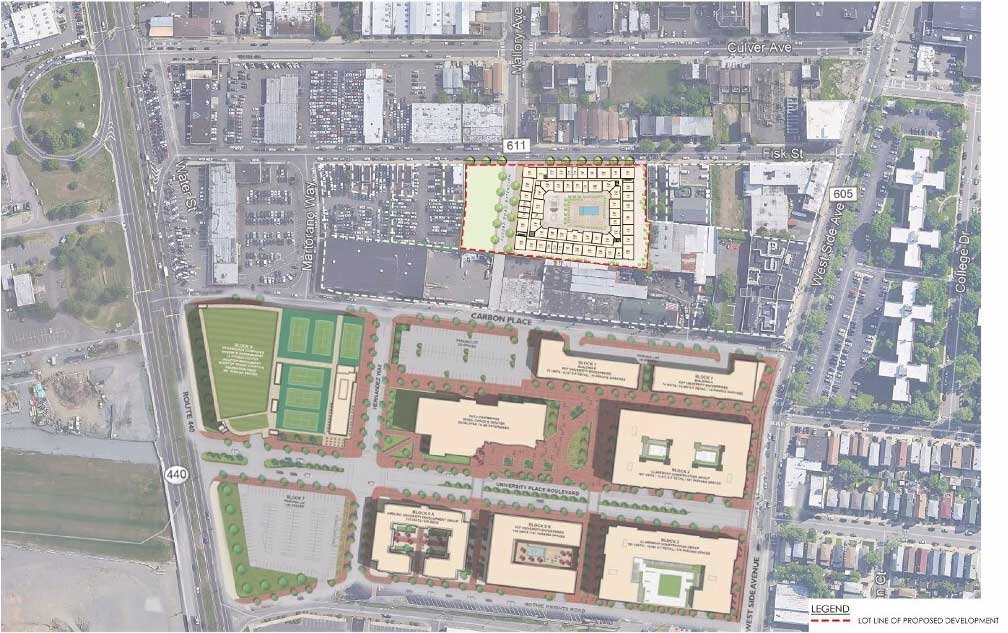 Municipal tax records show that 49 Fisk Property Owner, LLC is registered out of the same address in Midtown Manhattan as Halpern Real Estate Ventures.
Located opposite O'Abbey's Corner Pub & Grill, the property on Fisk Street has been used in recent years by Poly-Version Inc. for industrial purposes. The parcel is situated in an area that is seeing increasing development, with the New Jersey City University West Campus site, the Bayfront premises, and the West Side Avenue stop on the Hudson-Bergen Light Rail all located nearby.
Related: