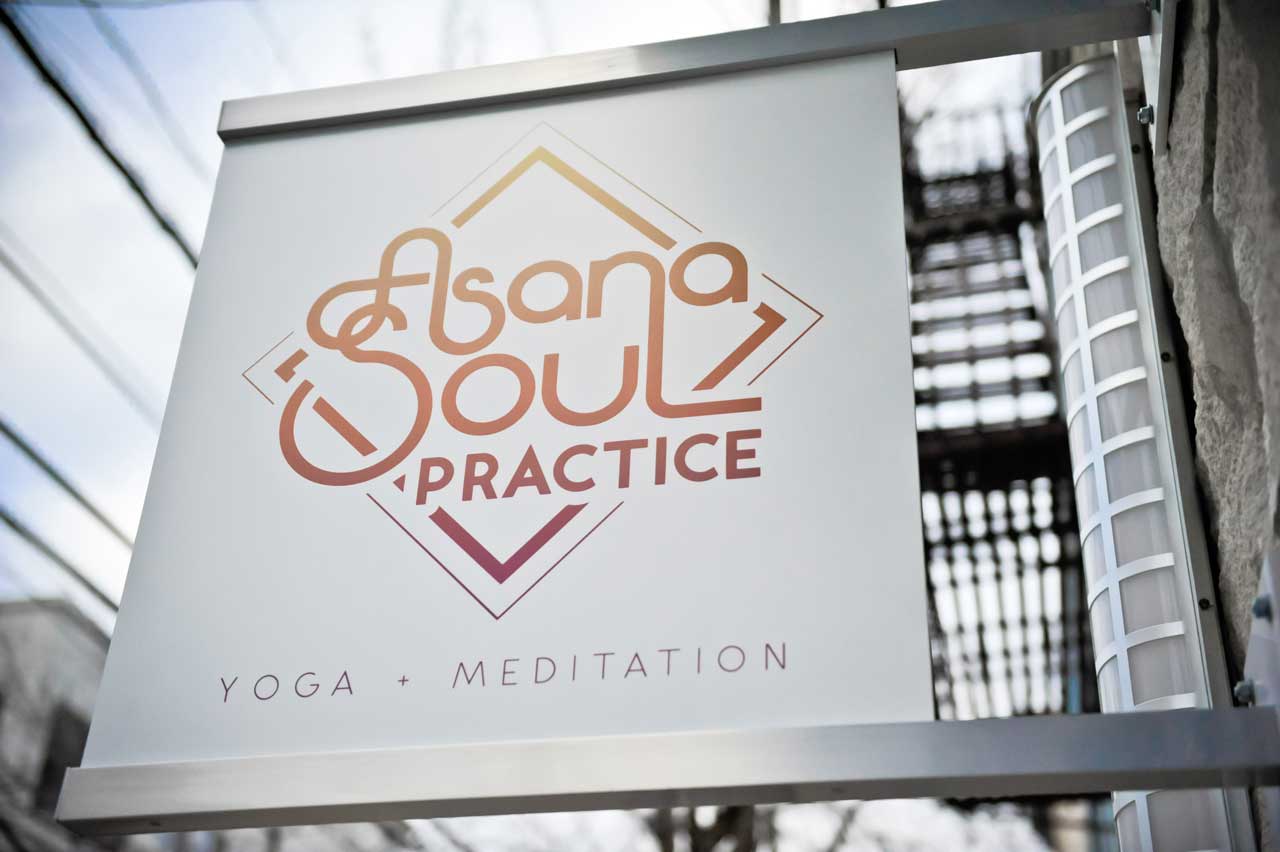 Established in Hoboken in 2016 and Downtown Jersey City in 2018, Asana Soul Practice is a yoga studio, yes, but the depth and breadth of its offering set the intention way above and beyond your standard vinyasa vibe. Both studios are an extension of their communities, a real home-away-from-home, and bring movement, music, and meditation to students in a meaningful (and affordable!) way.
Buzzed about as the most welcoming studio, Asana Soul Practice is a bright, warm, and mindful experience from start to finish. Every detail, from the greeting at reception and the essential oil scents that fill the space to the complimentary tea and high-end yoga props for class, has been tended to and all levels are welcome. Asana Soul loves what they do and it is palpable.
Celeste Cusumano did the corporate grind for over a decade, working in the fashion industry in New York City, but eventually she wanted something else, something more sustainable, something for her soul. A former dancer and long-time yoga practitioner, Celeste's love of movement is matched only by her husband Marc's love of music. After what Celeste describes as nothing less than an epiphany about how they could combine movement and music in a meaningful way, they spent a year planning and being "scrappy," Celeste recalled to Jersey Digs. On a shoestring budget, they opened Hoboken, launched Jersey City two years later, and never looked back.
At Asana Soul Practice, music is refreshingly not an afterthought. "Music is so inspiring, empowering, mood-changing," said Celeste. "It can take you to another world. We value music and it is integrated in a way for people to enjoy it." Marc Cusumano is the resident DJ and experienced instructors also approach class in a cohesive way with creative and fun sequences to really get students moving and grooving. Asana Soul is fully equipped with a state-of-the-art surround sound system and also offers classes with live music performed by local musicians, and music is the bridge to meditation via the studio's uniquely immersive magical sound baths.
Asana Soul Practice has a myriad of ways to dive into your own practice and "it's really a place to be yourself," Celeste assured. "A home away from home, an oasis. It's not just about the class; it's about finding a place to be. We don't take ourselves too seriously. We have fun! Don't hesitate to try something new, to get out of your comfort zone. We'll take care of you."
The Hoboken yoga studio is the welcoming ground floor of a sleek townhouse at 411 Jefferson Street and boasts a landscaped backyard complete with twinkling string lights. The Jersey City studio is just a five-minute walk from the Grove Street PATH and the former refrigerator warehouse has more of an industrial edge. The ground-floor corner space is elevated above 1st Street, overlooking the cobblestones of the Powerhouse Arts District, and features arched windows and exposed beams.
Both studios are grounded in white with high ceilings and loads of natural light. Bright geometric murals offer pops of color corresponding to the lower chakras and the conspicuous lack of mirrors is captivating. Each studio also has a cozy reception area and retail section.
Asana Soul Practice aspires to be accessible to all and their pricing reflects that with a number of affordable options: a new client special ($35 for two weeks of unlimited classes in both locations) and monthly membership options, including $99 per month for unlimited classes in one location plus dual studio memberships. And just in time for New Year's resolutions, become a member and receive 20% off your first three months with a six-month commitment.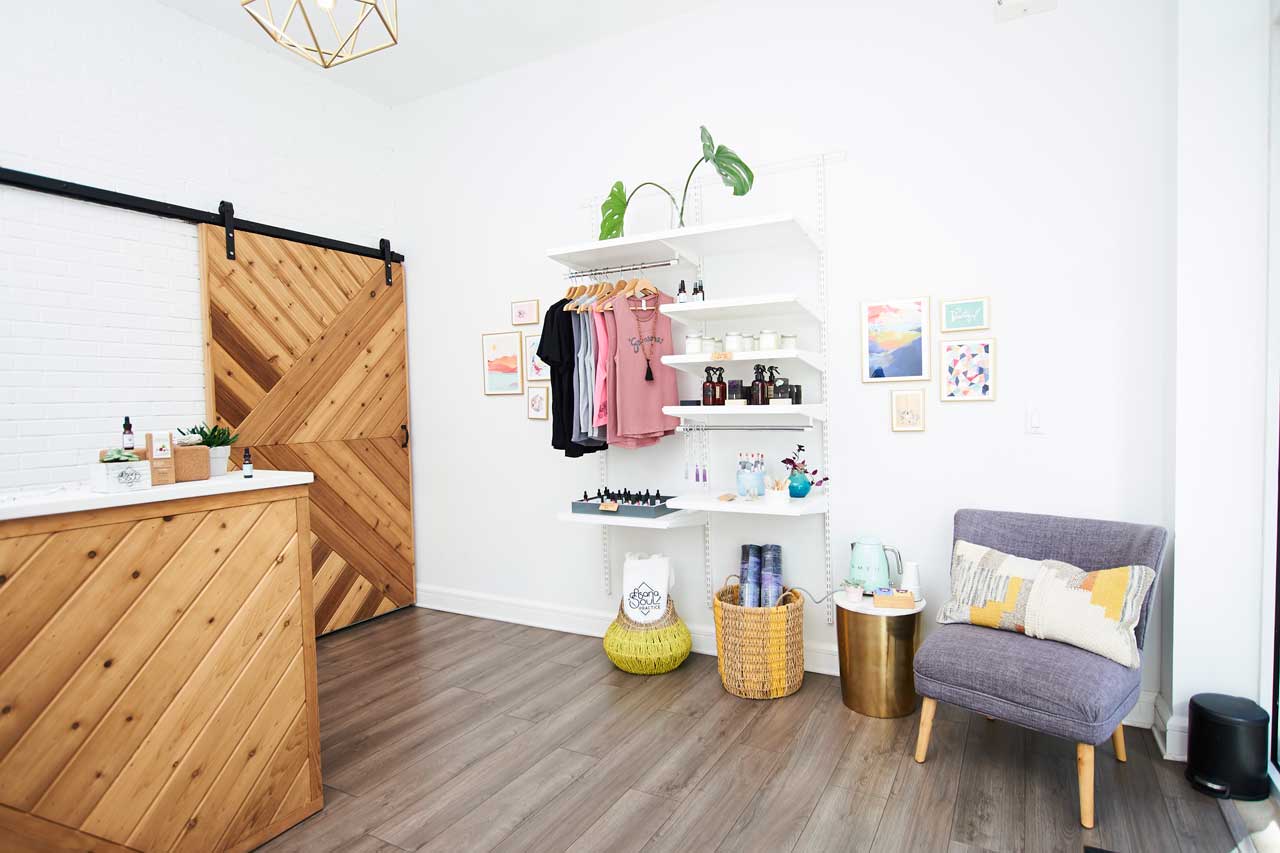 "It's been an amazing, wild ride," Celeste told Jersey Digs. "We've met so many people, become a part of the community, and feel so connected. We want to spread the love of yoga, raising awareness and making it accessible for all."
For more information on classes and pricing, please visit asanasoulpractice.com. The Hoboken studio is located at 411 Jefferson Street and the Jersey City studio is in the Powerhouse Arts District at 124 1st Street.