After a drawn-out process that involved taking the city to court, a Bedminster-based company has been cleared to construct a mixed-use project that includes significant space for one of the largest youth mentor groups in the country.
During their August 5 meeting, Hoboken's zoning board approved an application from Advance Realty for several parcels they own at 1417 Adams Street. The land totals about 20,000-square feet by combining eight lots, including one that runs all the way through to neighboring Grand Street.
The board had denied the company's plan back in April 2017 on account of the nine variances from zoning regulations they requested. The land is currently zoned for I-1 Industrial use and while Hoboken's Planning Board did designate the property's neighborhood as the North End Rehabilitation Area back in 2013, a rezoning plan has yet to be approved seven years later.
Advance Realty sued the board over the rejection, arguing that other developments in the area were granted variances similar to what they were requesting. Hudson County Judge Vincent Militello issued a ruling in February this year that instructed the board to consider the company's application as conforming, clearing the way for their green light.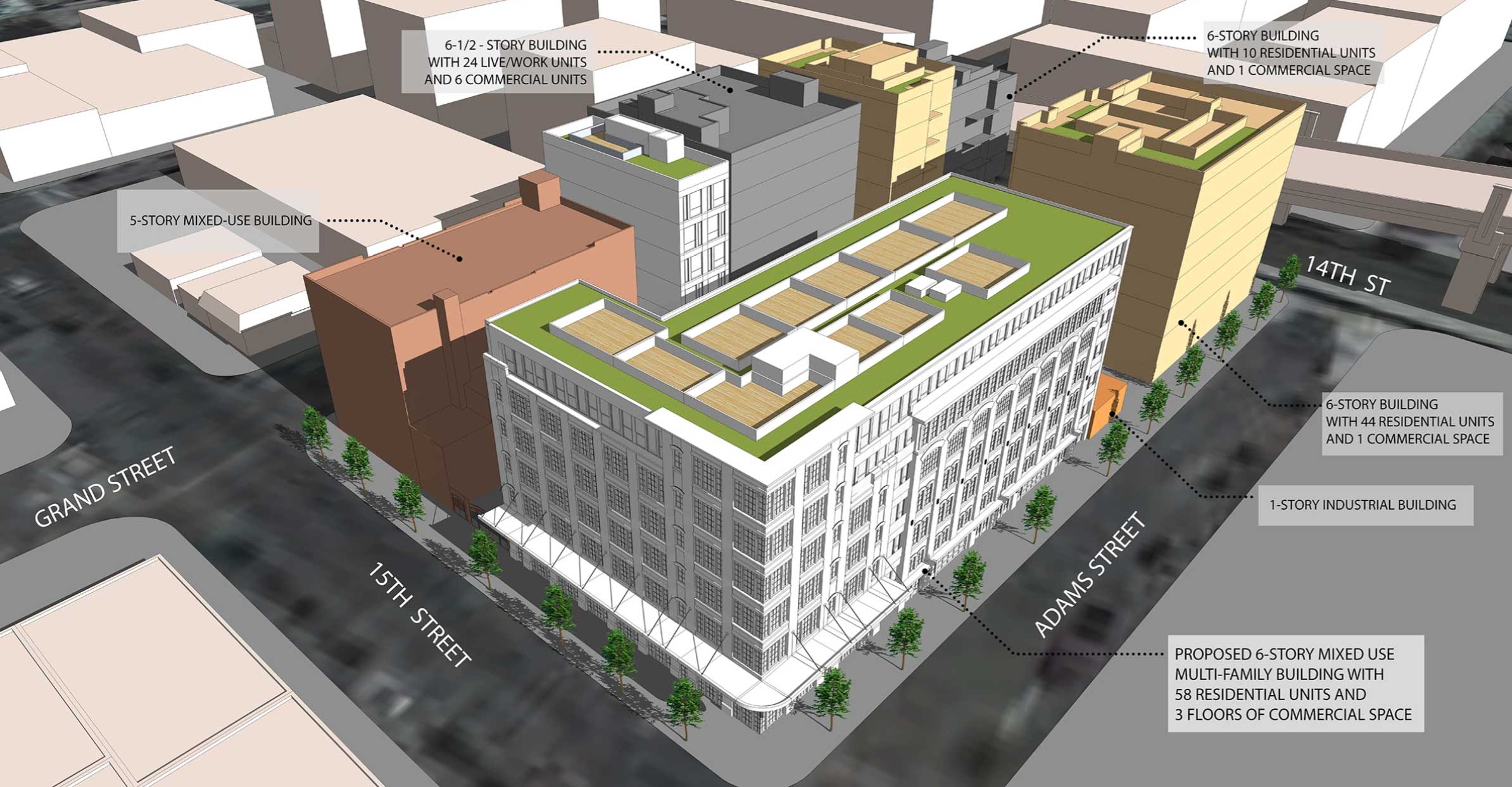 "We are extremely excited about the unanimous approval granted by the zoning board," says Advance Realty's Principal and Managing Director of Development Dan Cocoziello. "As a Hoboken resident, I'm especially excited to embark on a project that exemplifies the high-quality dwelling experience we've set out to deliver to the North End neighborhood."
The 58-unit rental building is essentially unchanged from the previous version. Designed by MVMK Architecture, the industrially inspired development will rise six stories with a ground floor that includes a 2,937-square foot double height storefront facing 15th Street and another 1,640-square foot retail space along the Grand Street portion of the building.
The second and third floors of the project will each contain about 3,000 square feet of office space. As part of the deal, Big Brothers Big Sisters of Essex, Hudson and Union Counties will be given 3,000 of those square feet free of charge for the next 15 years. The non-profit's chapter included a letter of support in the development's application and CEO Michele Williers told the city's Zoning Board back in 2017 that they intend to use the space as a satellite location for their programs.
The apartments in the development break down as 10 three-bedrooms, 17 two-bedrooms, 30 one-bedrooms, and a single studio. A pool and a 3,811-square foot common landscaped courtyard plus five private outdoor spaces are included in the development, which will also sport a green roof system.
The development will incorporate six affordable housing units per Hoboken's regulations and a total of 66 parking spaces will be included in a garage, 31 of which will be mechanical and utilize a triple parking system that stacks cars in an effort to save room.
1417 Adams will be Advance Realty's second ground-up development in Hoboken after the nearby Harlow at 14th Street and Willow Avenue, which opened in 2016. The company says they have not yet determined a construction timeline for their new project.
Related: