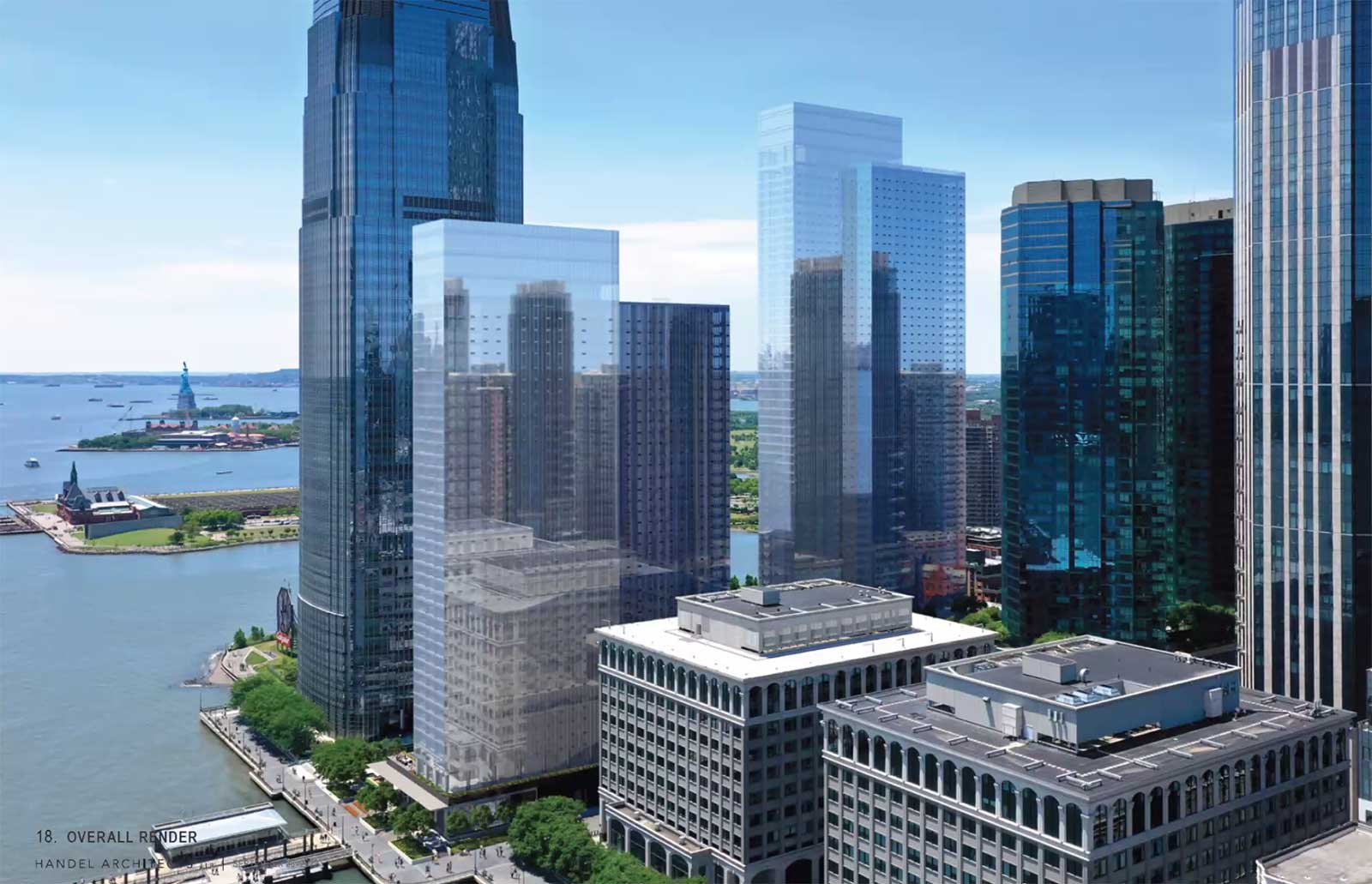 A major New York real estate developer and financial giant Goldman Sachs have been given the go ahead to construct a pair of high-rises that will add almost 2,000 units and significant retail space along two of the last undeveloped blocks of Jersey City's waterfront.
During their September 20 meeting, Jersey City's planning board unanimously approved two applications for 50 and 55 Hudson Street. Jersey Digs reported on the proposals earlier this month, which are to be built on land owned by a subsidiary of Goldman Sachs.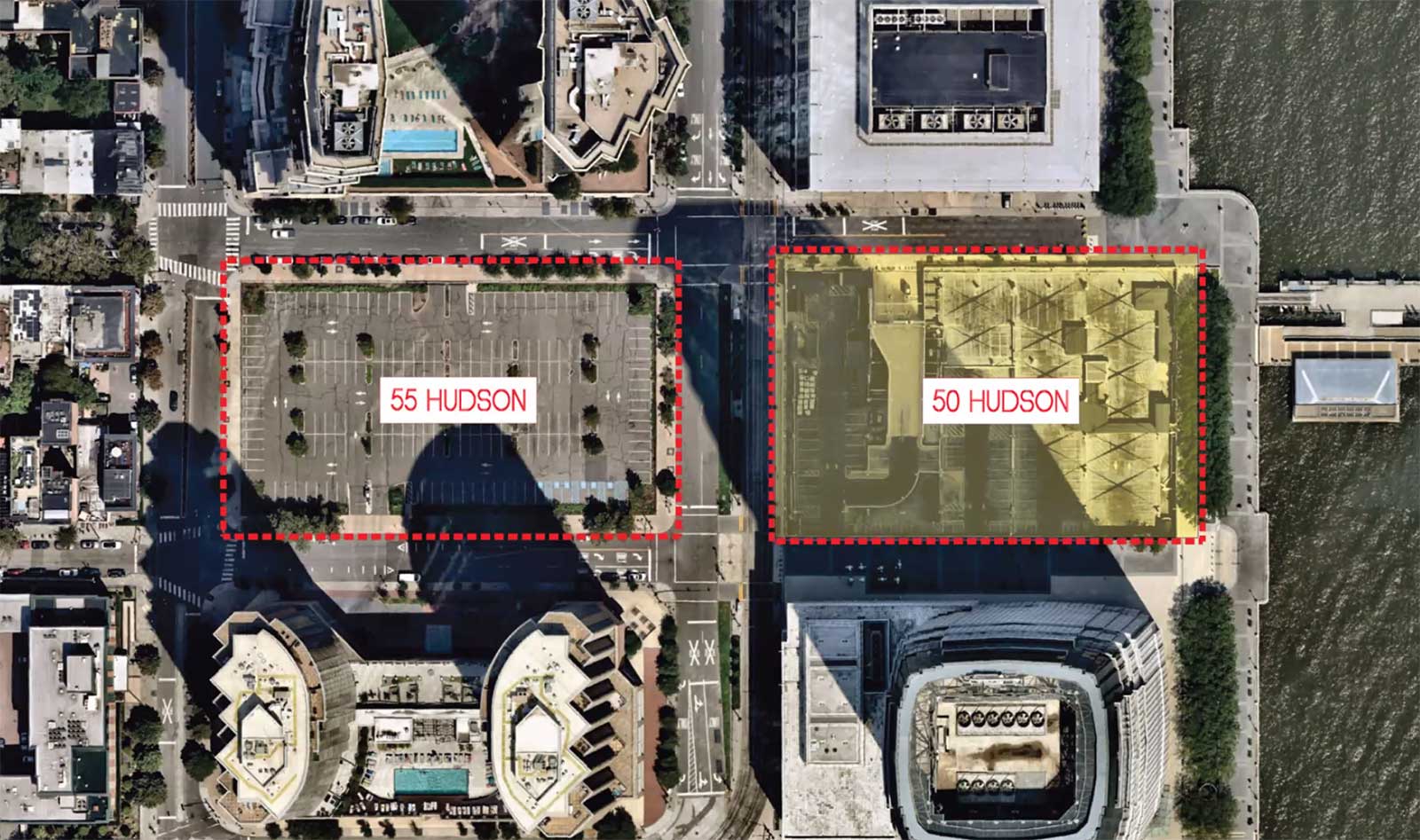 The company has had a major presence in Jersey City since the 2004 opening of their headquarters at 30 Hudson Street. The current properties, which span about two acres and contain a garage plus a surface parking lot, had been intended for office space when the company purchased the land decades ago.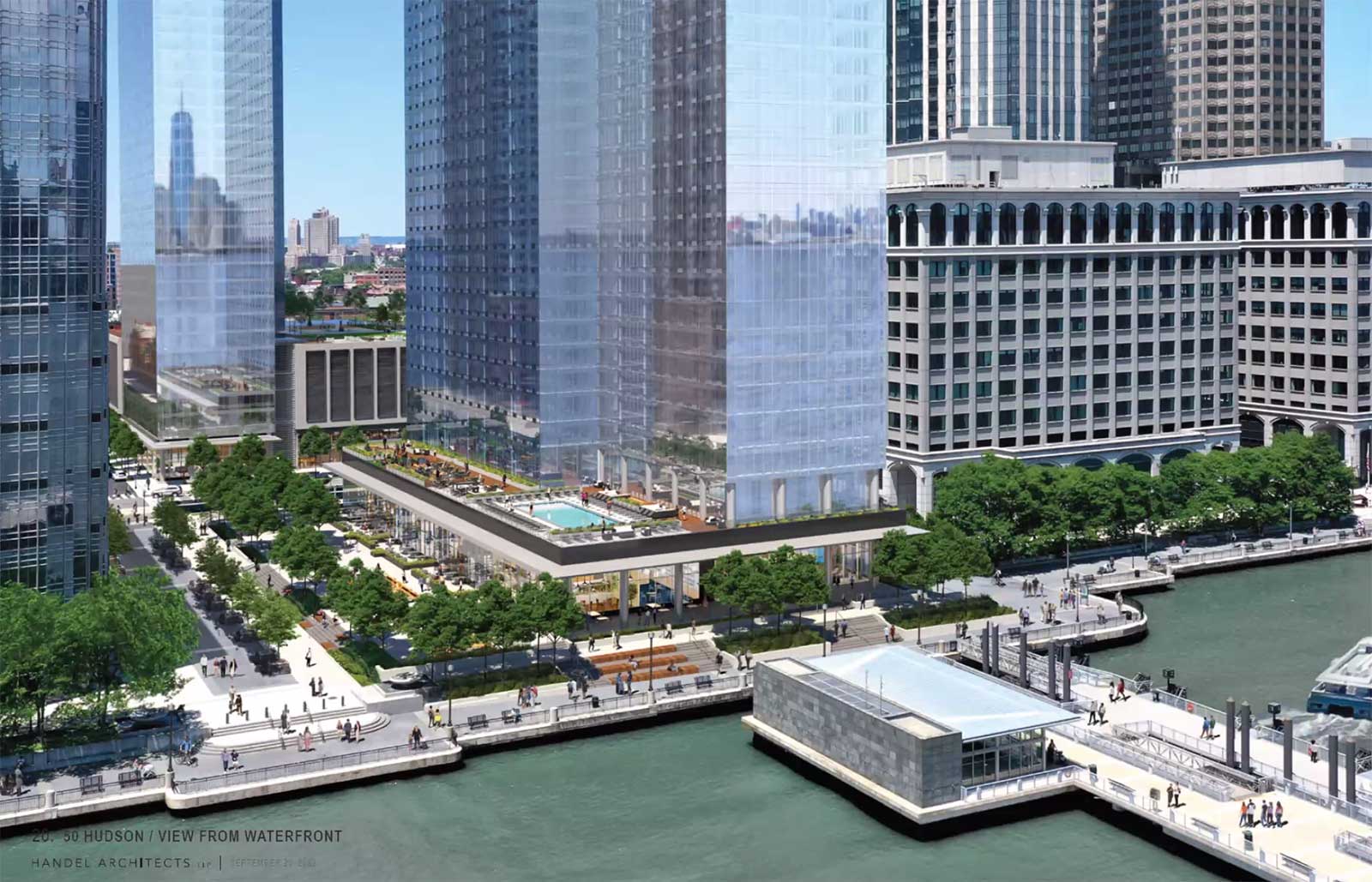 Goldman is now teaming with New York-based Tishman Speyer on two residential towers for the sites, which the developers say will complete the Colgate Redevelopment Area when realized. Both towers have been designed by Handel Architects with Marchetto Higgins Stieve as the architect of record and landscape architecture work by Melillo Bauer Carman.
In total, the two developments will house 1,941 rental units. The first phase will be the taller 58-story tower at 55 Hudson Street, which is set to rise 637 feet at its tallest point and sport a six-story podium base.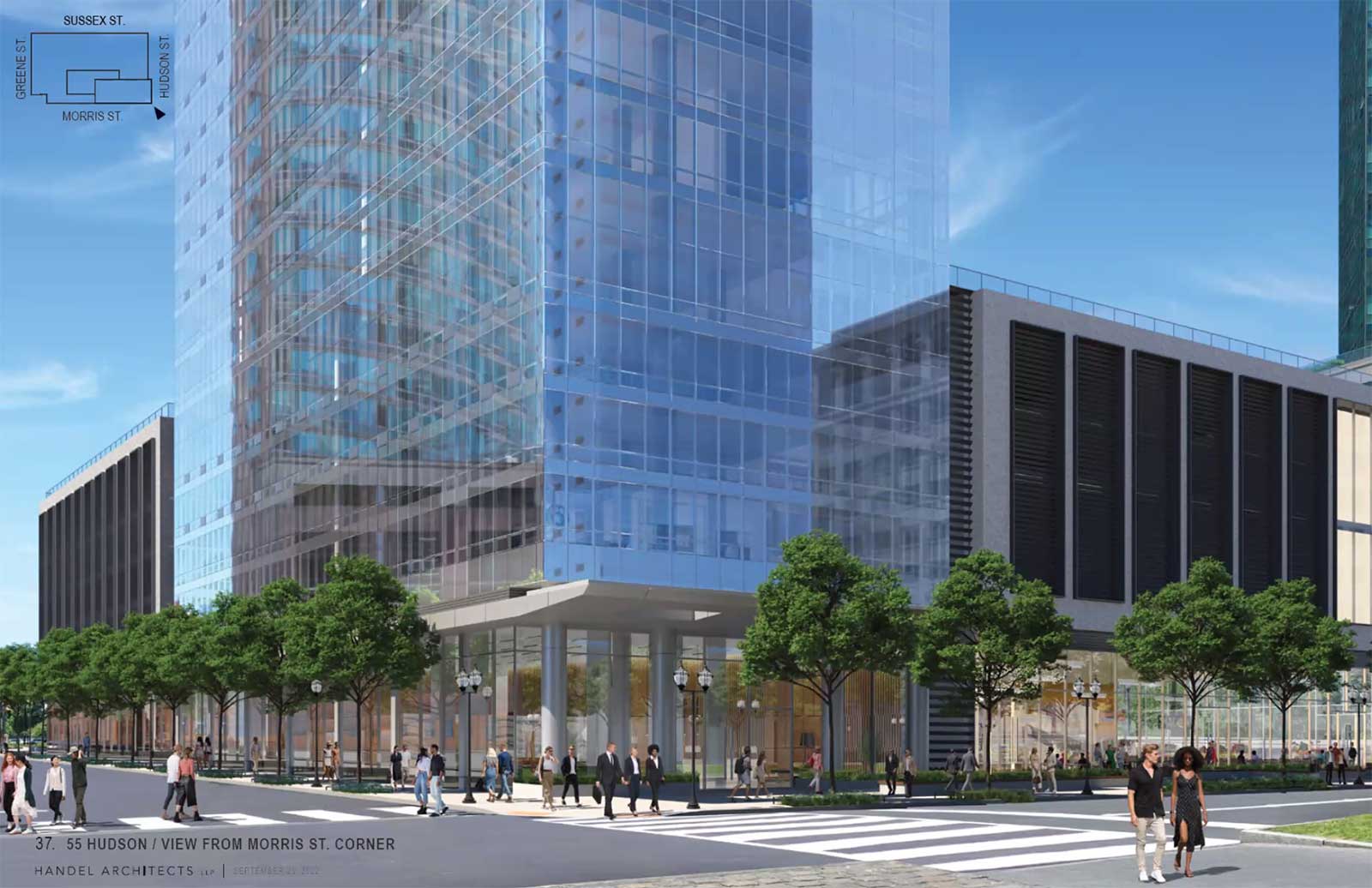 The initial portion consists of 1,017 dwelling units, breaking down as 298 studios, 514 one-bedrooms, 203 two-bedrooms, and two three-bedroom spaces. A total of 62,749 square feet of retail will face the Hudson Street side of the building under the plan, which includes one large double-height storefront space.
A new parking garage with 378 parking spaces that includes 539 bicycle spots will be built under the 55 Hudson Street section, which includes a seventh-floor amenity deck with an outdoor pool, tennis courts, a dog run, garden area, and grilling sections. 55 Hudson's 57th floor is also set to feature an amenity space that includes indoor and outdoor areas.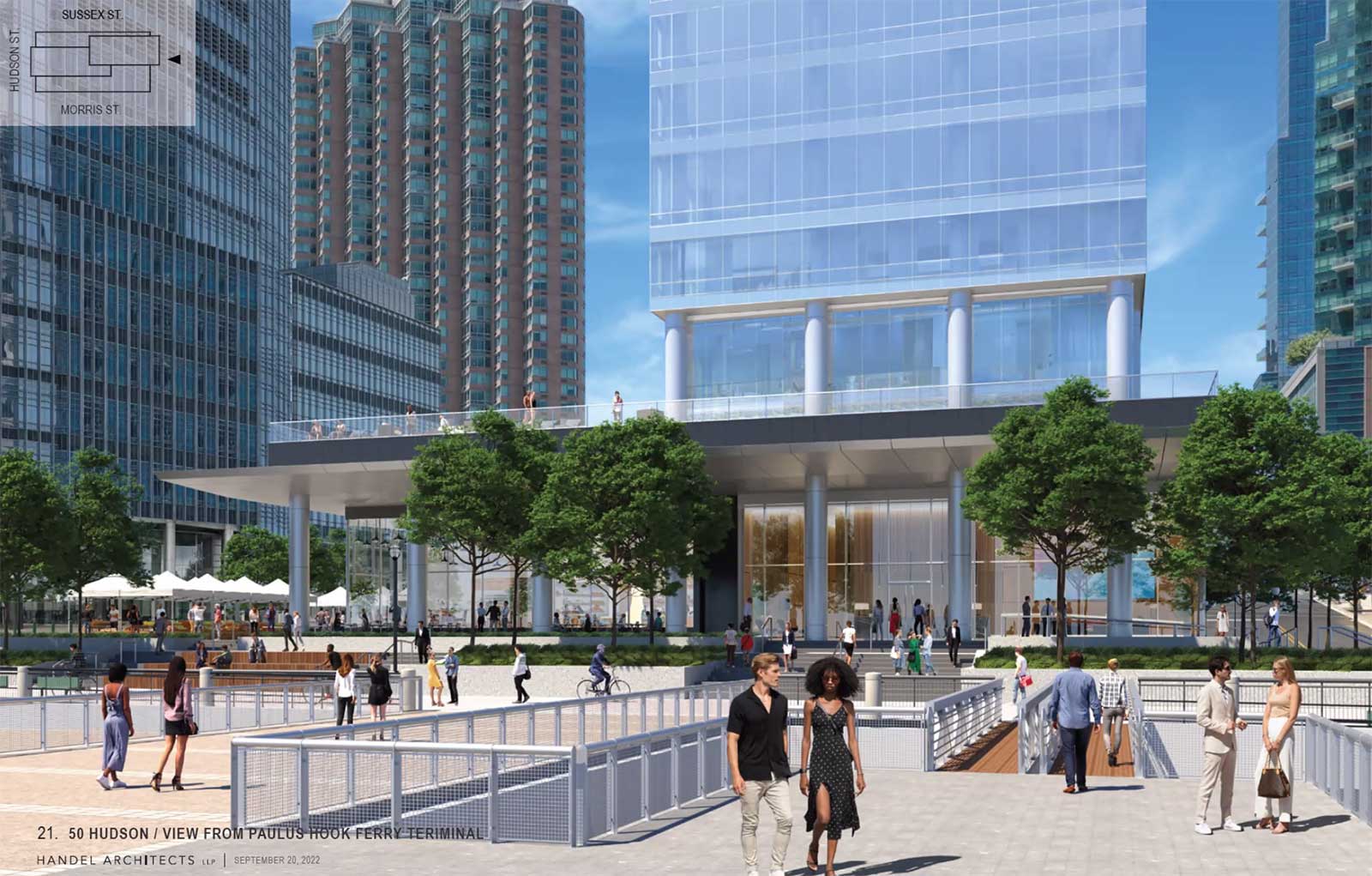 The second phase at 50 Hudson Street will reuse the existing 467-space garage while adding a 42-story tower with a two-story podium that tops out at 476 feet. The 924 units in that portion are also planned to skew smaller, breaking down as 259 studios, 444 one-bedrooms, 221 two-bedrooms.
Both planned towers are to sport a glass-heavy look with significant curtain wall portions plus podiums that utilize brick components. The towers are slated to feature crowns with dark silver blue vision glass and will be built offset from each other, meaning east-facing residences in both buildings will boast Manhattan views.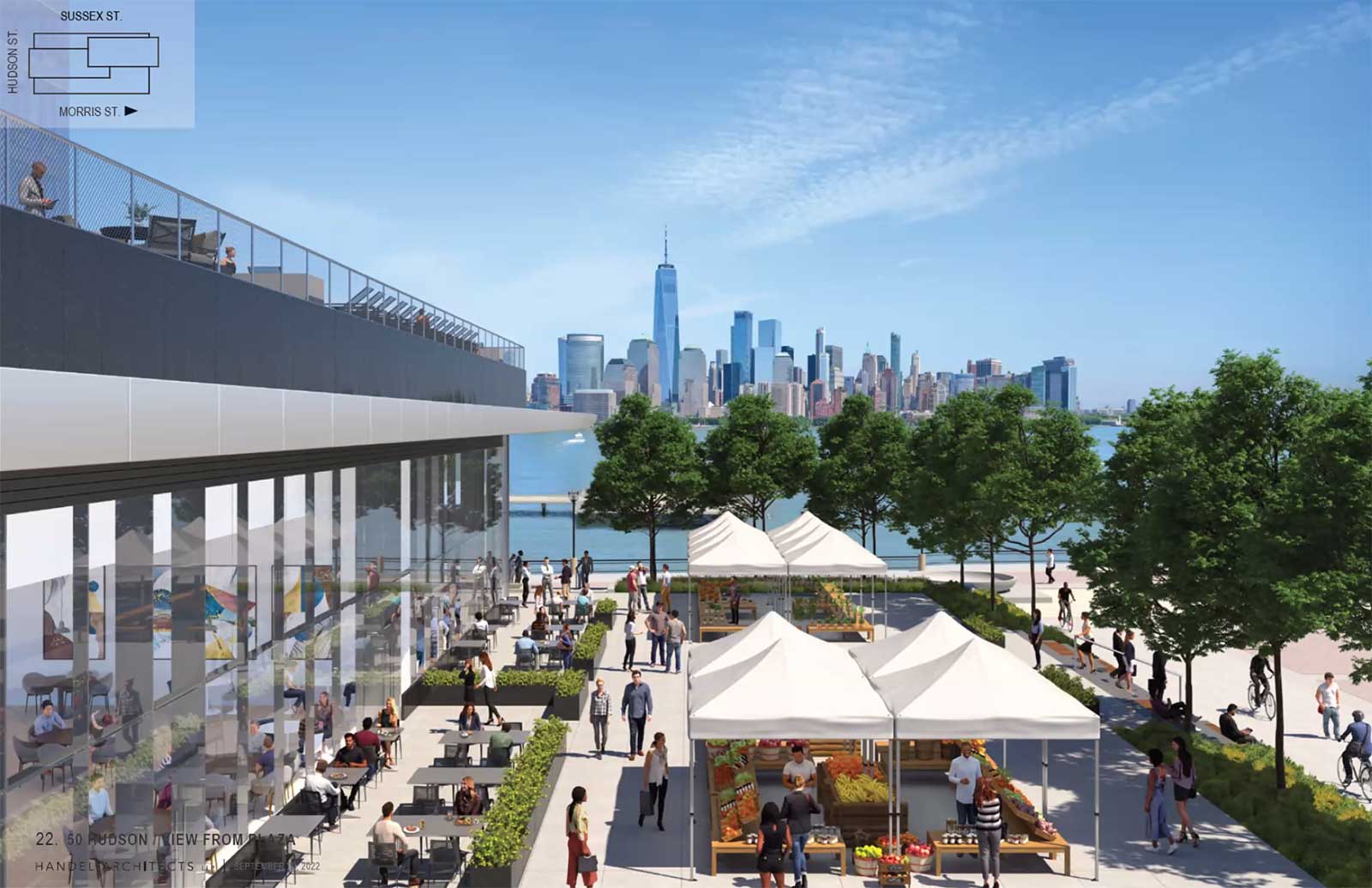 The plans look to beautify the streetscape a bit, as 55 Hudson Street will include a plaza along Hudson Street across from the Hudson Bergen Light Rail trackage. The development of 50 Hudson Street will expand the existing retail and seating area along Morris Street by about an acre and a presentation before the board envisioned programming like a farmers' market in the space.
The Hudson River Waterfront Walkway near the site will be revamped a bit under the plans, as stadium seating areas are to be added near the projects. Neither proposal required any variances from existing zoning and because the plans do not trigger Jersey City's inclusionary zoning ordinance, no affordable housing component is included.
Several speakers during the public comment portion of the meeting, including Ward F Councilman Frank Gilmore, asked the board to postpone voting on the applications over what they perceived to be a lack of vetting, proper notice, and community input.
Lawyers for the developers did not indicate during the meeting any timeline as to when construction could potentially begin on the towers.