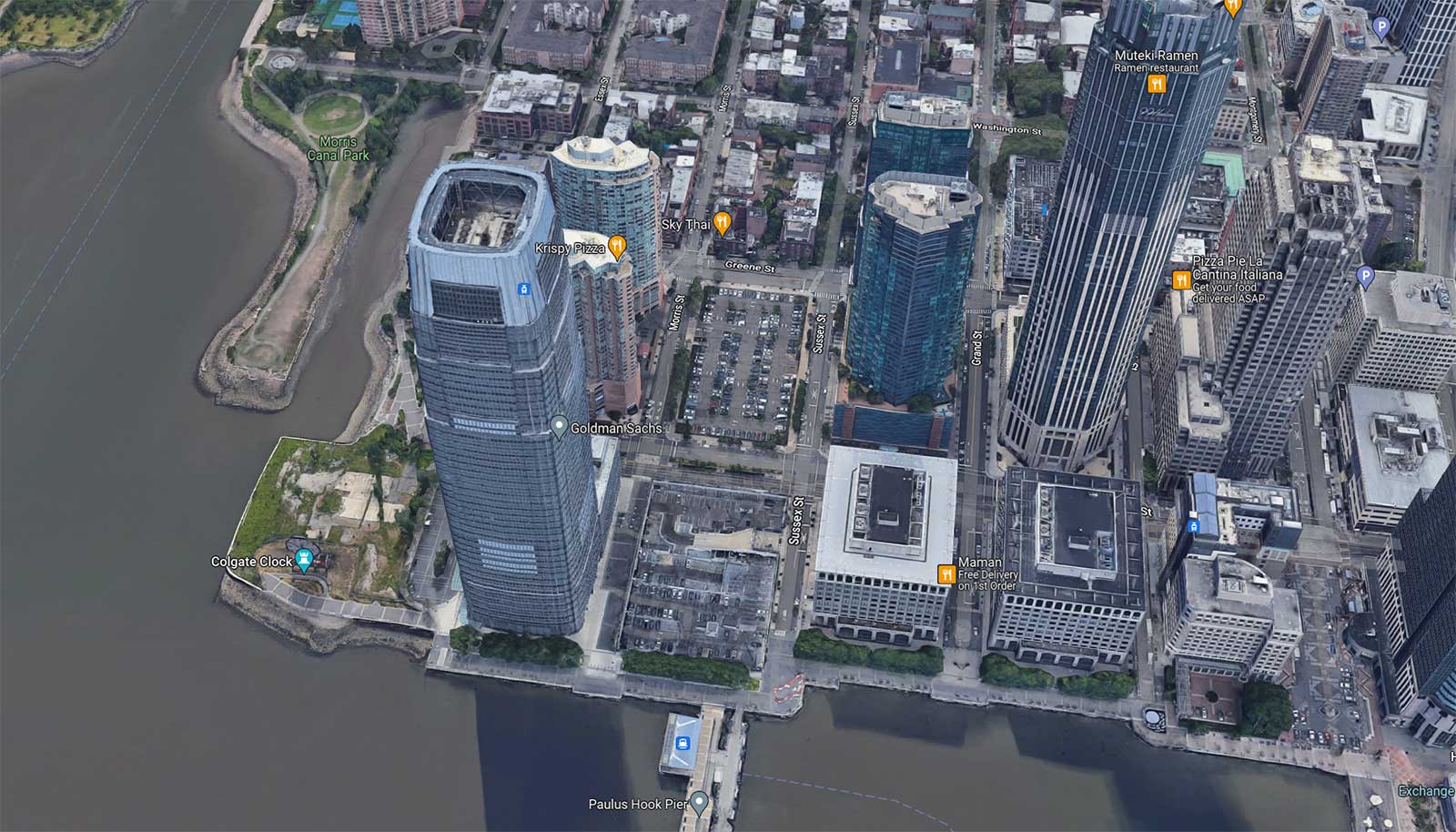 A major New York real estate developer and the occupants of Jersey's City tallest office building are looking to construct a pair of high-rises that would add almost 2,000 units and significant retail space along two blocks next to the Hudson River.
GSJC LLC, a subsidiary of Goldman Sachs, has submitted two applications to develop properties they own at 50 and 55 Hudson Street. The company has had a major presence in Jersey City since the 2004 opening of their headquarters at 30 Hudson Street, which was the tallest building in the Garden State for 14 years until 99 Hudson opened.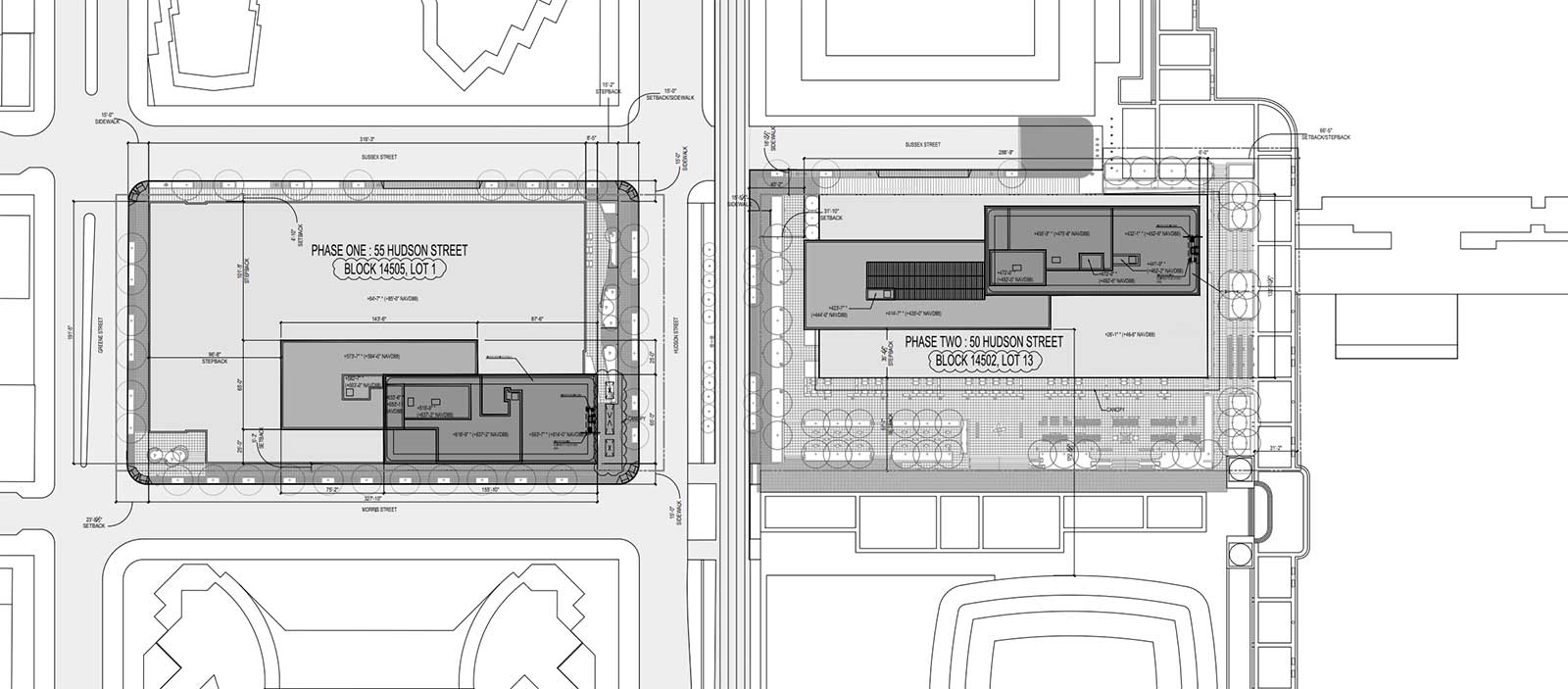 The current properties, which contain a garage plus a surface parking lot, are separated by trackage for the Hudson Bergen Light Rail system. The redevelopment effort will see Goldman teaming with New York-based Tishman Speyer, who owns Rockefeller Center among other prominent properties in the region.
Both towers are designed by Handel Architects with Marchetto Higgins Stieve as the architect of record. In total, the two towers would house 1,941 residential units. The first phase would be the taller 58-story tower at 55 Hudson Street which would rise 637 feet at its tallest point and sport a six-story podium base.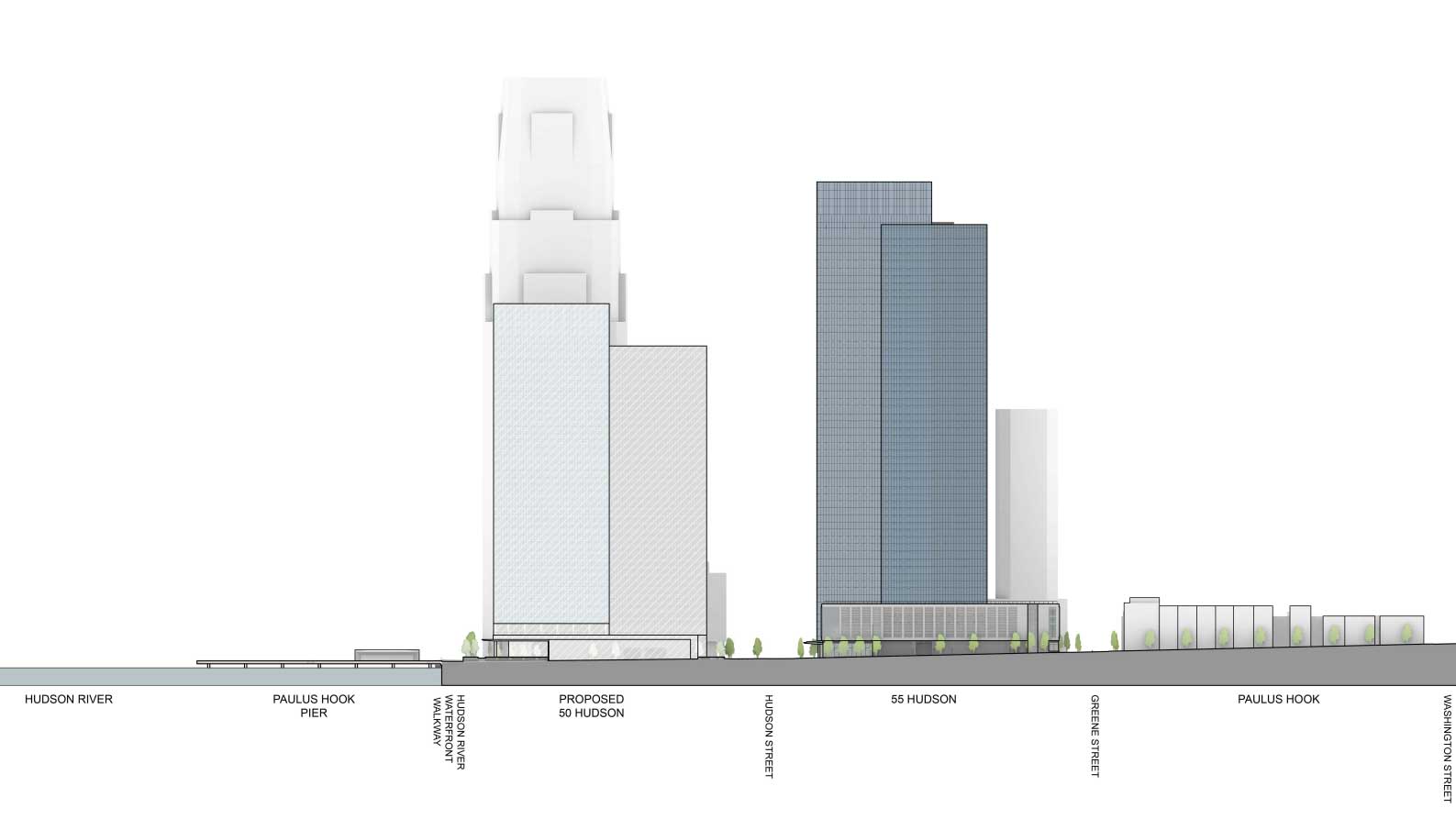 The initial portion would include 1,017 dwelling units, breaking down as 298 studios, 514 one-bedrooms, 203 two-bedrooms, and two three-bedroom spaces. A total of 62,749 square feet of retail would face the Hudson Street side of the building under the proposal, with 37,175 square feet on the ground floor and another 25,574 square feet on the third floor.
A new parking garage with 378 parking spaces that includes 539 bicycle spots would be built under the plan, which includes a seventh-floor amenity deck with an outdoor pool, tennis courts, a dog run, garden area, and grilling sections. 55 Hudson's 57th floor would also sport an amenity space that includes indoor and outdoor areas.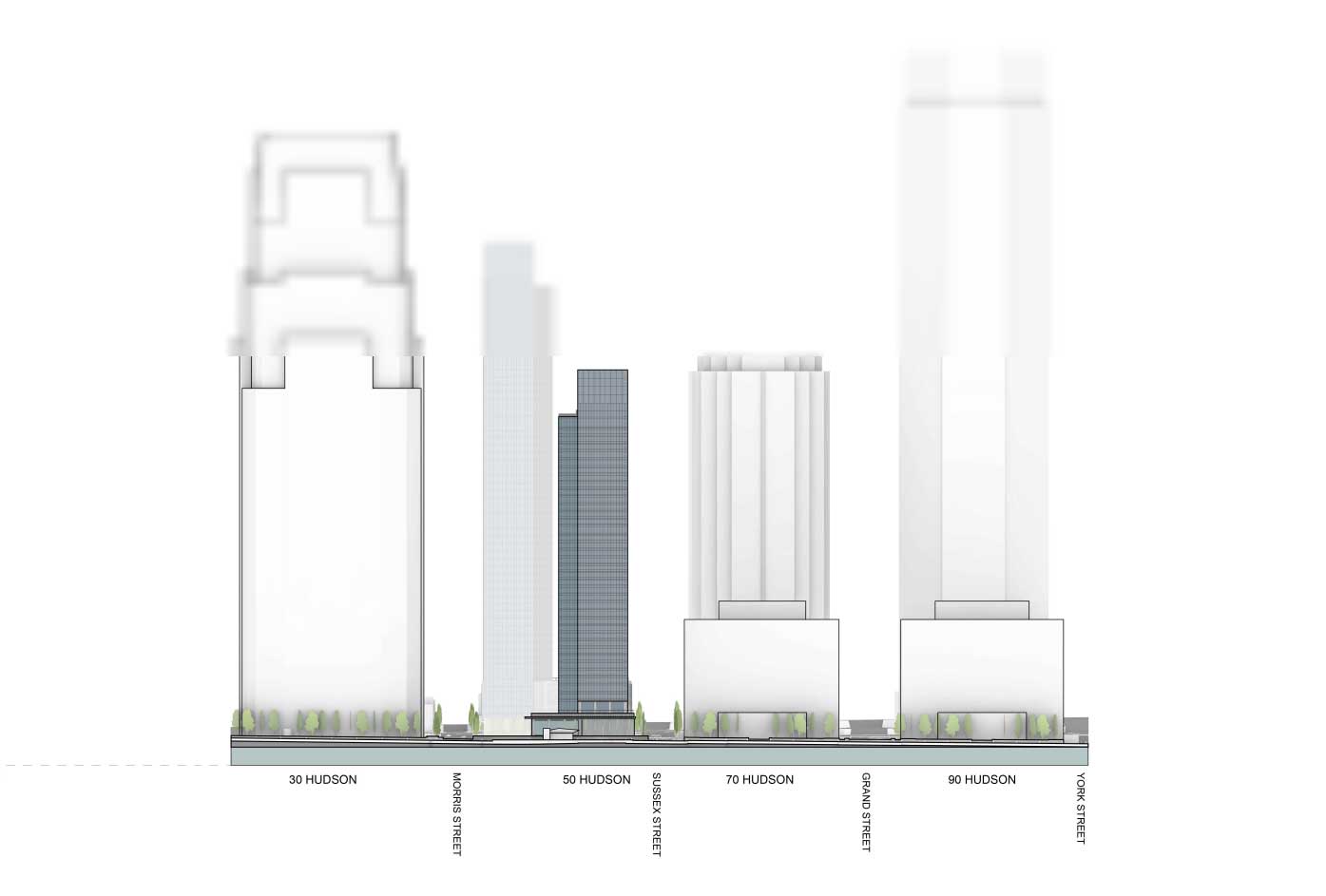 The second phase of the plan at 50 Hudson Street would reuse the existing 467-space garage while adding a 42-story tower with a two-story podium that tops out at 476 feet. The 924 units in that portion would also skew smaller, breaking down as 259 studios, 444 one-bedrooms, 221 two-bedrooms.
12,017 square feet of ground floor retail space facing the Morris Street side of the building is included in the plan, as is a third-floor amenity space with a pool. The proposal also calls for a 41st-floor indoor and outdoor amenity area.
Both planned towers are to sport a glass-heavy look with significant curtain wall portions plus podiums that utilize brick components. The towers are slated to feature crowns with dark silver blue vision glass and would be built offset from each other, meaning east-facing residences in both buildings would boast Manhattan views.
The plans look to beautify the streetscape a bit, as 55 Hudson Street includes a plaza along Hudson Street and the development of 50 Hudson Street would expand the existing retail and seating area along Morris Street outside Goldman's 30 Hudson Street building.
The properties both fall under the Colgate Redevelopment Area and neither proposal is asking for variances from existing zoning. The plans do not trigger Jersey City's inclusionary zoning ordinance and therefore do not include any affordable housing component.
Plans for both towers are tentatively scheduled to be heard by Jersey City's planning board during their September 20 meeting, which is being held virtually and begins at 5:30 p.m. It can be accessed at this link or by using the Webinar ID 814 5619 135.