A Meal at 15 Fox Place in Jersey City Feels Like Sunday Dinner at Grandma's
Mike Giordano's favorite thing about selling Christmas trees — which he's been doing for the last 19 years at his 25-year-old plant and garden center near the Jersey City/Hoboken border — is that people are always happy when they buy them.
"Everyone's happy," he said. "It's not something you need. It's something you want."
Giordano, whose family owns the 14th Street Garden Center at 793 Jersey Avenue, said that even during recessions, and even after Hurricane Sandy in October of 2012, sales at his location were still steady. He said people make the tree a priority. "It brings your spirit up," he said. "Maybe you buy one less toy. You still want a Christmas tree."
Giordano's father, Michael Giordano Senior, began selling produce in Jersey City back in the 1940s, he said. When Giordano Senior was young, he had a little fight with his brother because he dropped a quarter into a sewer while they were selling artichokes. His brother got angry at him. Mike Senior went home and told his father. His father gave him $100 and a wagon to go into business himself. (That wagon is still in the shop, filled with plants.)
Eventually, Mike Senior opened a produce market on Henderson Street called Giordano's Produce. He was ultimately forced to move to make way for the Newport Mall, Mike Junior said.
On December 23, 1993, the family opened the Garden Center. In August of 1994, Michael Senior passed away. Michael Junior had been accepted to Rutgers University, but he gave up the opportunity in order to help his mother and his brother Vince run the store — where he and Vince have been since.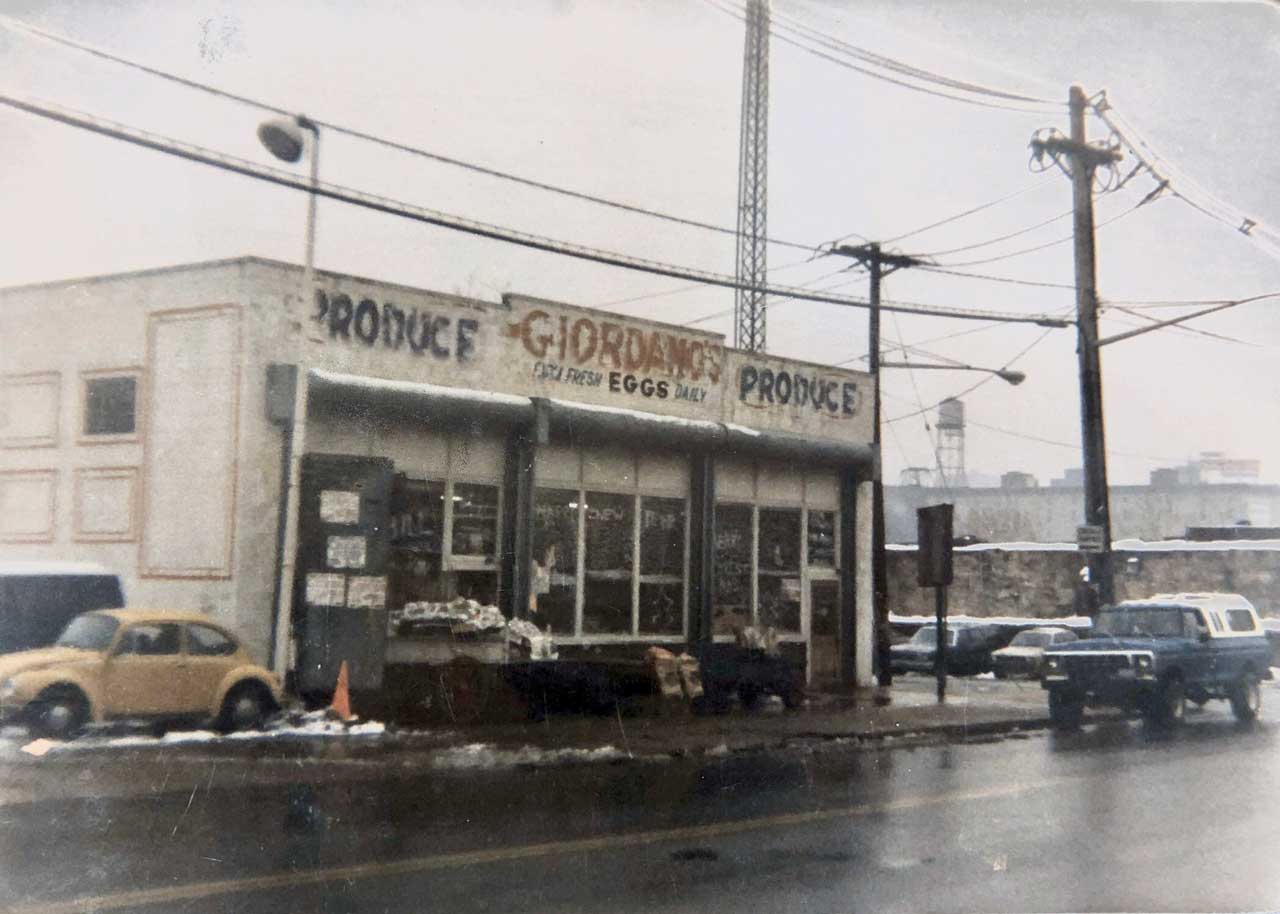 "It's been a fun 25 years," he said.
It was around 2000 that they began selling Christmas trees.
Giordino Jr. said that in the Jersey City/Hoboken area, people tend toward smaller trees, as many live in apartments. He does, however, sell larger trees to restaurants and to building owners who use them in their lobbies.
He only sells Fraser firs, because they're narrow. And he focuses on Number 1, or Premium, trees, meaning the tree is full and high-quality and has few "holes" or gaps.
Tree sizes range from tabletops to a massive 12-foot tree, and prices run from $32 to (a rare, large) $400.
He said most customers buy a five-, six-, or seven-foot tree for $65 to $99.
Most of his trees come from a farm in North Carolina. There is, however, a tree shortage, he said, which may continue for a few years. He said that during a recession, during the 2007-2008 season, tree sales were down, so fewer were grown, a situation that's affecting current supply.
"To get a seven- to an eight-foot tree can take ten years," he said.
But Giordano's store hasn't seen much of a slump. Besides selling trees, they sell wreaths, plants, pots, and many accoutrements and services.
Giordano, who has three kids, says the shop is child-friendly. Each year, Santa comes for photos with the kids, and some have made a tradition of coming each year to take the same photo with a wooden cut-out of an elf.
The shop is near the Holland Tunnel and the entrance to routes 78 and 1/9, so many people have passed the shop without exploring it right away. When they come in for the first time, he said, they mention all the times they've passed it.
"If I had a nickel…" he said.
He has advice for those buying a Christmas tree: Keep the tree stand watered, particularly the day the tree is set up and the day after. He said that one customer of his kept her tree so well-watered that when she called the store to take it down in April, it was still green. But most trees get taken down in January.
Giordano's store will deliver and set up the tree for a fee. He said he's jokingly referred to that service as the "marriage-saver," since so many couples in the area work all day and may not have time to set up the tree themselves.
His store will also remove the tree for $40, and in the past, he has donated trees to towns down the shore to use in their sand dunes, to keep stormwater at bay.
"I could charge more," he said. "Not everything needs to be for a profit. It does keep people coming back."
His center is not the only long-time tree seller in the area. Others have included the annual Hoboken Tree Barn at Sixth and Willow, which has set up each year for approximately 48 years, and Cal's Christmas trees in the southwest corner of Hoboken.
Related: