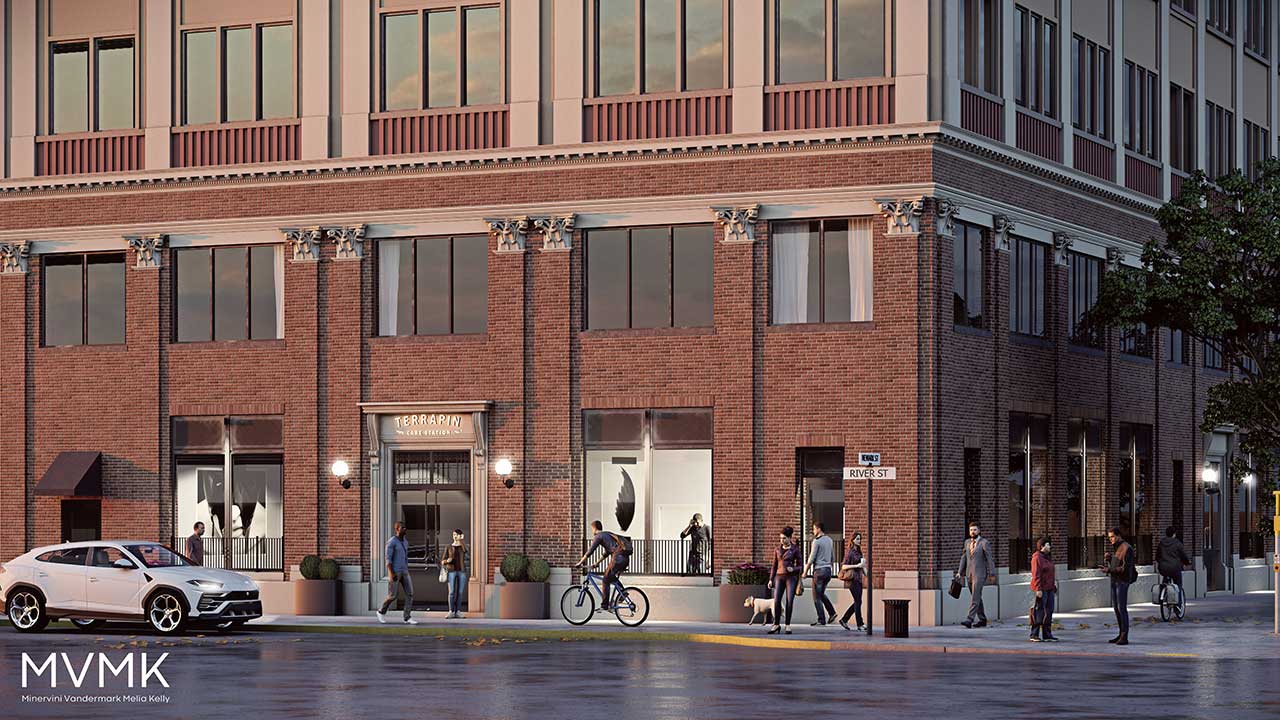 There appears to a "Green District" of sorts emerging in the Mile Square City as another medicinal pot dispensary is being proposed in the neighborhood near the PATH station.
Colorado-based Terrapin, who became one of the country's first licensed medical marijuana providers in 2009, has intentions of opening a new outpost in the Riverview Historical Plaza building at 86 River Street. Formerly home to a bank branch, the company is working with Hoboken-based MVMK Architects to revamp the 3,500-square foot space into their latest location.
Terrapin says their decision comes after nearly three years of community outreach, which includes partnering with several organizations in the hopes of creating a positive local impact. The company has aligned with several groups including Jersey City-based WomenRising, Oasis, Hudson Pride Center, the United Food and Commercial Workers International Union, and Project Help, a group dedicated to serving homeless veterans in northern New Jersey.
"As always, Terrapin is focused on planting local roots," said Chris Woods, the founder of Terrapin. "We are so thankful to our partners in the Hoboken community who have welcomed us with open arms. We are excited to serve these communities as responsible corporate actors in meeting the needs of cannabis patients while also leaving a positive community footprint."
The company will additionally be partnering with Joseph Castelo, who co-owns Antique Bar & Bakery and Antique Loft. A "social equity job fair" will be held as part of the endeavor that places an emphasis on valuable resume-building and interview tips to improve attendees chances of employment.
"It has been an honor and a pleasure to work with Chris Woods and his team at Terrapin," Castelo said. "Terrapin's culture aligns strongly with our commitment to serving the local community. We are thrilled to enter a partnership to work with Terrapin to bring more opportunity and diversity to Hoboken's workforce while also offering access to patients who need medical cannabis."
Terrapin will soon begin the process of preparing paperwork that will move the project ahead. The storefront targeted by the company falls within the city's C-1 Hoboken Terminal District, an area that allows any retail use as of right. However, the city council passed an ordinance in June that requires the planning board review and approve any marijuana-related applications that emerge.
The planning board has not set a date to hear Terrapin's plans, but it is clear the pot industry has targeted Hoboken. We were the first news outlet to report on the city's approval of a pot shop last month from Harmony Dispensary at 95 Hudson Street, which is about a block from Terrapin's proposed store.
Nuka Properties has teamed up with a business called Ascend Wellness Holdings in hopes of bringing another medical cannabis store to 94 River Street, a building just a few doors down from the Terrapin site. That proposal has not gained approval from the planning board yet, but the companies presented their plans to Hoboken's Historic Preservation Committee on August 3.
The city council's medical marijuana ordinance dictates that only three dispensaries can open in the city and if the proposals from Terrapin and Ascend Wellness are approved, they could all be located within a three-block radius.
Related: