A temporary recreational space in a growing area of Hoboken has a finalized concept that will add over an acre of greenery to the community.
Officials in the Mile Square City have been working for years to expand Southwest Park, initially filing an eminent domain lawsuit to acquire the parcel. The city then reached a deal in 2021 with previous owner Academy Bus to buy the parcel for $11 million
In exchange for the land, Hoboken amended the Southwest Hoboken Redevelopment Plan to allow Academy Bus to construct 25 additional residential units, including five affordable ones, on other properties they own in the neighborhood. The city then built a pop-up park at the property later that year while planning began for the permanent one.
The resulting plan, drawn up by Starr Whitehouse, is slated to be reviewed by Hoboken's planning board during their October 6 meeting. It was formulated after holding public engagement sessions earlier this year and considered the results of a public survey that drew over 400 responses.
The scheme calls for pickleball courts on the northern end of the property plus a full basketball court along the southwest portion of the land. A playground would be situated in the southeast corner, with a "social space" plaza with picnic tables to be situated in the center of the park.
A public restroom is included in the plan and the park aims to help alleviate flooding in the neighborhood. An underground water detention system with a 180,000-gallon storage capacity is featured in the design, as are rain gardens and bioswale sections that can divert 46,000 gallons of stormwater from the city's sewers.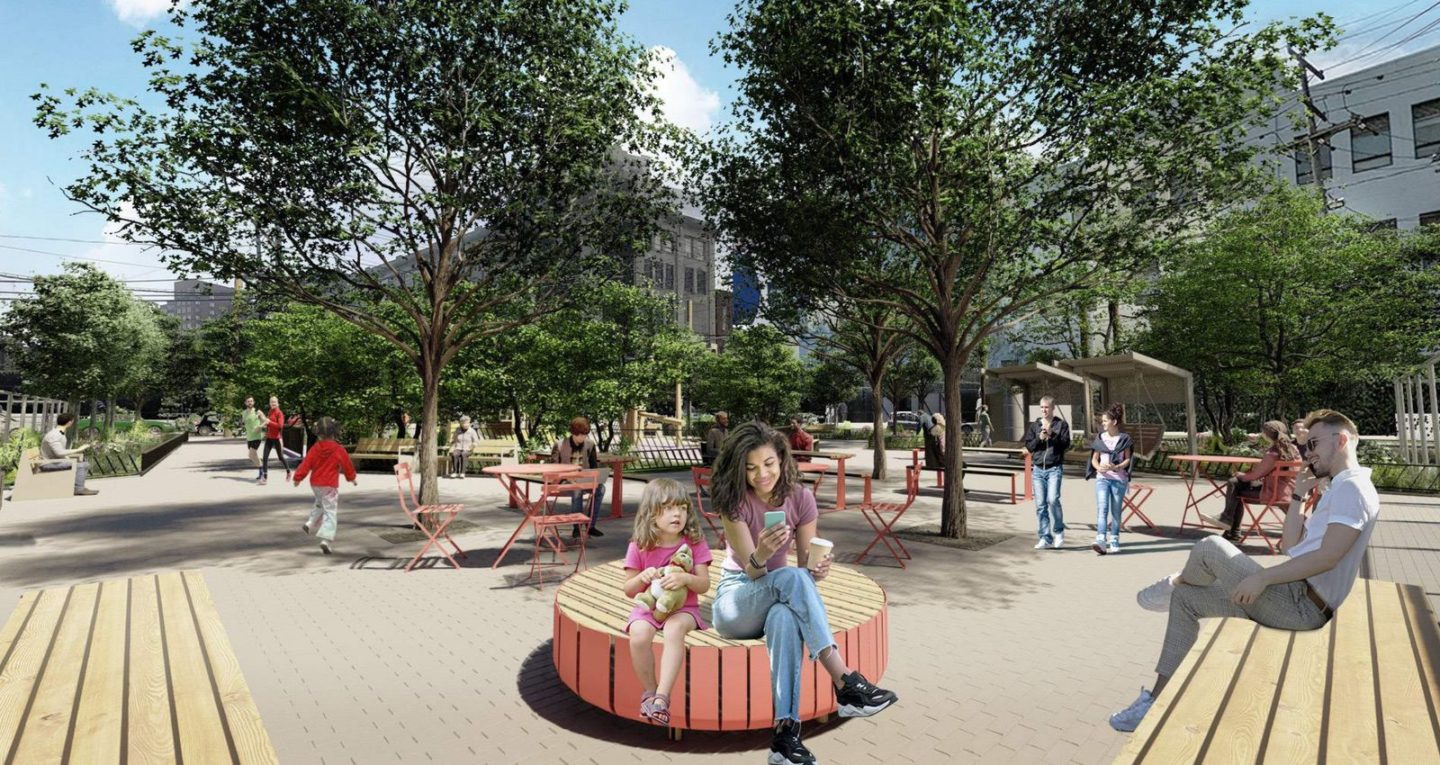 Per figures included in the upcoming planning board presentation, the buildout of the Southwest Park expansion is estimated to cost about $9.3 million. Final design work will occur over the next 11 months, with construction on the permanent expansion expected to begin in October 2023.
Southwest Hoboken is slated to grow significantly over the next few years driven by two major approved projects in the pipeline. The Boundary, a collection of three mixed-use buildings from JDA Group, was green lit last year and aims to add residences, office and event space, and an elevated public park to the neighborhood.
Additionally, The Taurasi Group's Southwest Market overhaul gained final approval earlier this month and will add a supermarket, retail spaces, an indoor courtyard, and condominiums to a historic factory set to undergo a renovation.