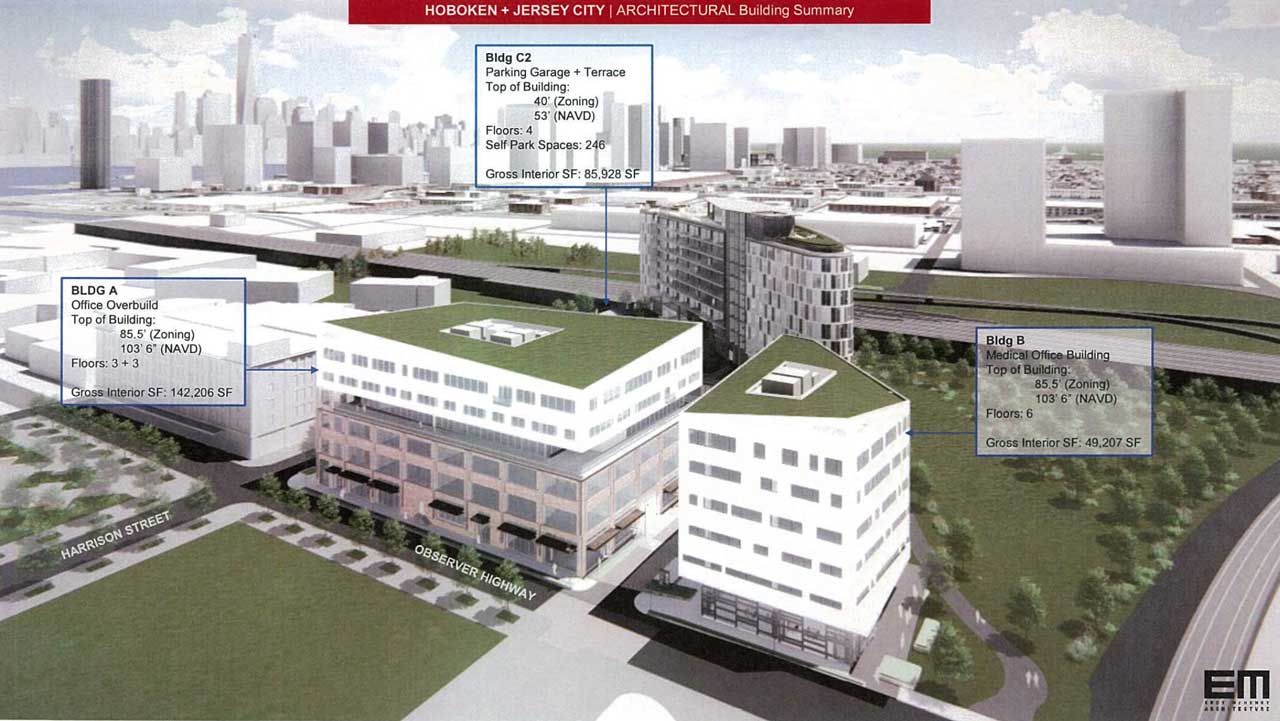 A plan to build over 500,000 square feet of live/work/play space along the Jersey City border that includes new public greenery, offices, retail, and residences can officially move forward following months of discussions on the sprawling proposal.
During their September 28 meeting, Hoboken's zoning board voted 6-1 to approve a plan to revamp several properties at 50 Harrison Street. Locals know the address as home to the Mission 50 co-working spaces, a property that initially housed the Cut-Rite Wax Paper Company when it was first built in 1935.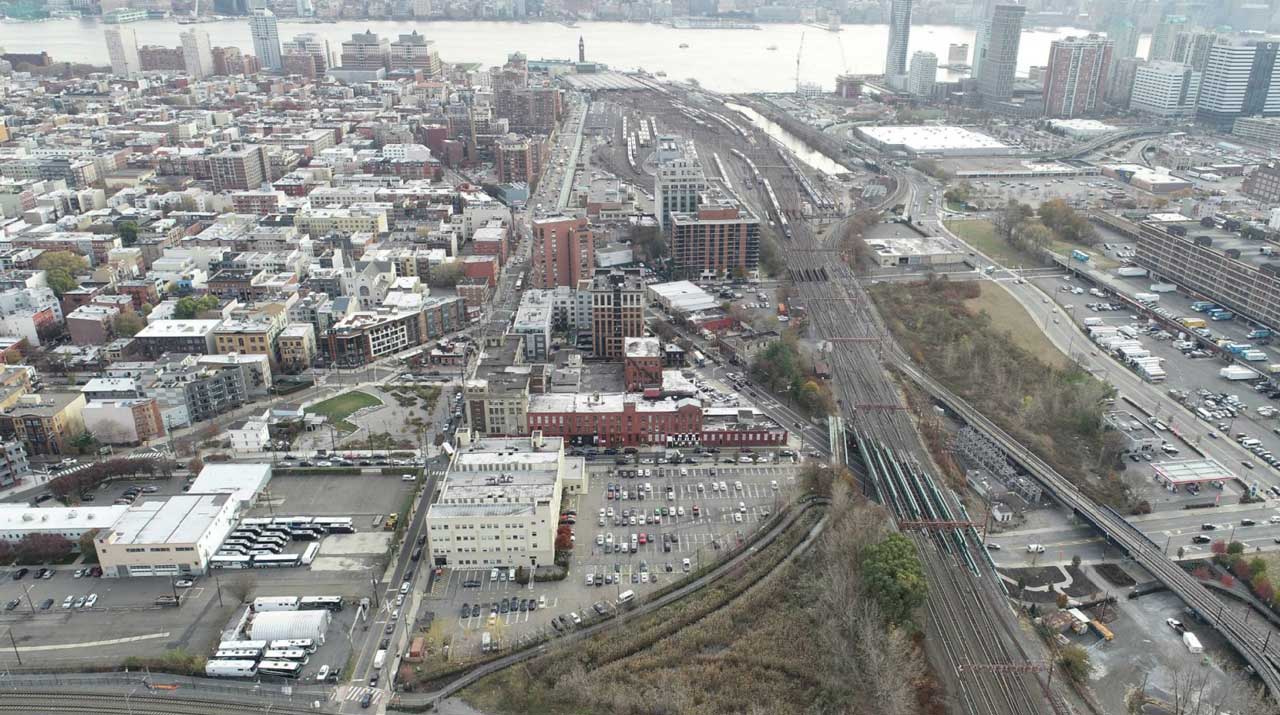 Per our exclusive reporting, JDA Group first submitted plans to revitalize the parcels back in March. The transformative project, dubbed The Boundary, is a collaboration between Philadelphia-based Erdy McHenry Architecture, landscape architect Roofmeadow, and marketing agency QuallsBenson.
The four-pronged development's first component involves a renovation and two-story expansion at the Mission 50 building. It will create a new 13,792-square-foot multi-purpose event facility while pulling old stucco off the current building, bringing the property back to its former industrial roots.
Larger windows will be added and the ground floor will be repurposed into three restaurant spaces totaling 6,485 square feet plus an additional 6,227 square feet of retail. The second and third floors will remain for tenants and JDA Group CEO Greg Dell'Aquila told Jersey Digs that he intends to keep the current businesses that are housed at the property.
The Boundary's second element involves construction of a new six-story medical arts building on a western portion of a current parking lot. The property's ground floor would sport one 3,885-square-foot retail area, while the remaining stories are intended for clinical or office use. A 7,000-square-foot green roof is included in the plans.
The third and perhaps most unique portion of the development will create a four-story parking garage, with the roof of the structure set to become a high-concept public rooftop park. Several tilted lawns are included in the plan, as is a bar and restaurant space that faces the greenery. The garage itself will have 246 spaces along with 7,120 square feet of retail on the ground floor.
The fourth component of The Boundary falls on land technically in Jersey City and was approved in December 2020. It calls for a curved thirteen-story residential building with angled structural columns and is set to contain 192 residential units and about 7,000 square feet of ground-floor retail.
The elevated park will be linked to the existing Mission 50 building via a sky bridge and the public will be able to access the space via monumental stairs or an elevator in the parking garage. The street-level between the new buildings will be revitalized into pedestrian-friendly corridors complete with pavers and landscaping.
The project will also recreate a vacated portion of Marshall Street and several green components like landscaped roofs and sidewalk bump-outs to absorb rainwater are included in the plan. An underground detention system capable of storing 40,000 gallons of rainwater is included in the design of the project, which JDA Group envisions as a new vertical neighborhood.
"Southwest Hoboken can now reach its potential, evolving from its industrial roots into a strongly positioned residential and business neighborhood that will flourish," said Greg Dell'Aquila, CEO of JDA Group. "During its manufacturing and warehousing heyday through the 1960s, Southwest Hoboken was a very vibrant area. Our evolution for the community will not only bring families back as residents but also businesses that will transform Southwest Hoboken."
Dell'Aquila told Jersey Digs that the residential portion of The Boundary in Jersey City will be constructed first, followed by the garage and rooftop park space. The medical arts building and expansion at Mission 50 would follow. JDA Group plans to break ground on the first phase during the summer of 2022.