The redevelopment of 16 acres of land next to Liberty Science Center has cleared another hurdle as the major residential component of SciTech Scity has been given the green light by officials.
During their July 11 meeting, Jersey City's planning board approved an application to revitalize 225 Phillip Street. Jersey Digs revealed the plans last month, which span about 2.17 acres of vacant land.
The parcel is part of a larger plan that looks to transform underutilized property just outside of Liberty State Park into a major science and tech hub. New York-based Alpine Residential was chosen to develop the housing portion of SciTech Scity just about two years ago.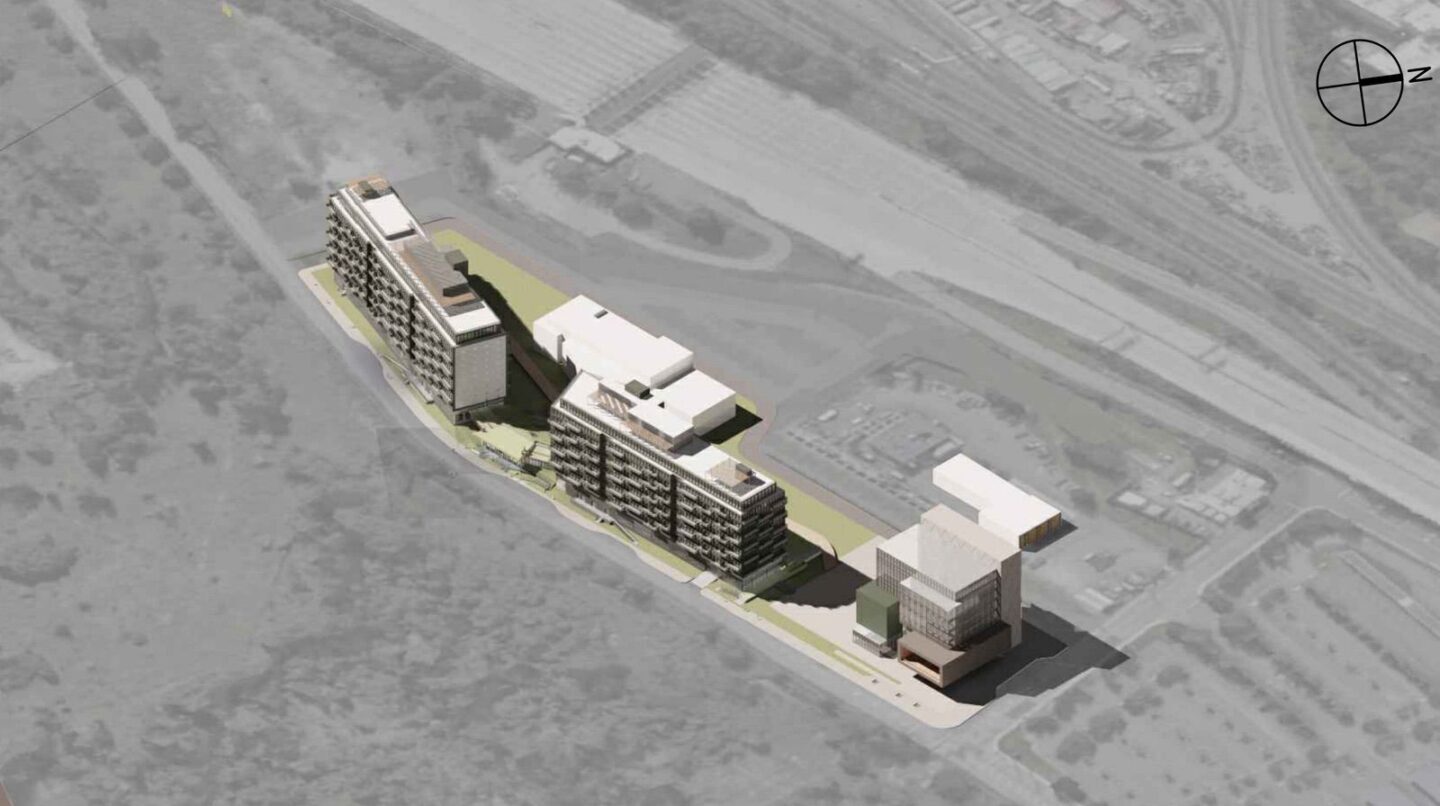 The company worked with Ismael Levya Architects to draw up plans for Scholars Village that call for two 12-story buildings connected by a one-floor base. The West Building will include a 1,327 square foot ground floor commercial space, a library, and 250 residential units.
On the other side, the development's East Building is slated to feature 1,969 square feet of commercial space plus a gym, yoga room, and leasing offices. The high-rise portion of the property will also include 250 apartments, and the two structures include a total of 150 parking spaces and 250 spots for bicycles.
The 500 total units in Scholars Village break down as 110 studios, 223 one-bedrooms, 131 two-bedrooms, and 36 three-bedroom spaces. No affordable housing component is included in the plan, an issue that was raised repeatedly by speakers during the public comment portion of the planning board's meeting.
The Scholars Village project will nonetheless utilize 100% union construction and sport a public garden space that will sit between the two residential buildings.
The roofs of both towers will boast amenities for future residents that include a pool, deck, social spaces, game room, co-working and multipurpose spaces, and a playground. The high-rise portions will rise just over 129 feet at their tallest points.
Alpine Residential was granted four variances during the approval, including a deviation for an extra nine feet in height and a parking variance for 150 total spaces in a zone where 389 are required.
While a groundbreaking date for Scholars Village was not indicated during the meeting, the surrounding area is going to see major construction in the coming months.
Edge Works is already underway next to the property and Liberty Science High School, another major component of SciTech Scity's first phase, held a groundbreaking ceremony earlier this year.
Just across Phillip Street, the first expansion phase of Liberty State Park's restoration will begin in September. That work will environmentally remediate a section of the park that has long been closed to the public while adding about 5.6-miles of new walking and running trails.