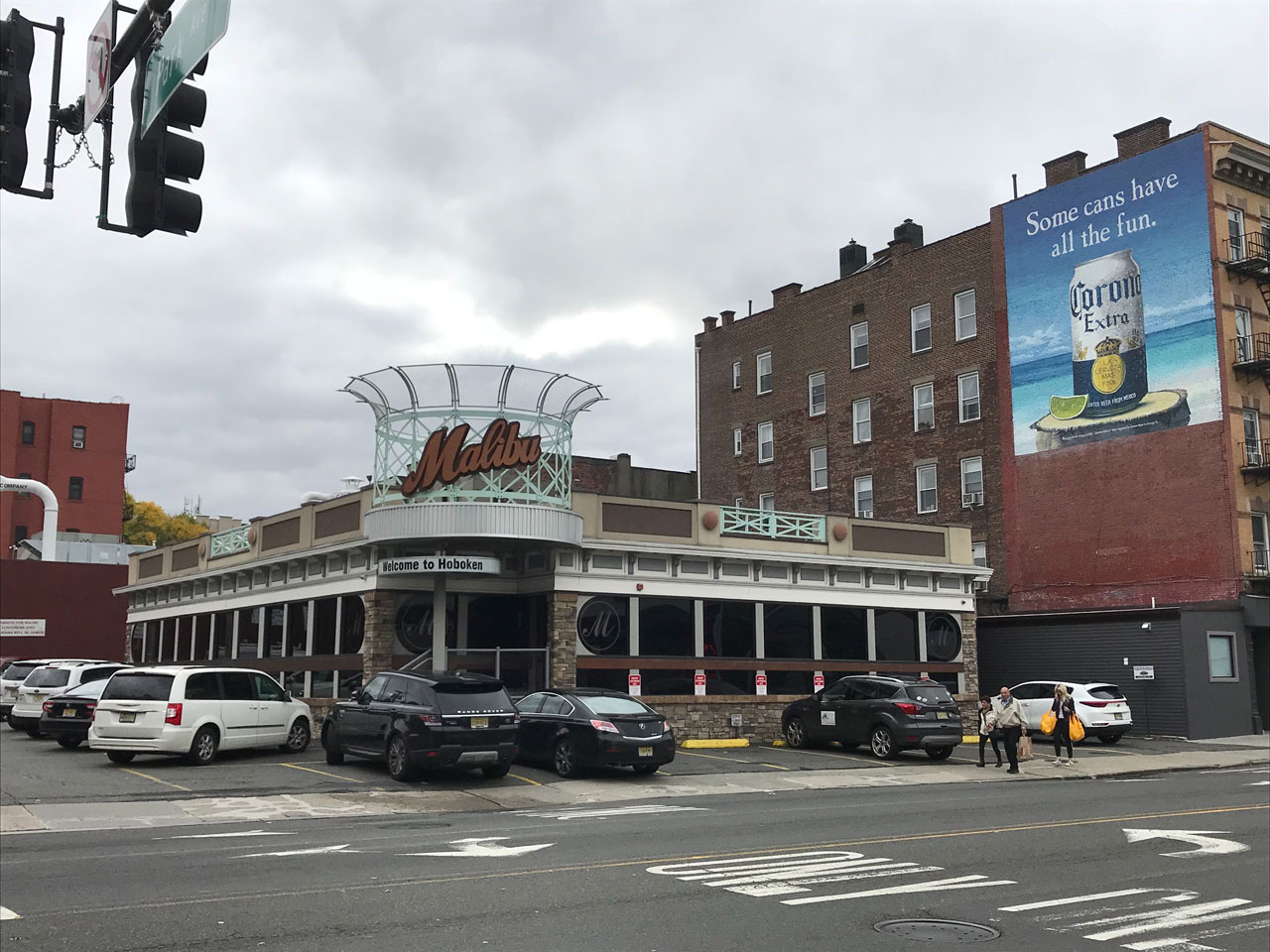 A one-story diner that acts as the unofficial welcome for folks entering Hoboken from the north could meet the wrecking ball. But the property could still be home to classic Jersey eats, as new restaurant space is included in the proposed development for the land.
Several lots at 251-257 14th Street totaling about 0.26 acres are currently home to the standalone Malibu Diner and a paved parking lot of roughly 25 spaces. But the two companies that own the land, called NEK Corp. and NDKB Inc., have started the process of submitting plans that would demolish all the existing structures and redevelop the site with a brand new mixed-use development.
Drawn up by Hoboken-based MVMK Architecture, the proposed project would rise five stories and 52 feet at the tallest point. The development would have a shorter, one-story portion located along the southern section that would serve as home to 20 indoor parking spaces to be floodproofed and include an underground water detention basin.
Two ground-floor storefronts are included in the development and they would both face the 14th Street side of the property. They would consist of a 3,200-square-foot restaurant spot and 1,400 square feet of general retail space, each of which would have a separate entrance.
According to testimony given to Hoboken's planning board, the intention is to "reinstall" the Malibu Diner inside the restaurant space when the development is completed.
The residential portion of the proposed development would have an entrance along Park Avenue and include 23 rental units broken down as eight one-bedrooms, 11 two-bedrooms, and four three-bedrooms. The apartments would range in size from 750 square feet to 1,600 square feet, with select units featuring Juliet balconies.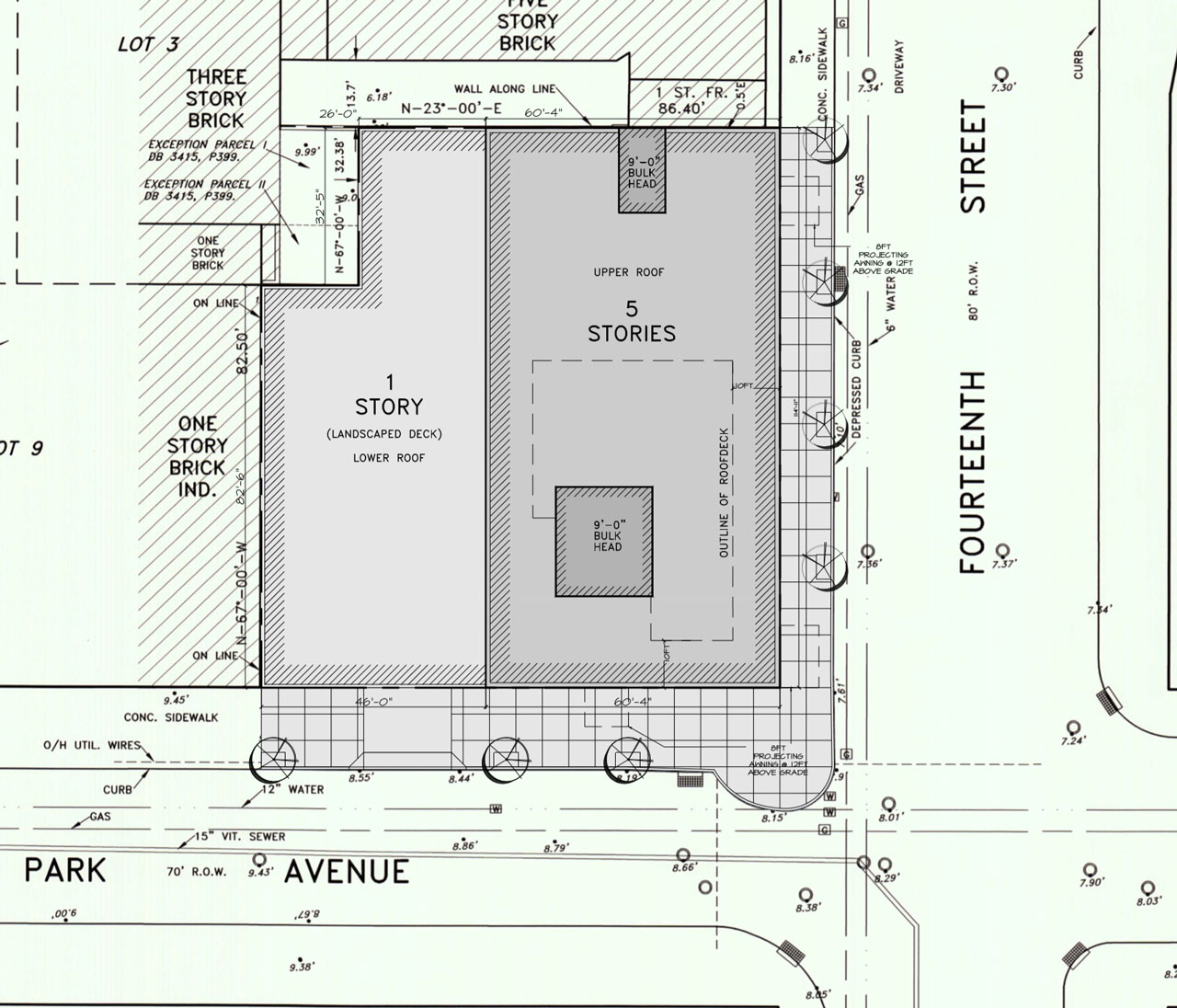 Other features of the development include a 2,500-square-foot outdoor space located on top of the project's one-story section. A 1,600-square-foot common roof deck would be located on the development's tallest portion, which would also feature a substantial green roof. The exterior of the building would utilize modular brick and aluminum cladding for a modern look.
The current Malibu building has stood at the property for decades and has always played host to a diner in some form. It originally opened as the 14th Street Diner back in 1941 and was renamed to its current moniker in the early 1980s.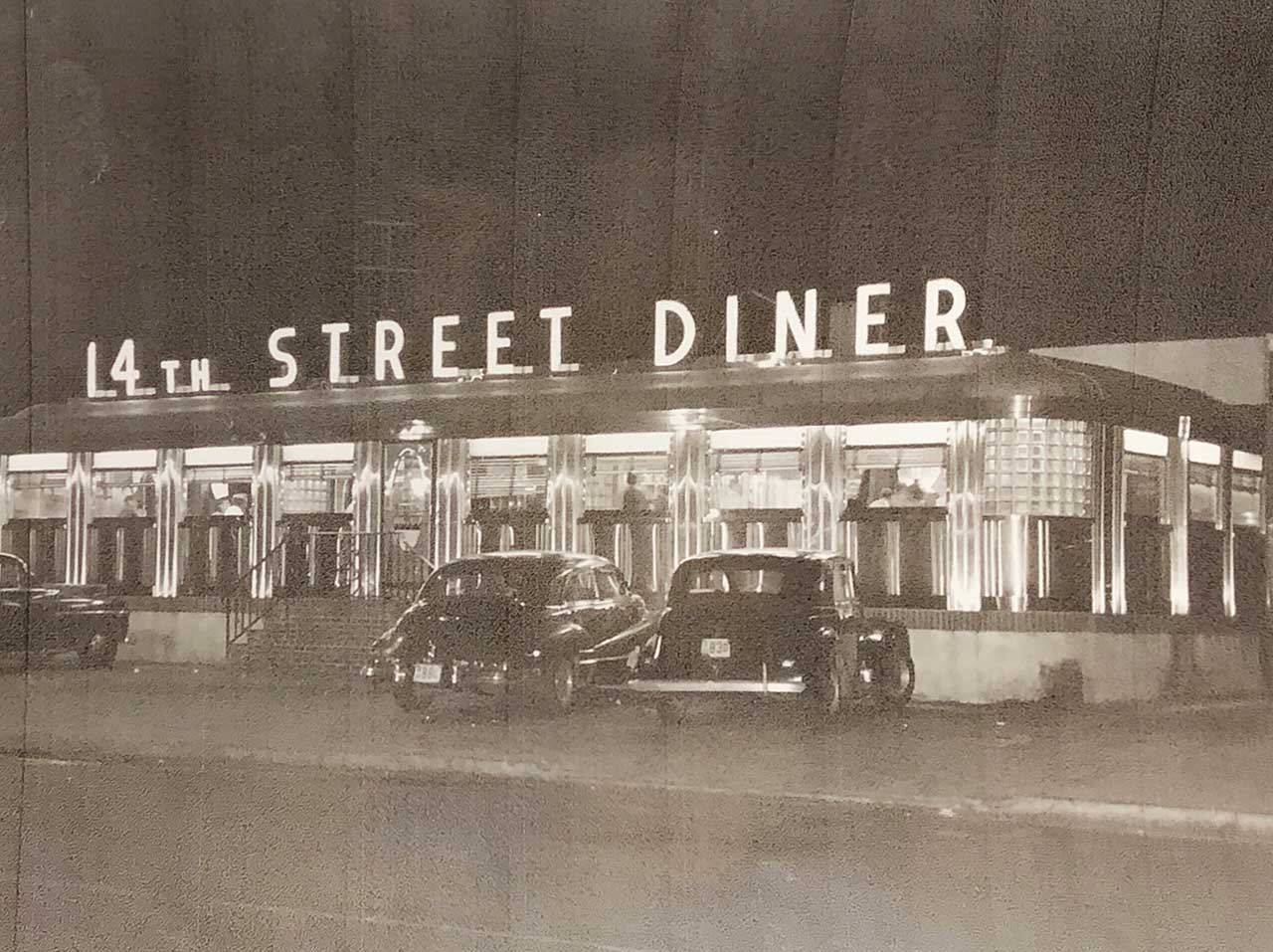 There's some colorful recent history inside Malibu's hallowed walls that involves former Hoboken mayor Peter Cammarano, who was indicted back in 2009 after allegedly taking a bribe from an undercover FBI informant at the diner. Cammarano, then running for mayor, was accused of accepting a $10,000 donation in exchange for "expediting" development plans that the informant claimed to have.
While Cammarano did narrowly win election to the city's highest office by just over 160 votes, he eventually resigned from his post just about a month after being sworn in as Hoboken's youngest-ever mayor. He was later disbarred by the New Jersey Supreme Court.
There are still a few steps to go before that history potentially meets the wrecking ball. The Malibu Diner is located within Hoboken's C-3 Neighborhood Business Zone and the proposed development would need several "c" variances to move forward. They include one for 100% lot coverage where 60% is allowed, one for including 20 parking spaces where 23 are required, and two more for deviations involving rear setbacks and facade glazing.
The current development's application was deemed incomplete during a subdivision and site plan meeting that was held by Hoboken's planning board on October 10. When plans are deemed fully submitted, the board will still need to approve the project before anything changes at what is arguably the city's most prominent diner.
Related: