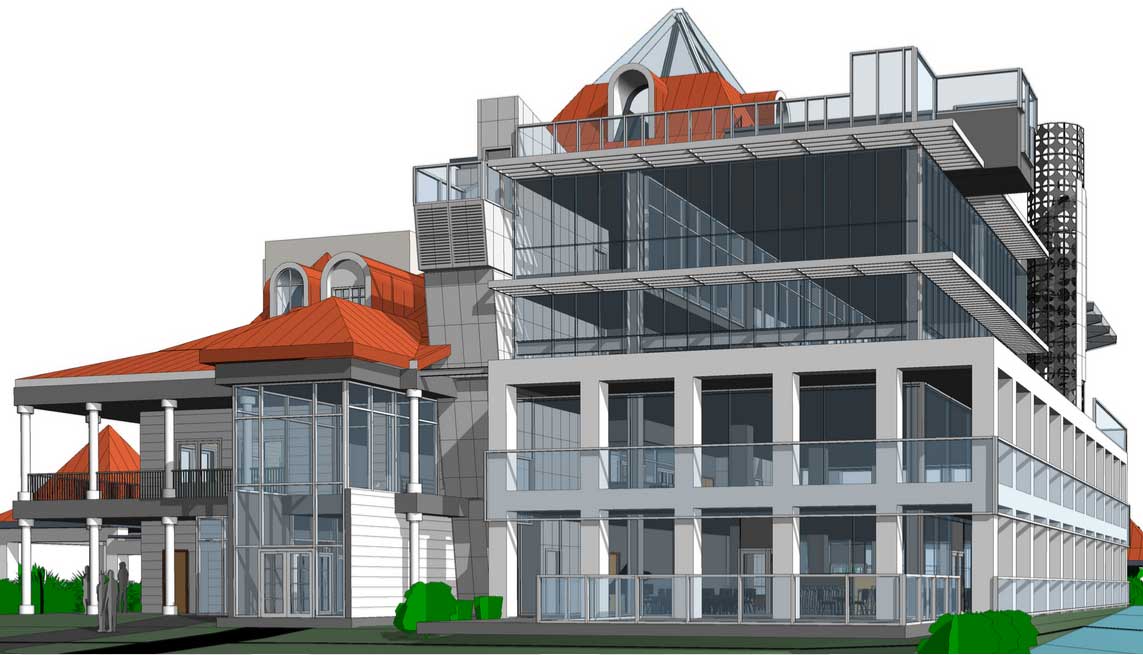 A building that formerly housed a waterfront restaurant with spectacular river views will soon be reimagined into a new event and eatery space, a welcome development that will fix up one of the few remaining Hurricane Sandy-damaged structures along Hudson county's coastline.
The property in question is at the very bottom of the Port Liberte development at 2 Chapel Avenue. Previously home to The Pointe seafood restaurant, the building was hit pretty hard by flood waters during that fateful hurricane and has been closed ever since. But Jersey City-based Landmark Developers will soon be revitalizing and expanding the facility into a new venue called the North River House, which will be home to both a restaurant and two event spaces.
When the build-out and expansion is completed, the property will boast a total of 40,000 square feet and feature a restaurant, lounge and lobby on the ground floor. The space will have large, floor-to-ceiling glass windows throughout much of the building, which will showcase some of the best panoramic views around that span from Lower Manhattan all the way down to the Verrazano Bridge.
The first-floor restaurant will feature an open display kitchen, a sunken bar, an outdoor patio, and renovated gardens against the backdrop of the Hudson River. Landmark says the restaurant's menu will highlight "Hudson Valley special ingredients served tapas style to encourage sharing."
The building's second floor will house a sleek, modern banquet space ideal for weddings and will be able to accommodate about 500 people. In addition, the property's top floor will feature a finished rooftop with landscaped gardens, both indoor and outdoor bars, a glass-enclosed porch area, and cabanas.
While weddings and private events will presumably be a big part of their business, North River House will also play host to rotating weekly entertainment like Jazz Brunches. They also say the facility will be available for smaller private dinner parties around the restaurant's Chef's Table.
The project is being spearheaded by the husband and wife team of Frank and Jeanne Cretella, who founded Landmark's sister company Landmark Hospitality. They are responsible for, among other projects, bringing the Liberty House to Liberty State Park, also a venue that hosts weddings. Some preliminary work appears to have been done at the new site and Landmark says that North River House should be open sometime in 2018.
[gmap height="250px"]2 Chapel Ave, Jersey City, NJ 07305[/gmap]
2 Chapel Ave, Jersey City, NJ 07305