A virtual meeting this week could determine whether a plan to demolish a remnant of Newark's industrial past and build a new development in its place will be allowed to proceed.
The Newark Central Planning Board is scheduled to discuss Ballantine EFG Property Owner, LLC's proposal for "The Ballantine" on Monday, June 21.
As Jersey Digs first reported earlier this month, this project at 74-82 Freeman Street and 428-444 Ferry Street in the Ironbound section of the East Ward would include 280 residential units, 2,652 square feet of retail space, a fitness center, co-working space, and parking if completed.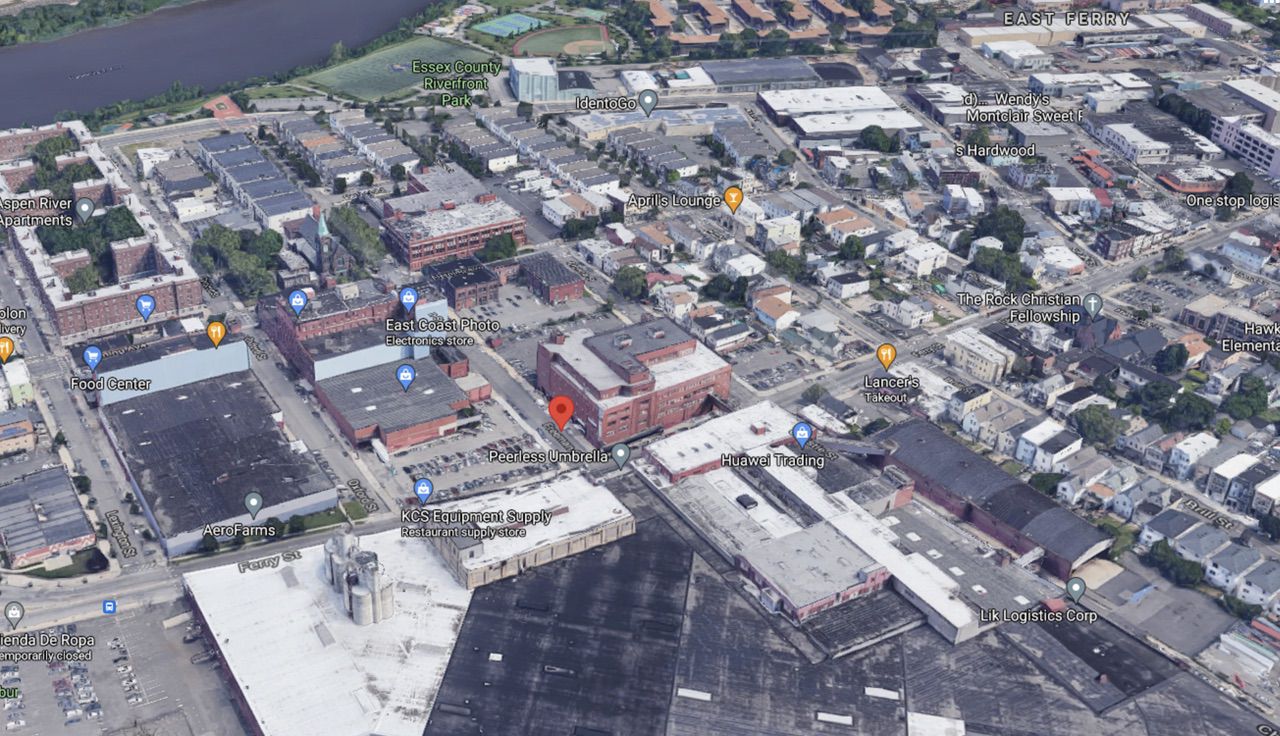 A hearing was initially slated to take place on June 7.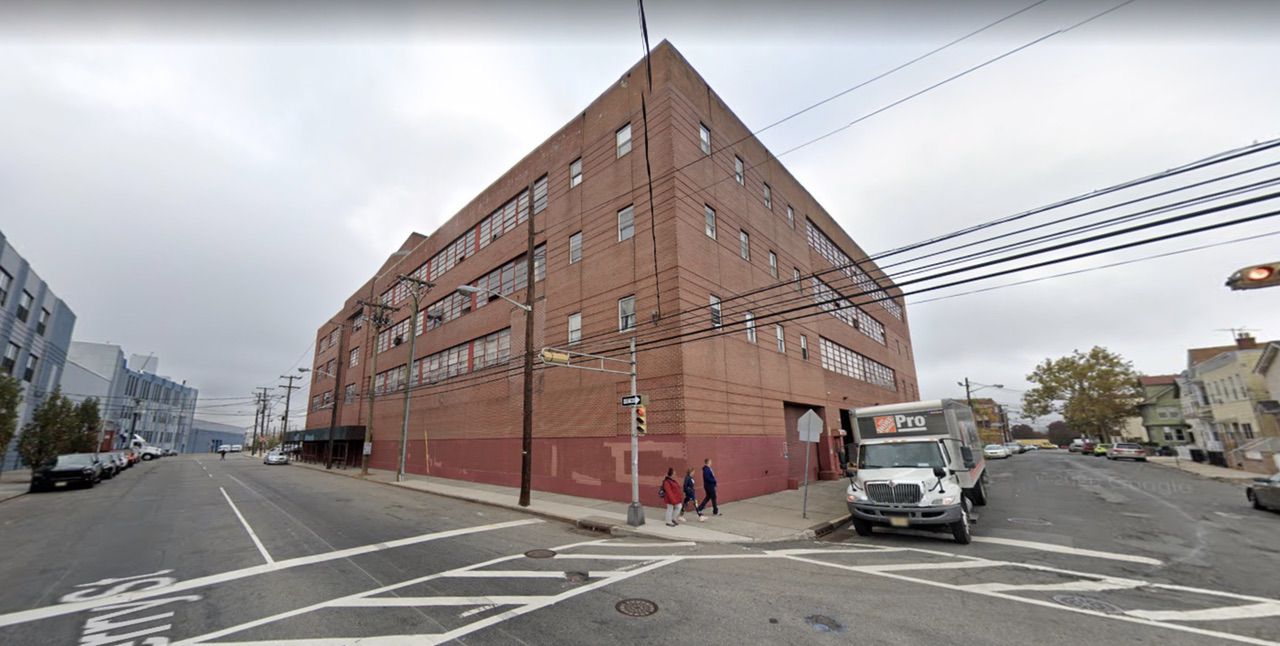 Site plans from Minno & Wasko Architects and Planners that were subsequently released by the City of Newark show that the developer is planning 80 studios, 142 one-bedroom units, 17 one-bedroom units that would each include a den, 38 two-bedroom units, and three units with three bedrooms each.
Three studios, eight two-bedroom units, and all three of the three-bedroom units are designated in the Minno & Wasko plans as being "affordable."
The Ballantine would also include private terraces, an "amenity rooftop" with "sky lounge" and "sky bar" areas, and an "amenity courtyard" that would feature a fountain, a "hammock grove," a firepit, an "oversized chess board," and a "feature wall" with televisions, landscape plans from Melillo-Bauer Carman show.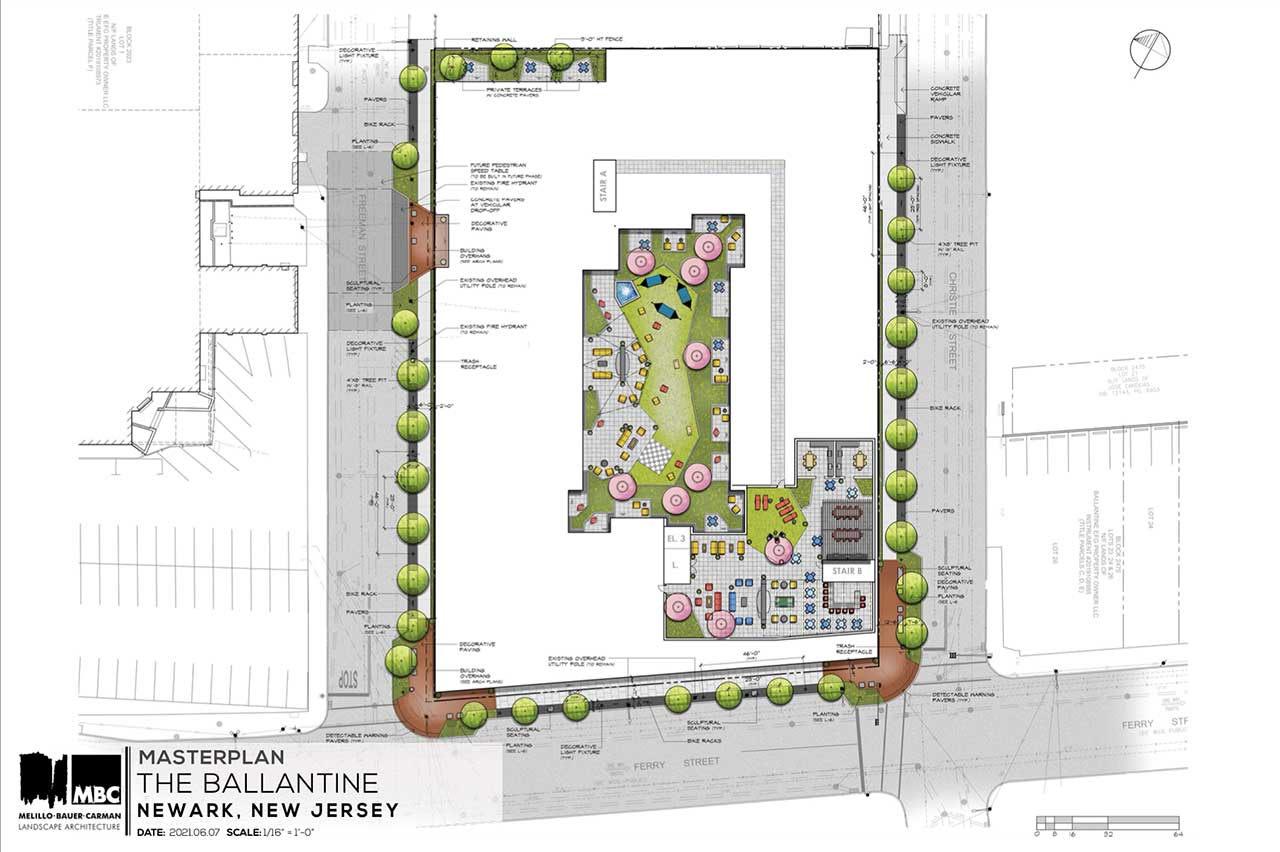 The property currently includes a four-story building that is part of the old Ballantine Brewery complex along with a parking lot and a "one-story brick wellhouse building," according to a June 2 municipal staff report.
"The proposed project is within a redevelopment plan area and contains 280 residential units, triggering the City's inclusionary housing requirement," the report also noted. "Pursuant to the City's inclusionary housing ordinance, this project is subject to the requirement that 20% of the units be made affordable. The applicant is proposing 14 affordable units where 56 are required. Testimony should be provided about how the project will satisfy the IZO."
The aforementioned finding was the subject of a letter by John Goldstein of Homes for All Newark to municipal officials calling in part for new projects like The Ballantine to be in full compliance with the ordinance. Goldstein wrote that he is "pleased that investment is coming to that area of our neighborhood," but that "this project is especially concerning."

"Do we need to be reminded of the urgency of Newark's affordable housing crisis?" Goldstein said. "Newark is still a City with a large number of low income residents and a lack of housing that is affordable to them. Even with strong enforcement of the IZO, it would take many years to address our housing shortcomings. If we continue to ignore it, the problem will continue to get worse."
The June 21 meeting is expected to begin over Zoom at 6:00 p.m.
Note to readers: The dates that applications are scheduled to be heard by the Newark Central Planning Board and other commissions are subject to change.