It's nearly impossible for folks entering Hoboken from the city's southern end to miss the hulking Neumann Leathers complex, the oldest section of which was constructed around 1863. The collection of buildings was used for decades to produce and tan leather but has been home to an artist and light industrial community since the 1980s.
Almost two years ago in July 2017, plans were proposed to restore the existing historic buildings at 300 Observer Highway while adding a 14-story residential component to what is now a parking lot on the property's western end. All existing tenants were to remain in place under the plan and after some public input, a general design was settled on by Nastasi Architects.
Despite the lack of news since then, the project is still in the works and Jersey Digs has uncovered lots of new details. The 14-story residential portion will feature a total of 230 units, breaking down as 189 market rate, 21 affordable units, and 20 set aside for workforce housing. The new structure, which will strive for LEED Gold Certification, will feature a rooftop pool for residents and sport multiple ground-floor retail components that face Newark Street and Observer Highway.
Another new structure containing 270 parking spaces is slated to be built under the plan on the Newark Street portion of the land directly next to one of the historic structures. The rest of the project will preserve and expand the existing buildings for a variety of uses, which break down as 80,000 square feet of rehabilitated space for industrial arts and 80,000 square feet of rehabilitated mixed commercial space. An expansion to multiple sections will add 54,600 square feet of new infill for office and retail plus install a green roof on the buildings.
The interior of the property, not currently visible or accessible to most, is set to include a 29,000-square-foot outdoor pedestrian retail courtyard, plus an added 11,000-square-foot indoor retail commercial plaza within the existing building on the southeast corner of the land. An existing smokestack at the property is set to be preserved, and an underground water detention system capable of storing a minimum of 100,000 gallons of stormwater will be included beneath the urban retail plaza.
As part of the deal, a new Grand Street extension would be built between Newark Street and Observer Highway, and a bus stop would be added at Grand Street. Approving that portion of the plan took a step forward earlier this month, as Hoboken's city council awarded a professional services contract at their March 6 meeting to Kimley-Horn to review traffic and circulation plans submitted by Neumann Leathers Redevelopment Group LLC, the company behind the project.
The contract is for an amount no greater than $10,000, which will be paid for by the developers through an escrow account. The work includes reviewing the project's proposed circulation plan for the streets and rights-of-way surrounding the project "in terms of vehicular, pedestrian, and bicycle circulation, as well as the parking program and loading proposal."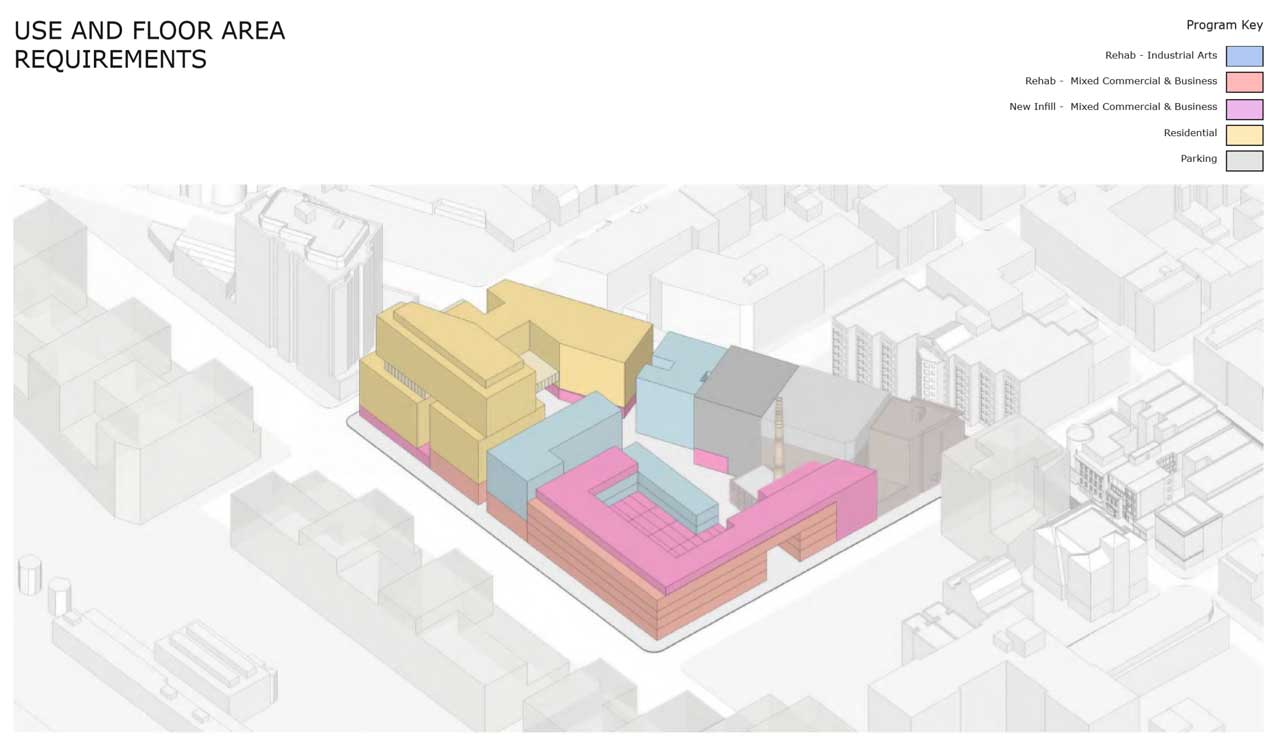 Another piece of progress could be coming soon, as a council resolution has been submitted to award another professional services contract to Acacia Financial Corporation for financial consulting services related to the project. That one is set not to exceed $15,000, and a council vote on the resolution was slated for their March 20 meeting.
Related: