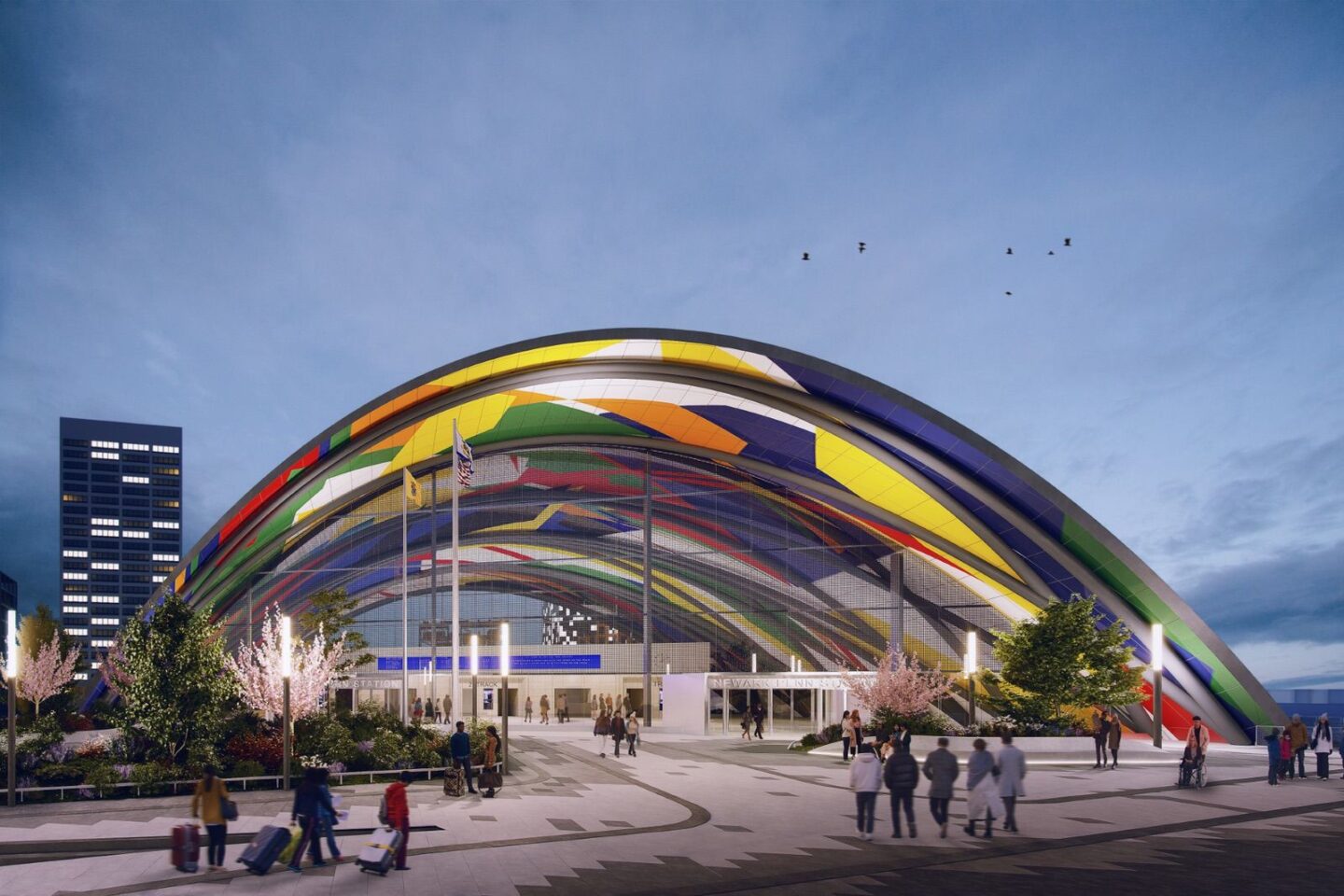 A modern infrastructure project that hopes to better connect Newark's Downtown to a major entertainment venue, green space, and the city's Ironbound neighborhood is officially underway as work has begun on the Mulberry Commons Pedestrian Bridge.
Newark Mayor Ras J. Baraka, New Jersey Governor Phil Murphy, and other dignitaries recently broke ground on the endeavor, which aims to provide a better link to Newark Penn Station. The ceremony took place in Mulberry Commons adjacent to Ironside Newark.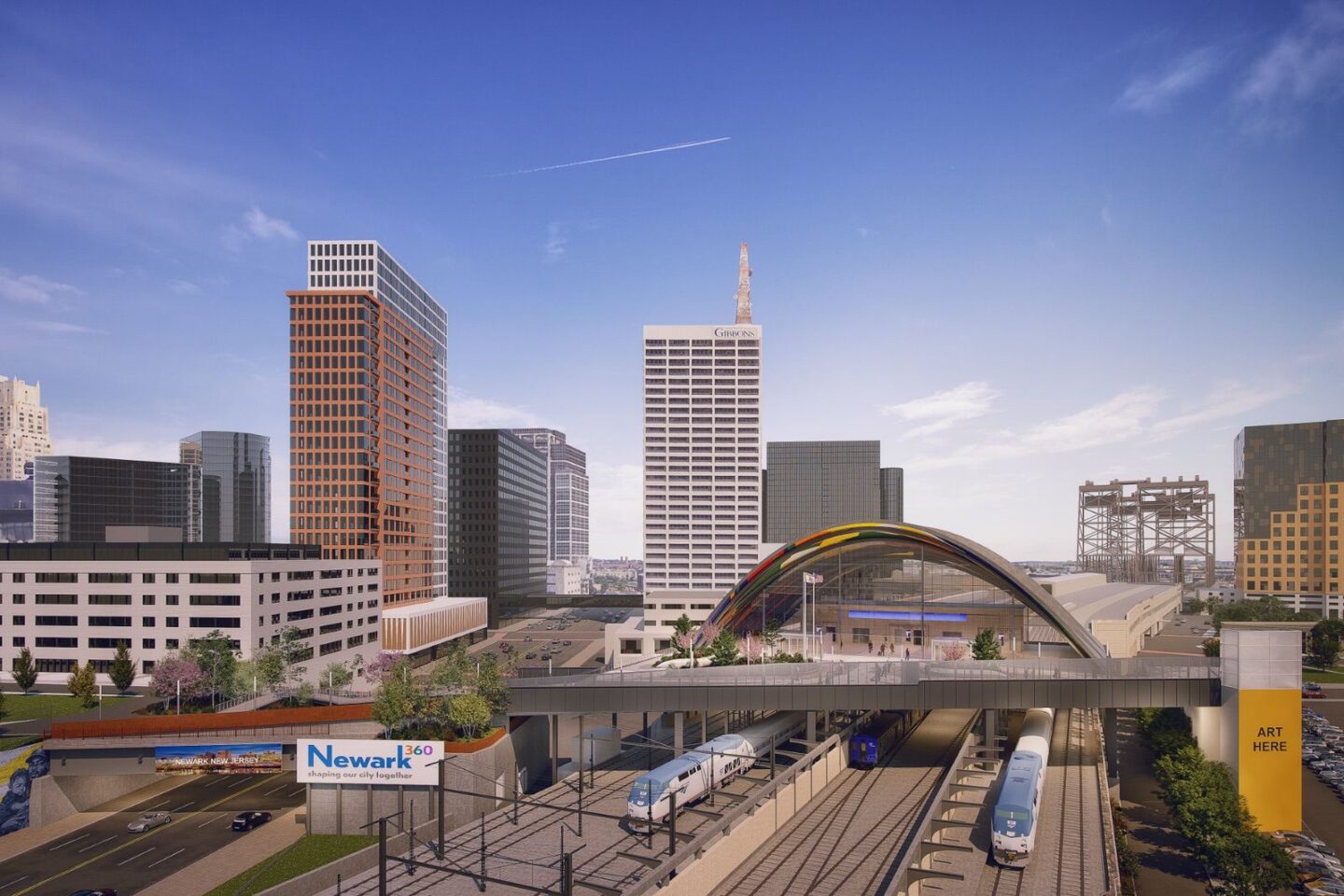 "Mulberry Commons Park is the first phase of one of the most important redevelopment projects ever undertaken in Newark," said Mayor Baraka. "It has provided our children with a safe, innovative place to play, created a new community gathering space for outdoor events, and jumpstarted development in the surrounding neighborhood. With today's groundbreaking, we enter the second phase, which catapults the metamorphosis of downtown into the full expression of a livable community."
The giant walkway will stretch over McCarter Highway and was designed by Sage & Coombe Architects. The bridge aims to create a new civic landmark while enhancing the pedestrian experience in and out of Newark Penn Station, which itself is undergoing a $160 million renovation.
"It's rare that a single project can so comprehensively encapsulate all that our state – and the great City of Newark – have worked tirelessly to achieve for our residents," said Governor Murphy. "Most importantly, this bridge is a project that puts New Jerseyans and their quality of life first, connecting residents with vibrant community assets in one of our state's most iconic neighborhoods."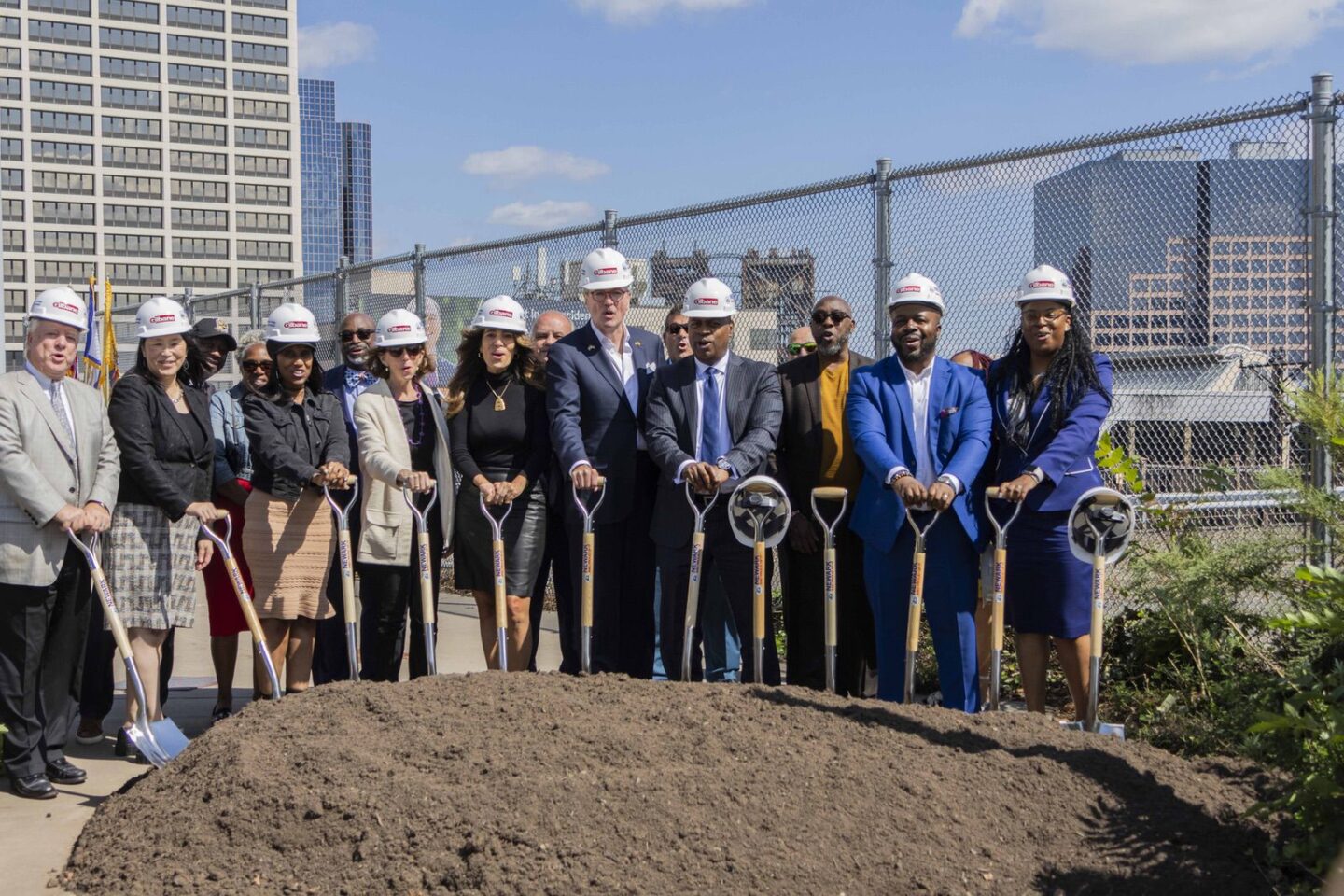 The bridge will directly connect Penn Station with the Prudential Center, home to the NHL's New Jersey Devils, the Grammy Museum Experience, and major concerts. The plan also hopes to increase commuter access to the approximately 15 million square feet of office space that calls Newark home in addition to four higher education institutions situated in the Downtown.
Newark Deputy Mayor and Director of the Department of Housing and Economic Development Allison Ladd noted during the groundbreaking that the project is looking to reconcile a city that was essentially partitioned when highways were built through the area.
"The highway and railroad tracks have divided us for generations," Ladd said. "This groundbreaking is a milestone in our work to reunite and build a pedestrian bridge that will connect our city, our neighborhoods and our residents."
Financing for the project is mostly coming from a $110 million Mass Transit Access Tax Revenue Bond. Newark says they have collected approximately $4.1 million year to date in Mass Transit Access Tax revenue, and they are on pace to slightly exceed what was estimated in the city's 2022 parking study.
The Mulberry Commons Pedestrian Bridge also hopes to spur the redevelopment of several underutilized lots surrounding the Prudential Center. While several projects like Shaq Tower II have been built in recent years, blocks of asphalt parking lots are still a common sight east and south of the arena.
The project is estimated to take between 18 and 24 months to complete, meaning it should be open to the public sometime in 2025.