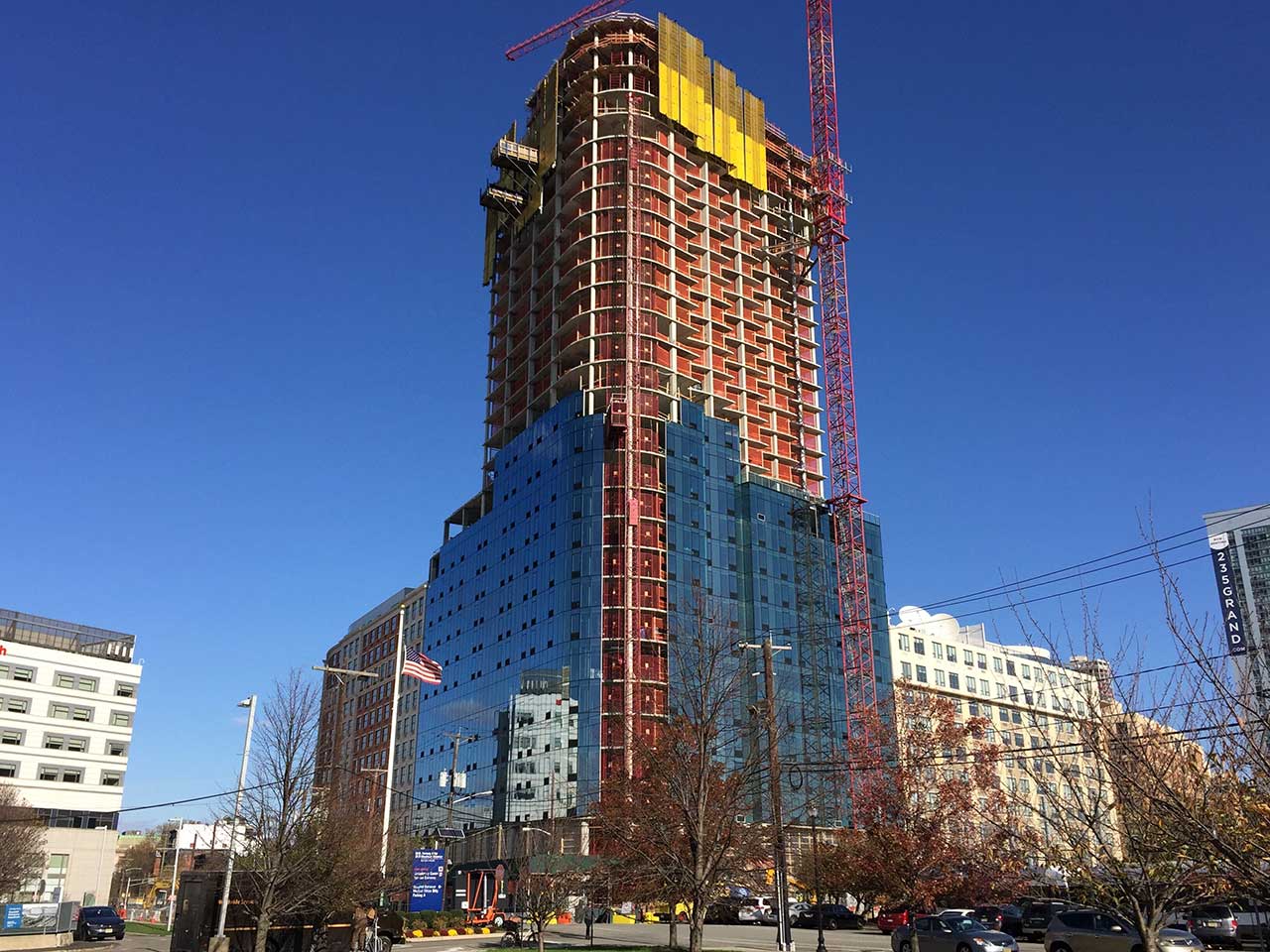 A 32-story mixed-use development envisioned as a "gateway to Downtown" by the developer has topped out and looks to wrap construction during the next year.
Back in 2017, we broke the news about the latest project from builder Peter Mocco at 88 Regent Street. Designed by Hoboken-based Marchetto Higgins Stieve, the development includes 392 rental apartments, 9,110 square feet of ground floor retail split between two storefronts, a 350-space garage, and over 5,000 square feet of office space.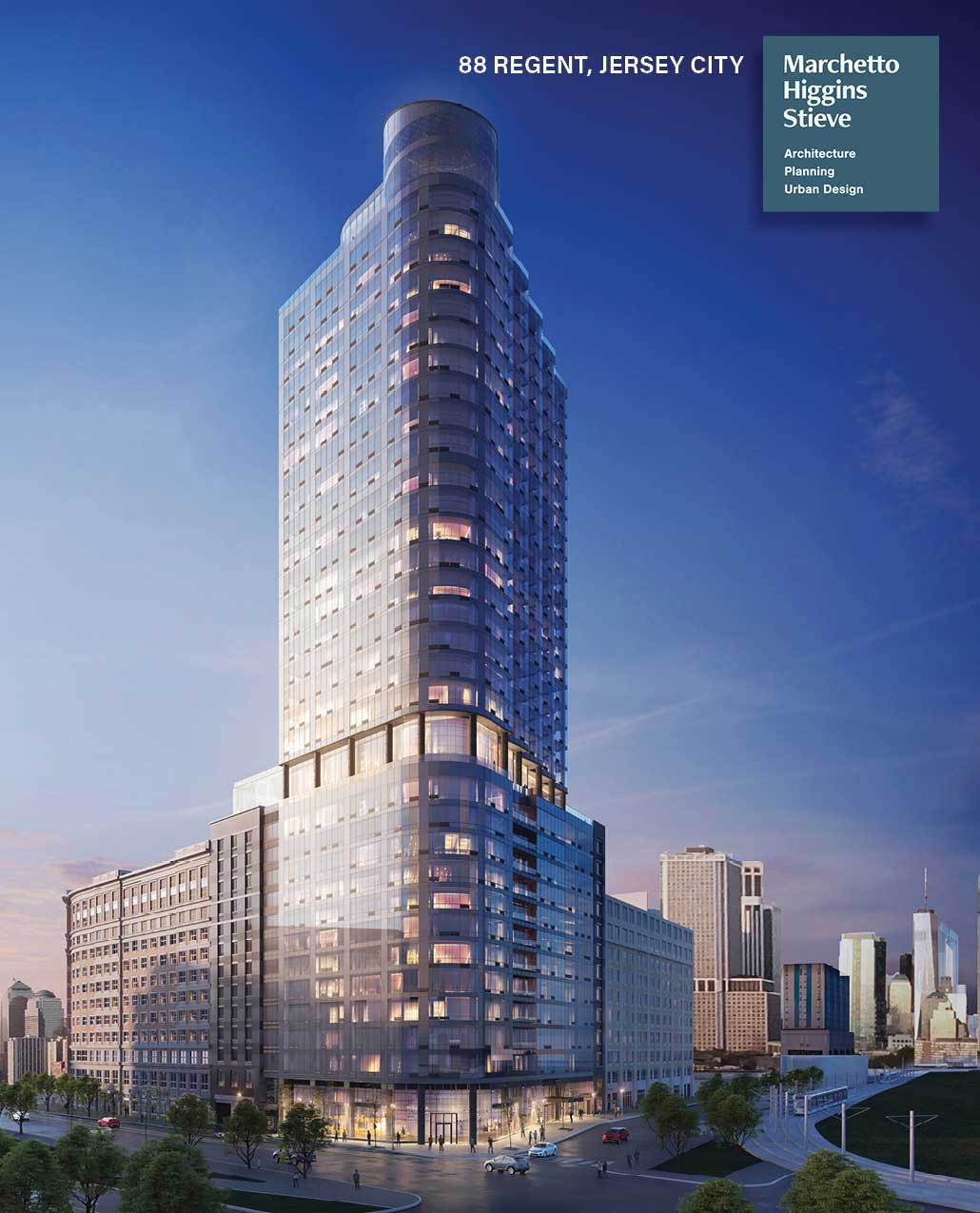 The first tier of 88 Regent Street rises 12-stories to match the height of adjacent buildings, with the thirteenth floor slated to feature the development's amenities. The remaining tower maximizes views of Lower Manhattan, Liberty State Park, and other nearby scenery by creating setbacks on the upper levels and giving each unit a window that faces the World Trade Center.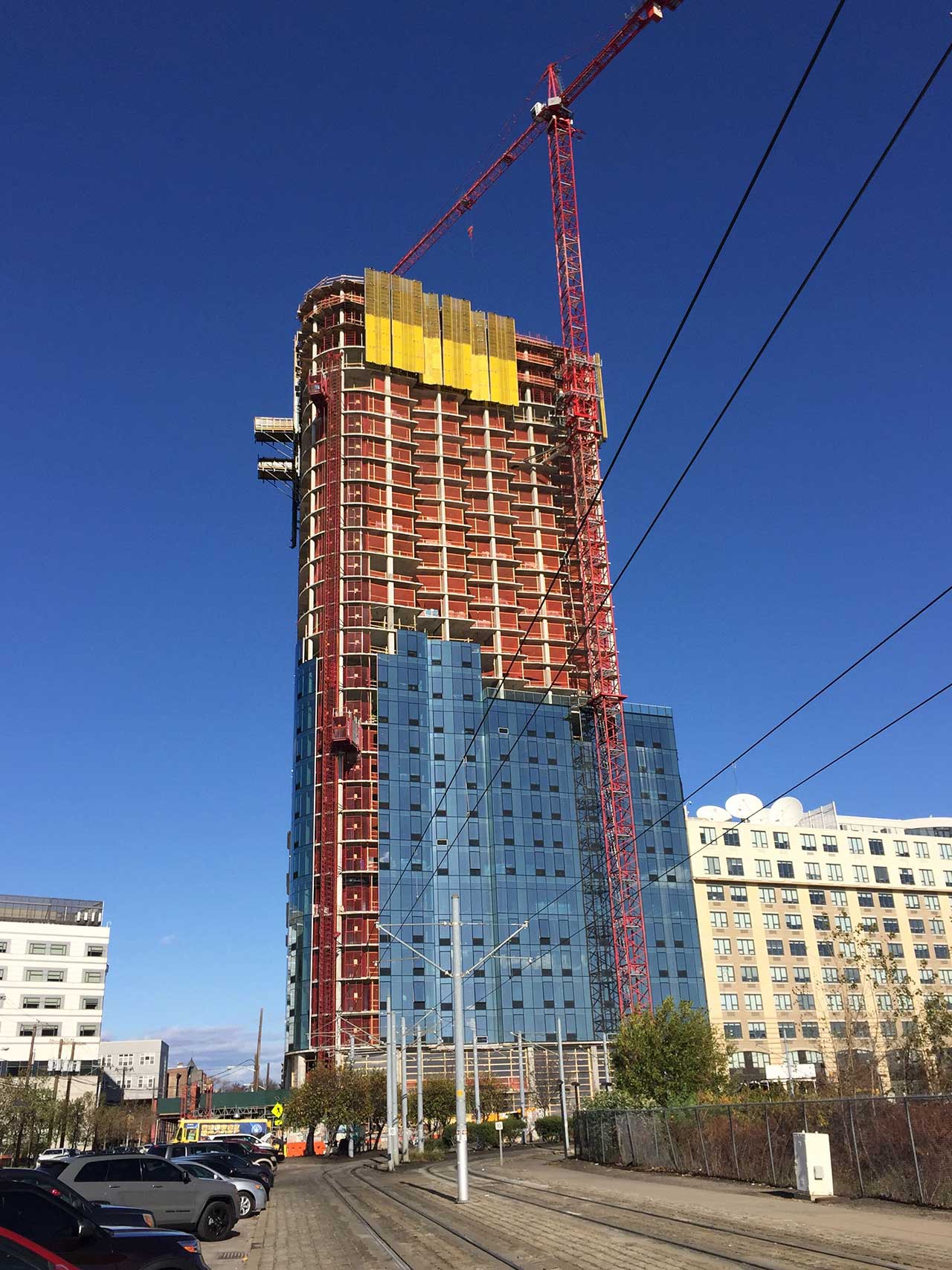 Construction at 88 Regent Street has been topped out and the installation of the large glass components on the exterior has begun. The corner of the property will be rounded and a public plaza yet to be constructed will connect the lobby and retail of the building to the nearby Hudson Bergen Light Rail station.
The construction of 88 Regent Street appears to be following the approved plans, something that has been an issue with Peter Mocco's past developments. Mocco's 333 Grand Street building directly adjacent to the current site built an unapproved 13th floor that earned a $582,000 fine from the city for deviating from the plans.
Mocco also had an extended face-off in 2018 with the city's planning board over differences in construction from approved plans at his 245 Newark Avenue development. No issues have been raised so far regarding the buildout of 88 Regent Street, which is surrounded by several other construction sites.
An expansion of Jersey City Medical Center has been underway across the street since the beginning of the year and an environmental remediation at the nearby Crescent Park site is ongoing. The New Jersey Department of Transportation is additionally building a $10 million extension of Jersey Avenue slated to open in December 2021 that will connect the road to Liberty State Park for the first time.
Related: