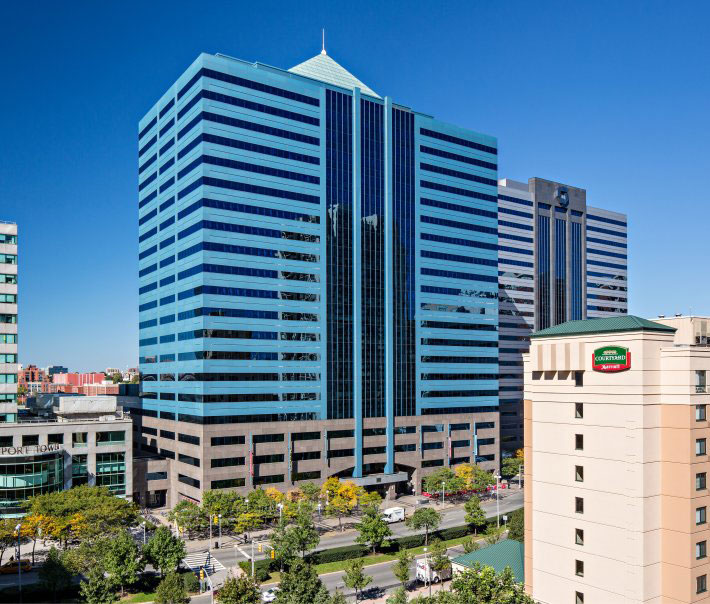 Newport developer LeFrak Organization is seeking a buyer for a 22-story office building along the Jersey City waterfront, according to The Real Deal. The developer is reportedly seeking $400 million for its Newport Centre 4 office tower at 545 Washington Boulevard.
LeFrak completed the 861,000-square-foot office property, which is occupied by JPMorgan Chase and Insurance Services Office, to name a few, in 2001. The building is 95.5% leased and is being marketed by Cushman & Wakefield.
The proposed sale of Newport Centre 4 comes four months after the developer completed the sale of the 350,000-square-foot Newport Office Centre 6 for $170 million to iStar. JPMorgan has right of first offer on Newport Centre 4. The investment bank is also the owner and sole occupant of the 807,000-square-foot 575 Washington Street office building, which it acquired in June 2014 from LeFrak for $315 million.
According to marketing material from LeFrak, Newport is home to 15,000 residents across 15 rental and three condominium towers. Eight towers comprise the campus' nearly six million square feet of office space.
Developers Strategic Capital and China Construction America are wrapping up construction at the nearby Park and Shore development on 14th Street.
As previously reported by Jersey Digs, LeFrak unveiled plans for an additional office building on the southern end of Newport in 2012. When the project, known as Pier Six, is developed, it will consist of 300,000 to 1.25 million square feet of office space on a nine-acre pier at the end of Sixth Street.
LeFrak's last office building in Newport was completed in 2005. The property, the 32-story 480 Washington Street building, consists of 1.1 million square feet of commercial space according to the developer.
LeFrak was tapped by the City of Jersey City to develop Newport on what was largely a 300-acre railyard in 1984.
Related: