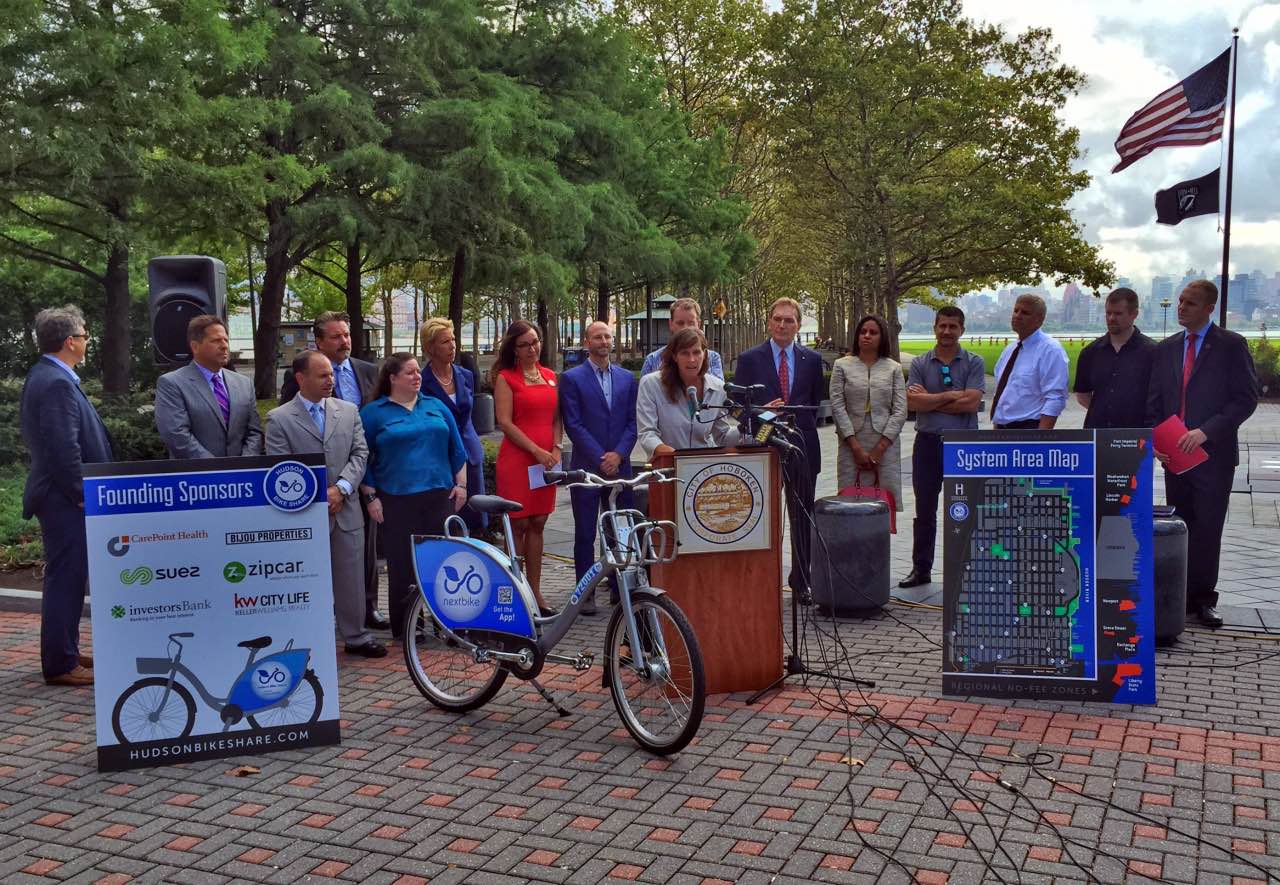 In a congested county undergoing a building boom, biking to get around has become an increasingly popular option. Proof of that rise is demonstrated by the Hudson Bike Share system, which launched in Hoboken back in 2015 and currently has over 20,000 members.
Now, the popular bike share program will add 260 new bikes and 35 new stations throughout Hudson county. Spots in Guttenberg, North Bergen, Weehawken, Bayonne and West New York will all be getting the new equipment and stations throughout their streets, which will grow the system from its current 250 bikes and 29 stations to 560 bikes and over 65 stations.
"We are extremely excited to start the expansion of our bike share program in Hudson County," said Carlos Pujol, CEO of P3 Global Management, who runs the system. He added that riders have logged over 300,000 rides since the inception of Hudson Bike Share, which will celebrate its second anniversary this month.
Hoboken Mayor Dawn Zimmer, who was instrumental in getting the system launched, applauded the news. "As the program nearly doubles in size to 560 bikes, it will become one of the largest bike share systems in the country and will provide residents and visitors of our region with a healthy, environmentally-friendly way to commute, run errands, or exercise," Zimmer said.
The program partners with NextBike, a bike share company that operates the system's equipment and technology in over 125 cities in 25 countries around the globe. Users can register online or download the NextBike app to use the program, which costs $95 per year or $12.95 a month for unlimited 45-minute trips. Riders can also choose a pay-as-you-go option for $2 per 30-minute ride.
Hudson Bike Share remains committed to the continued expansion of the program, and the company said in a statement they plan to further grow their presence in Hudson County during 2018. However, the company currently does not have any stations or bikes in Jersey City, and a memorable spat took place last year over Hudson Bike Share's equipment taking up space on public racks near Exchange Place.
After initially signing on to host Hudson Bike Share before it launched, Mayor Steve Fulop backed out of the deal and opted to install the CitiBike program throughout Jersey City instead. That bike share system, which New York City also utilizes, was expanded within Jersey City's borders last year, and totals 50 stations and 500 bikes.
On Twitter, Mayor Fulop doubled down on CitiBike, requesting Hoboken's mayoral candidates consider adding CitiBike stations in the Mile Square City. Whether both systems can coexist in either city is yet to be determined, but judging by the responses to the tweet, it's obvious Hudson County residents want a system that works between cities.
Request 4 next Hoboken mayor @mike_defusco @RaviBhalla @jenforhoboken @AnthonyLRomano pls move 2 @CitiBikeJC .Zero sense ur diff than jc+nyc

— Steven Fulop (@StevenFulop) October 23, 2017
It's unclear if Hudson Bike Share's future expansion will perhaps include stations in Jersey City, but for now, the company says they will begin installing the new equipment in the six towns throughout this fall.