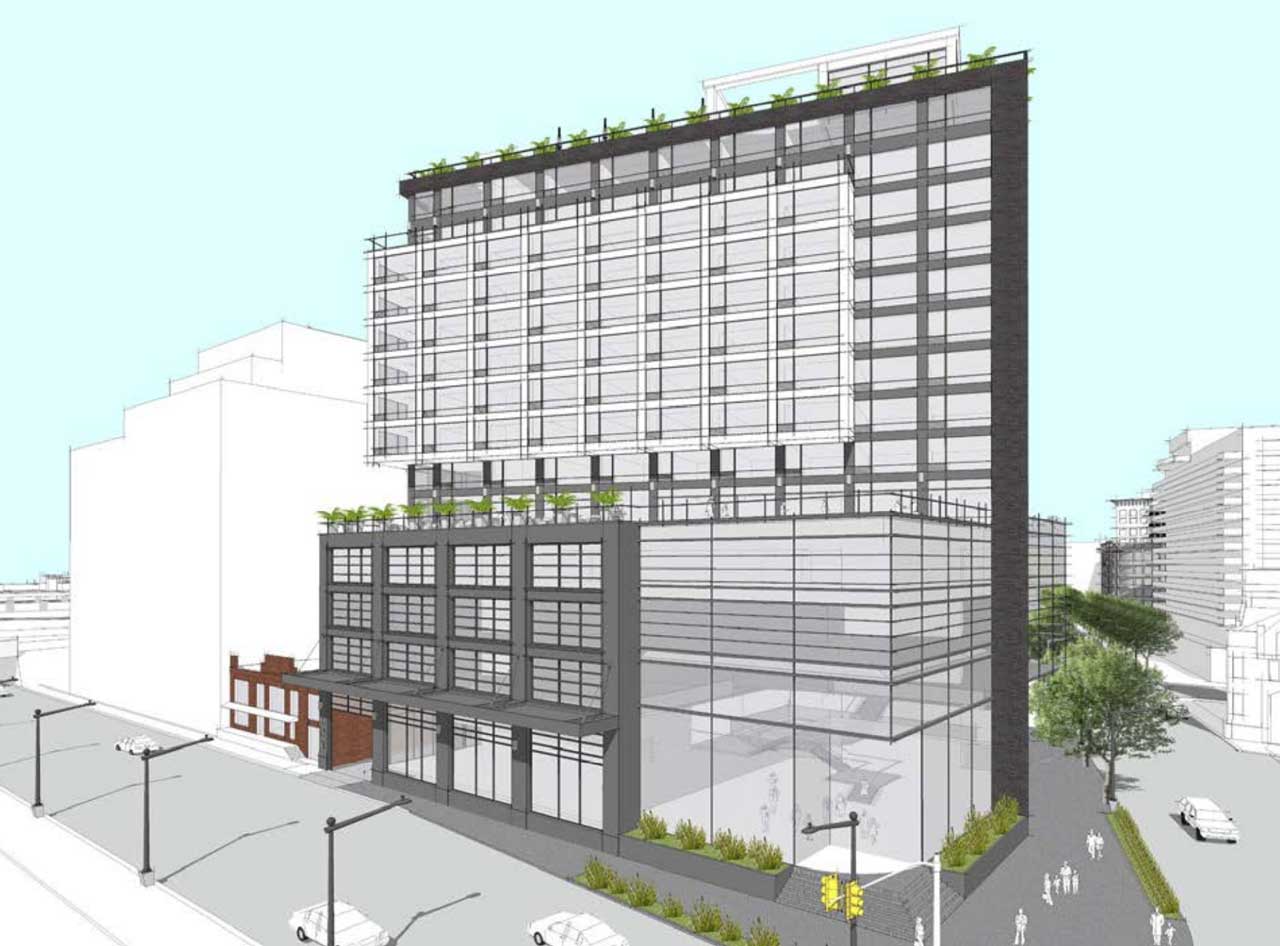 A hospitality project that appeared to fall victim to the coronavirus pandemic is very much alive after the city council took a step towards revitalizing several parcels near the Jersey City border.
Last February, Jersey Digs exclusively reported on a hotel proposal from Fields Development Group. The company was looking to transform their former headquarters at 1 Henderson Street, 497 Observer Highway, and 503-511 Newark Street into a lodging facility, but the plan quietly disappeared during the coming months.
With vaccines rolling out and a post-COVID world approaching, the project has re-emerged and looks to advance further. During their March 3 meeting, Hoboken's council approved a resolution that designates a subsidiary of Fields Development Group as conditional redeveloper for the site, which spans 25,000 square feet and is located next to a Kobrick Coffee facility.
Designed by Hoboken-based Marchetto Higgins Stieve, the hotel is envisioned to rise 160 feet above the Designated Flood Elevation and to be built to LEED Silver standards. The building's first floor would include a lobby, commercial space, and an automated parking garage set to include a total of 96 spaces.
Offices would occupy floors two through four, with the remainder of the property being set back from the building's base and playing host to 195 hotel rooms. The fifth floor would feature an amenity deck facing the intersection of Henderson Street and Observer Highway and a roof deck is slated to include both an amenity area and pool that could double as an event space.
The revitalization of the property would create an alleyway behind the building accessible via Henderson Street and Observer Highway that would feature over 2,000 square feet of green space. The sidewalks along Newark and Henderson streets would be raised under the plan and an on-site stormwater retention system would be included at the property, which falls in an area that is consistently flood-prone.
Following the council's resolution, city officials will commence negotiations on a redevelopment agreement for the property. Any potential deal will need to be approved by the city council and Hoboken's planning board would also need to review and approve the application before any construction begins.
The proposed hotel would be just the second in the Mile Square City after a W Hotel at 225 River Street and the first to be built away from Hoboken's waterfront. A noteworthy 20-story Hilton project from KMS Development Partners at 1st Street and Sinatra Drive survived two legal challenges but has yet to break ground since gaining full approvals.